EXPLORING THE ADIDAS COPA 19 WITH DESIGNER ARNAU SANJUAN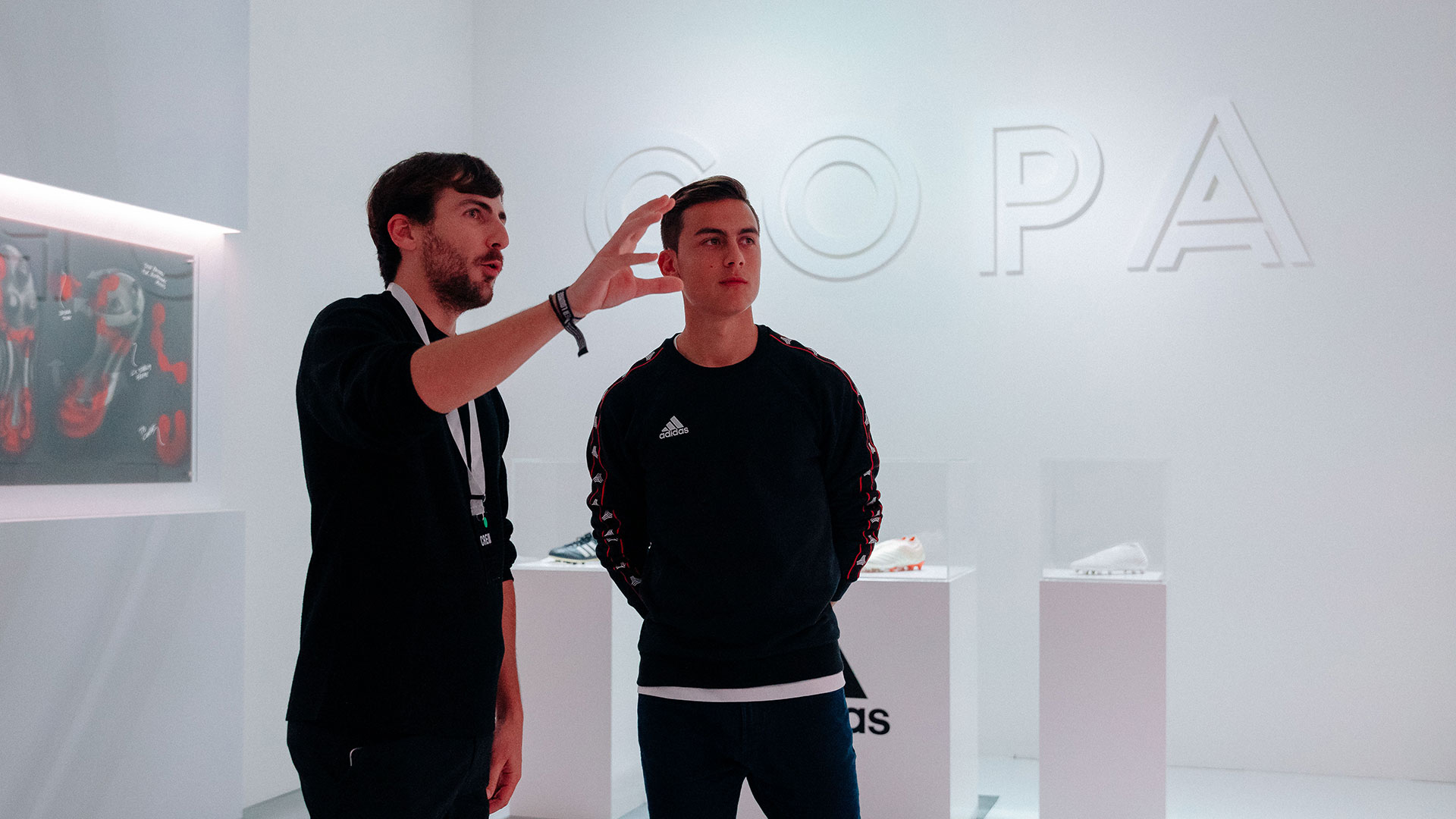 It's reallly what we obsess about, the inspiration. In the world of sneakers we've seen everything from fighter jets to teddy bears spark the genesis for some the most iconic silos ever created. Shoes built for athletic performance that were so well designed they became lifestyle legend. The magic was always in blending function with undeniable aesthetic. While that hasn't always translated to the soccer pitch, more and more the parallels are magnetizing. In many cases it was designers with a background in architecture or automobile design that proved most prolific. Case in point, Arnau Sanjuan, the Spanish designer of the Copa 19+.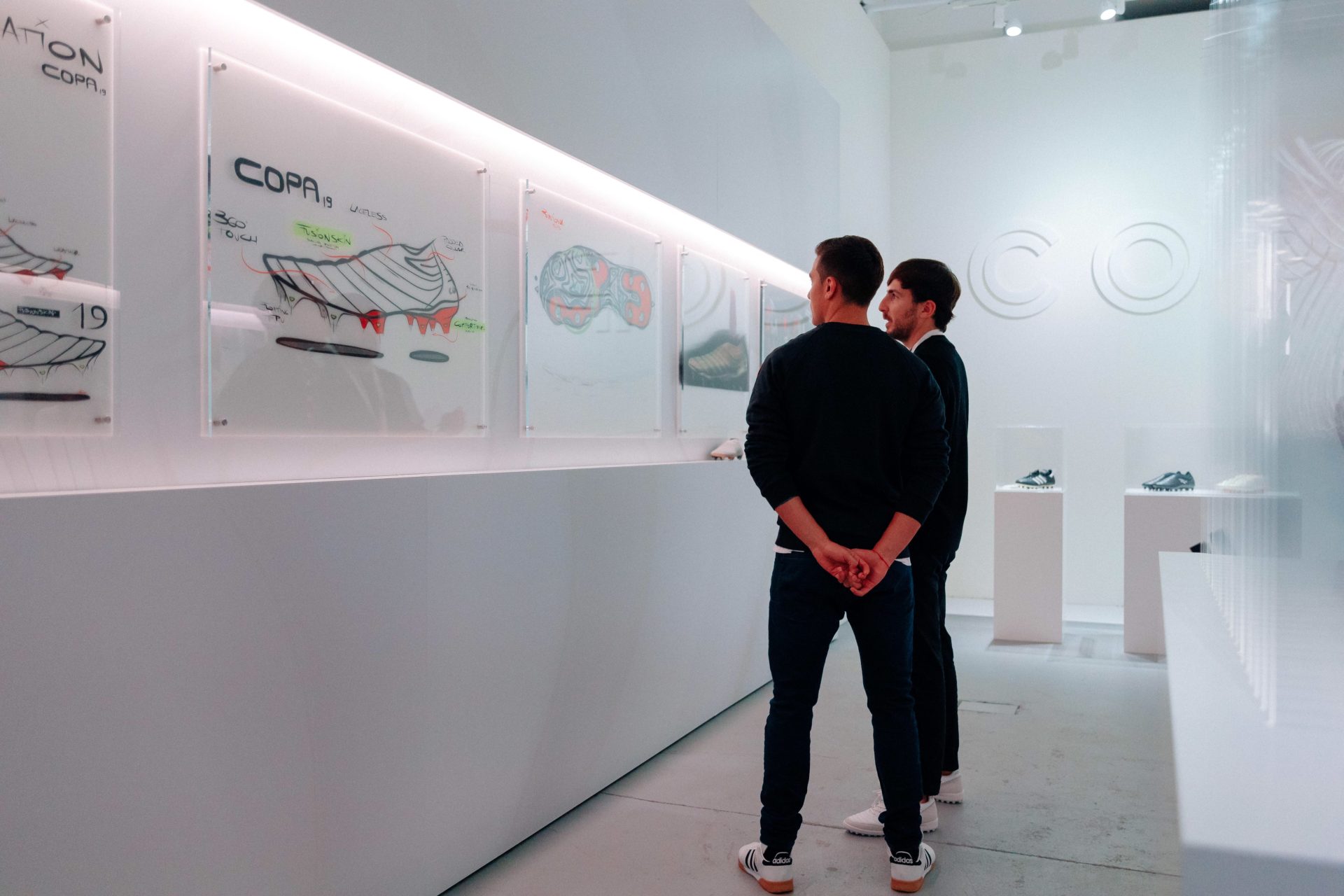 On the surface Arnau's path to adidas super designer is puzzling. It isn't until you delve to the beginning of his story that it all makes sense. A child from Spain with a love for soccer, sneakers, cars, motorcycles, and penchant for art.
"Since I was a kid I always loved to draw. In school, I would not only draw shoes but cars and motorcycles. After I finished my bachelors in Spain I actually started studying mechanics and at some point after I began working as a motor cycle mechanic. But, I was still missing the design aspect. I started with the engineering and then got into transportation design."
It wasn't that his love for sneakers had died, but more the logistics of perusing a real career and supporting himself that led him to automobile design. It was a calculated stroke of genius that would build a strong foundation not only for him to eat, but to create as well.
"At the time in Barcelona there wasn't any program specific to footwear so that's why I chose to study transportation. Once you master how to design cars and motorcycles you also learn to design more product specific disciplines. Obviously I loved this because now I could get paid to shape these ideas for future consumers. I started working at GM Europe, designing motorcycles in Barcelona then customs in Costa Rica."
It's at this point you start to scrape the engine that drives Arnau's concepts. His mockups look like hyper-technical storyboards for vehicles. He still had a ways to go however, you don't just make the jump from GM to adidas without some help.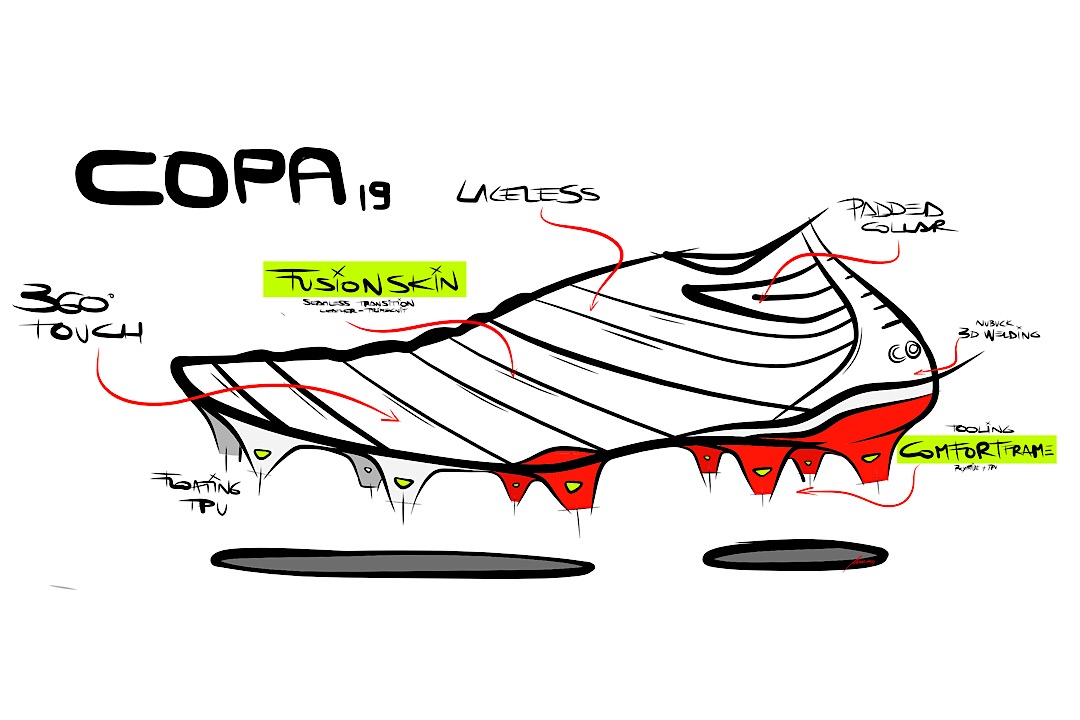 "When I was in Costa Rica I had a friend who worked at adidas and that really interested me. He showed me the place he worked at in Germany and it looked amazing. He said there was a good atmosphere and I thought that it made sense. Attaching futuristic design with fashion using various materials. It was then that I started to seriously draw shoes. I was also growing a bit tired of Transportation design so I figured it was time to start."
The wheels were in motion. Sanjuan was all in but knew he needed a more refined education and more importantly hours of drawing/work.
"I never went to school or had formal training. I was always collecting shoes and always loved it. But again there wasn't a school in Spain at the time that focused on this. It wasn't until I left my country that I truly saw the possibilities and I wanted to redo my portfolio, I saw the possibilities, I even took Pensole academy courses online. So more and more I wanted to find a job as a footwear designer. I decided I wanted to try and wouldn't stop until I got a job. I did this Pensole course in the meantime and step by step I felt my interest was going in that direction. I was fighting and fighting until eventually I got hired. I was very surprised actually comparing the automotive industry to footwear design. I knew this is where I needed to work."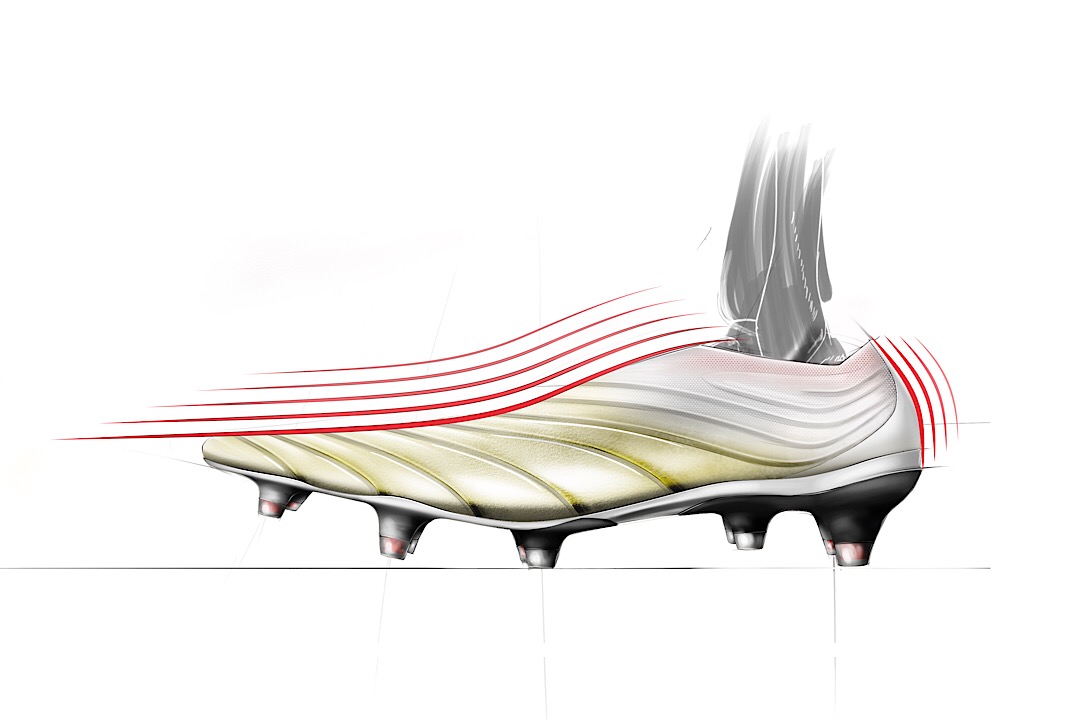 Adding to Arnau's evergrowing pedigree is the fact that he was born and raised in Barcelona. He grew up playing the beautiful game and supporting one of the greatest clubs in its history. When ever he goes back to Barcelona he watches games with friends and family, soccer was/is a part of his life. In spite of this, Sanjuan first got his feet wet on the lifestyle side of things with adidas Originals.
"When I first came to adidas, I actually started working in Originals on the men's side, more lifestyle-focused. It was super helpful as it was my first experience at a big company. I felt like always understood trends but at Originals I really learned more."
It was when Arnau was able to dig into the adidas archives that things really opened for him. He gained a serious understanding of the importance of tried and true design along with the importance of a silhouette.
"I think once I moved to performance it really helped me to have this background in lifestyle within the same company and bring it to soccer. For example, when we talk about high fashion we always talk about the silhouette, it needs to be beautiful and that was a focus at originals. When I moved to the performance side that's something I brought with me. I said, "let's focus on the silhouette." Because the silhouette is the first thing that the consumer sees. When they're passing the shop or when they're at a certain distance that's the first thing they see; the silhouette and the color. So when you feel attracted to that you're going to step in and want to look at the shoe more. So for me, the Silhouette, the proportions, and the shape are all very important. I felt that was missing in football a bit as well. We had the innovation and the tech but not the aesthetic."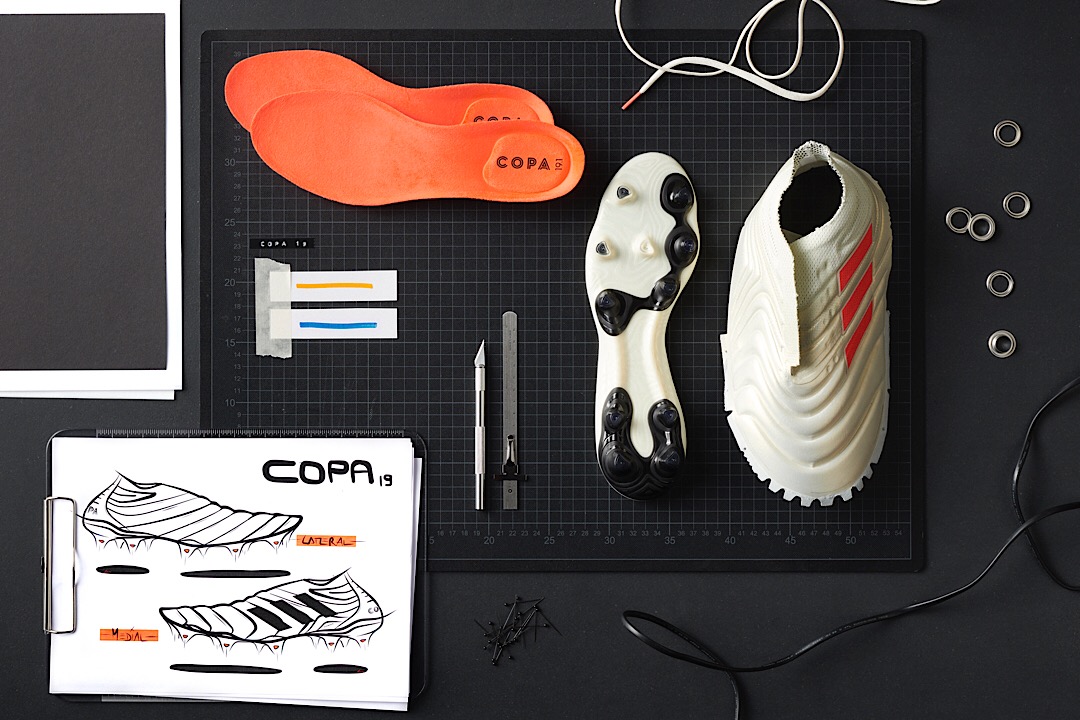 Another thing that tapping into the adi archives gave Arnau was the ability to see a direct lineage or evolution chart for many classic silos. This would prove beneficial when he finally made that jump to the soccer side of things. Especially when he was tasked with creating the modern version of the most iconic soccer boot ever.
"The inspiration came from the original Copa Mundial. It is obviously super iconic, maybe the most iconic football boot ever. When you give a kid a pen and ask him to draw a football boot, he'll usually draw a black boot with three stripes (the Copa Mundial). So we went to the first Copa Mundial and went straight to the core. We looked at the leather and we really wanted to celebrate the most iconic part of the shoe. It's a leather shoe with quilting and it is obvious you will see this repetitive leather quilting and following the shape of the boot. Super anatomical and we really took that design element to celebrate that on the new silhouette. Also, the Copa is the fingerprint of adidas, it's the core of football. It's authentic, beautiful, it's leather but at the same time, it incorporates the latest technology. So it's progressive but authentic to adidas's history. "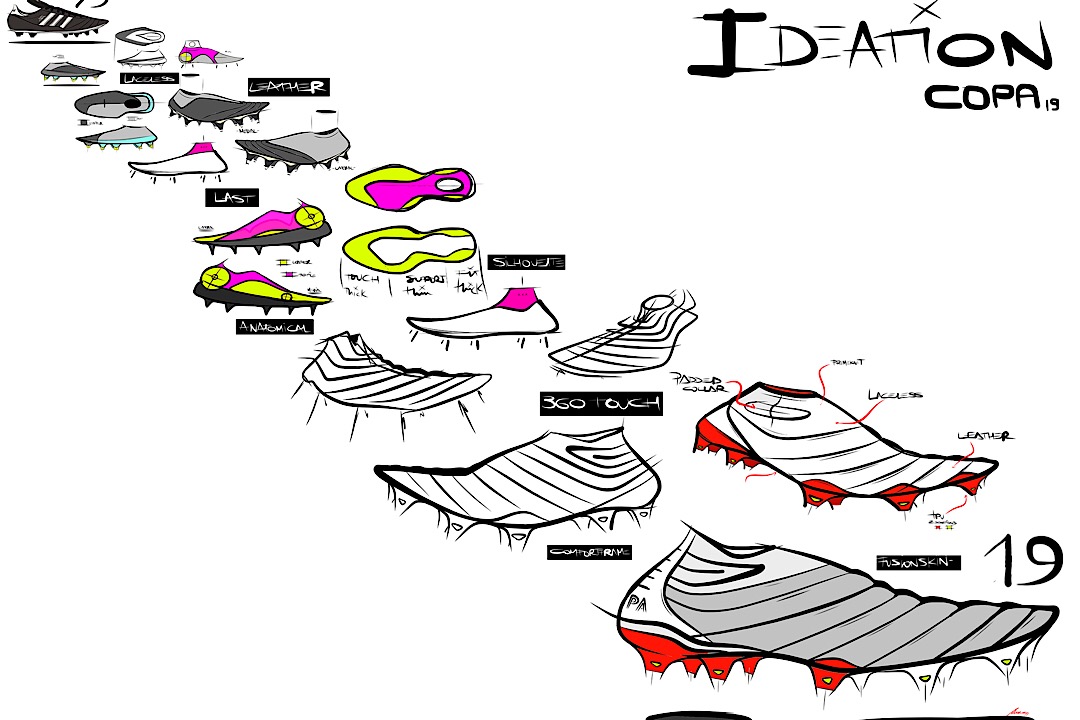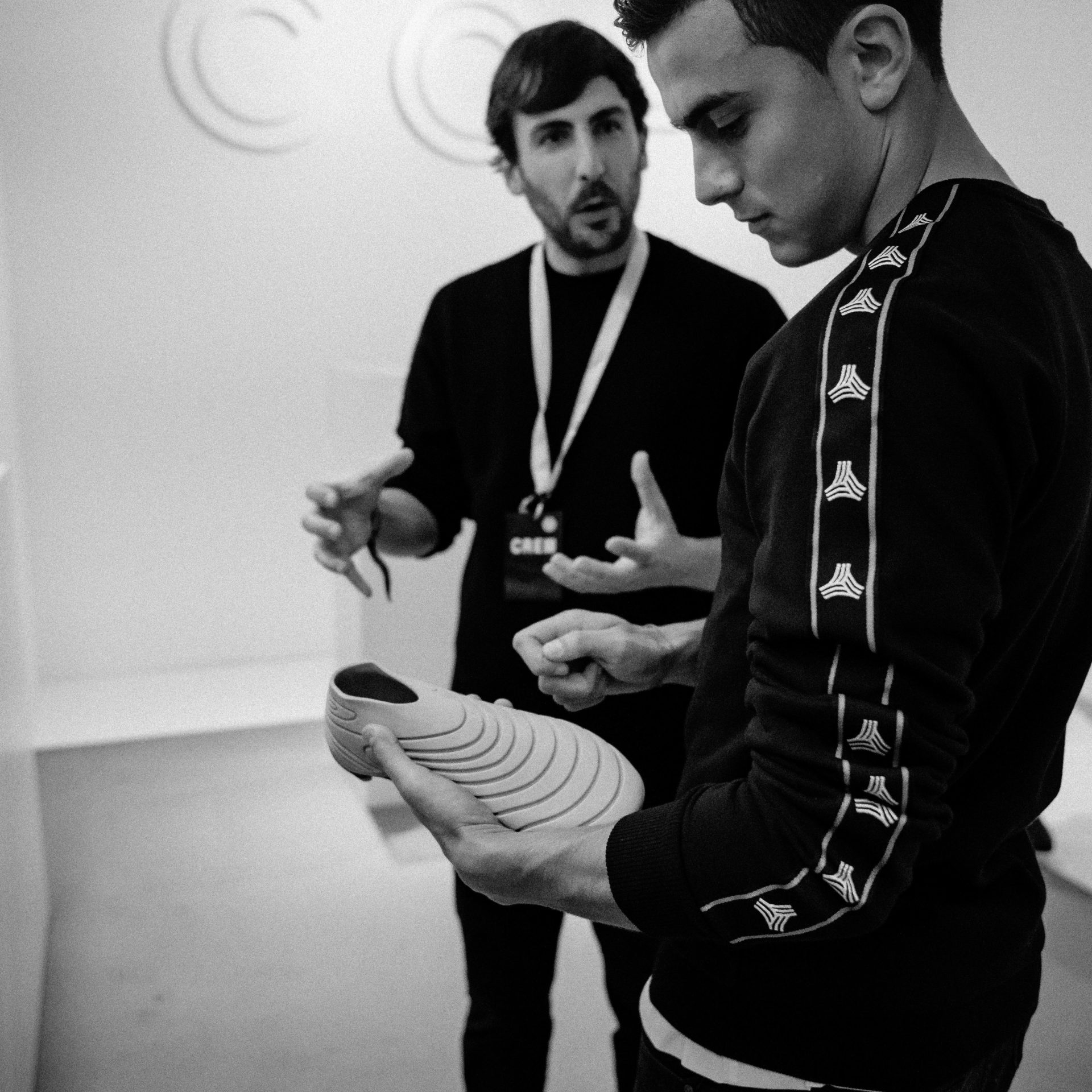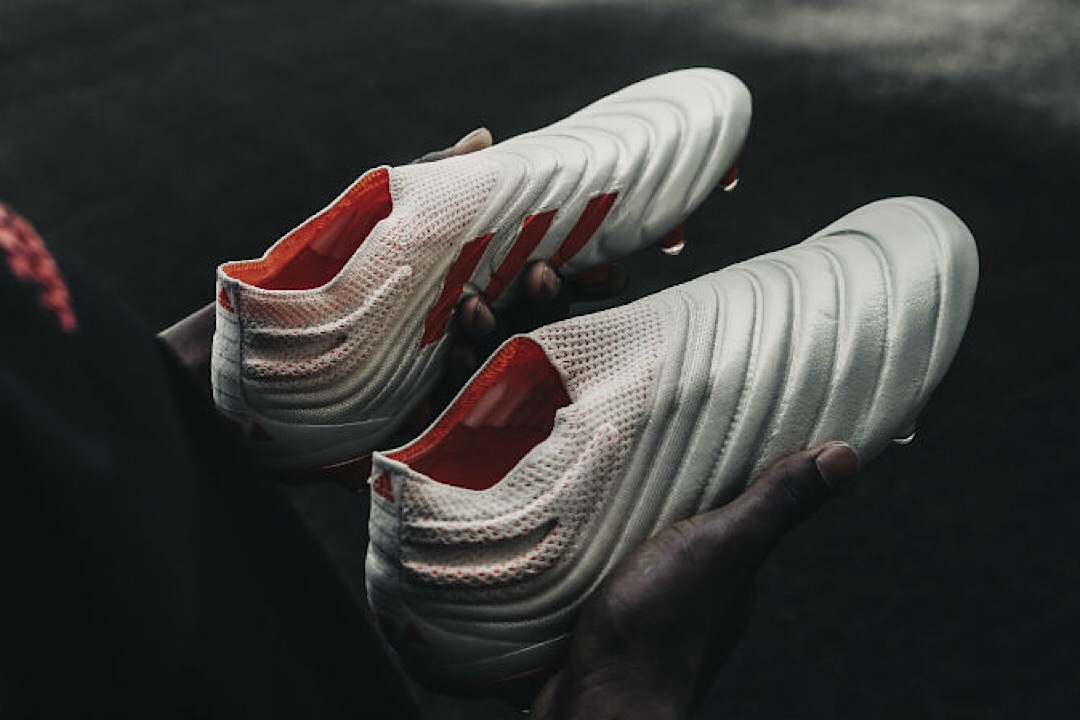 As we look to the future much like Arnau's story it's important to look back. For decades the function over aesthetic paradigm was gospel. Things have clearly changed and now more than ever soccer is fashion even within performance. Both sides bleed into each other. Players want a fly looking soccer boot with a fly looking kit and so do consumers.
"For me, I am working on the latest innovation for what we can bring on pitch, but also sometimes when we combine the lifestyle aspects with some of the performance uppers, I think this stuff can still work. There are still people asking for that kind of product. At the end of the day if you make those links. For example the Ace 16 + Ultraboost laceless. It was innovative performance tech with the iconic boost and it became super popular. People really loved it. Even if the lifestyle trends change, we're coming from an era of more socklike silos of 2-3 years ago. A lot of the high fashion brands are now creating over constructed sneakers. I think there is always a space to bring the latest innovation from performance and mix it with the lifestyle tooling and it will attract people for sure. I also think it really depends on finding the right silhouettes that are working for lifestyle. But it's something we're always working on with a strategy team. We decide which silo can create an impact and also to help the franchise more. "