A CONVERSATION WITH ANDREA PEREZ, VP/GM OF JORDAN BRAND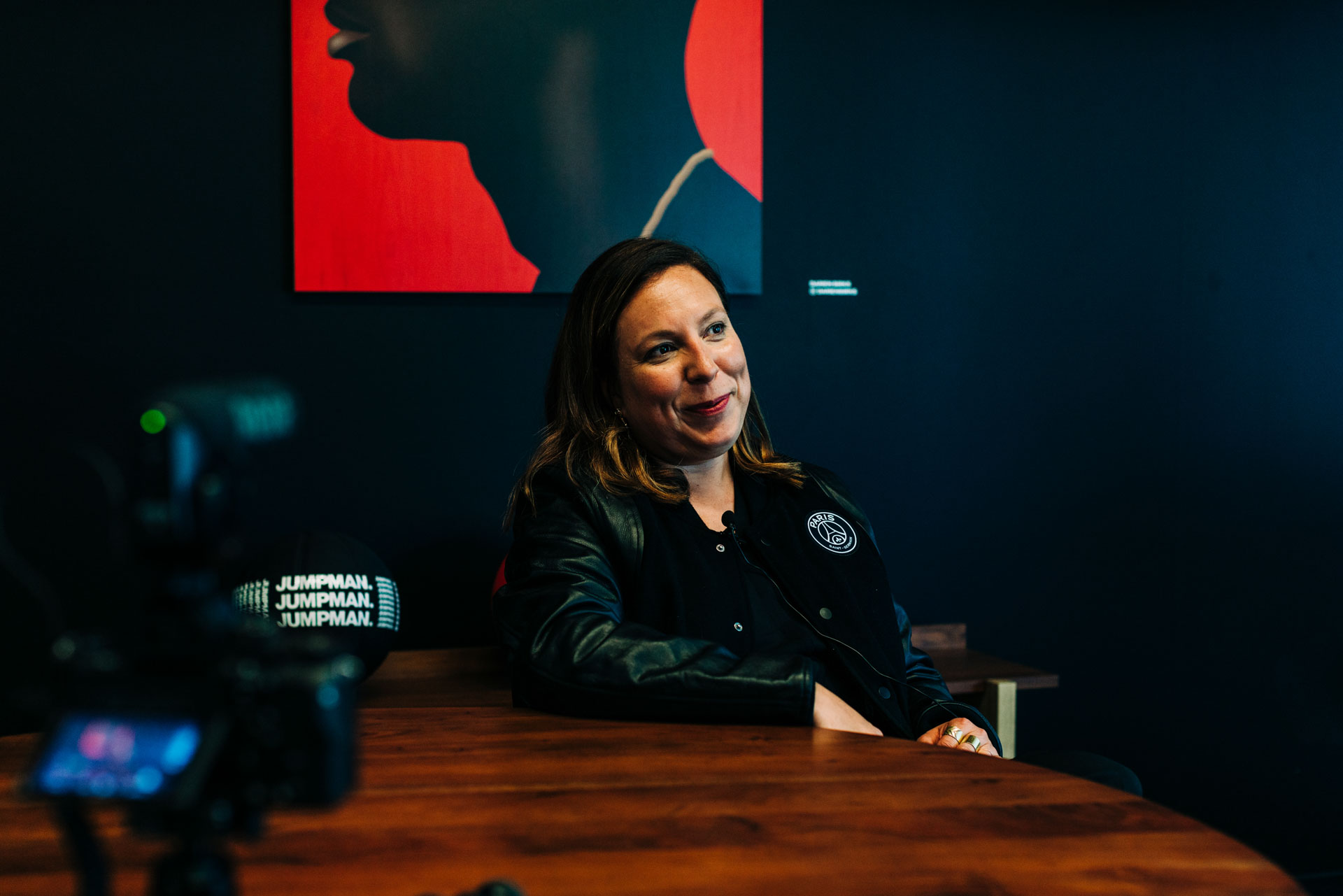 We spoke to General Manager of Jordan Brand Women's and Kid's, Andrea Perez about the PSG Jordan partnership, expanding Jordan's presence among women, inspiring women in sports, sneakerhead culture, and a whole bunch of other critical issues like the Vogue x Jordan collab. She dropped some gems on us including the story about how she asked a leading Nike Executive at her college in Guadalajara, Mexico, "How do I work for you?" which ultimately led to her getting a job with the Swoosh. Check out some of her insights and memorable stories in the following conversation.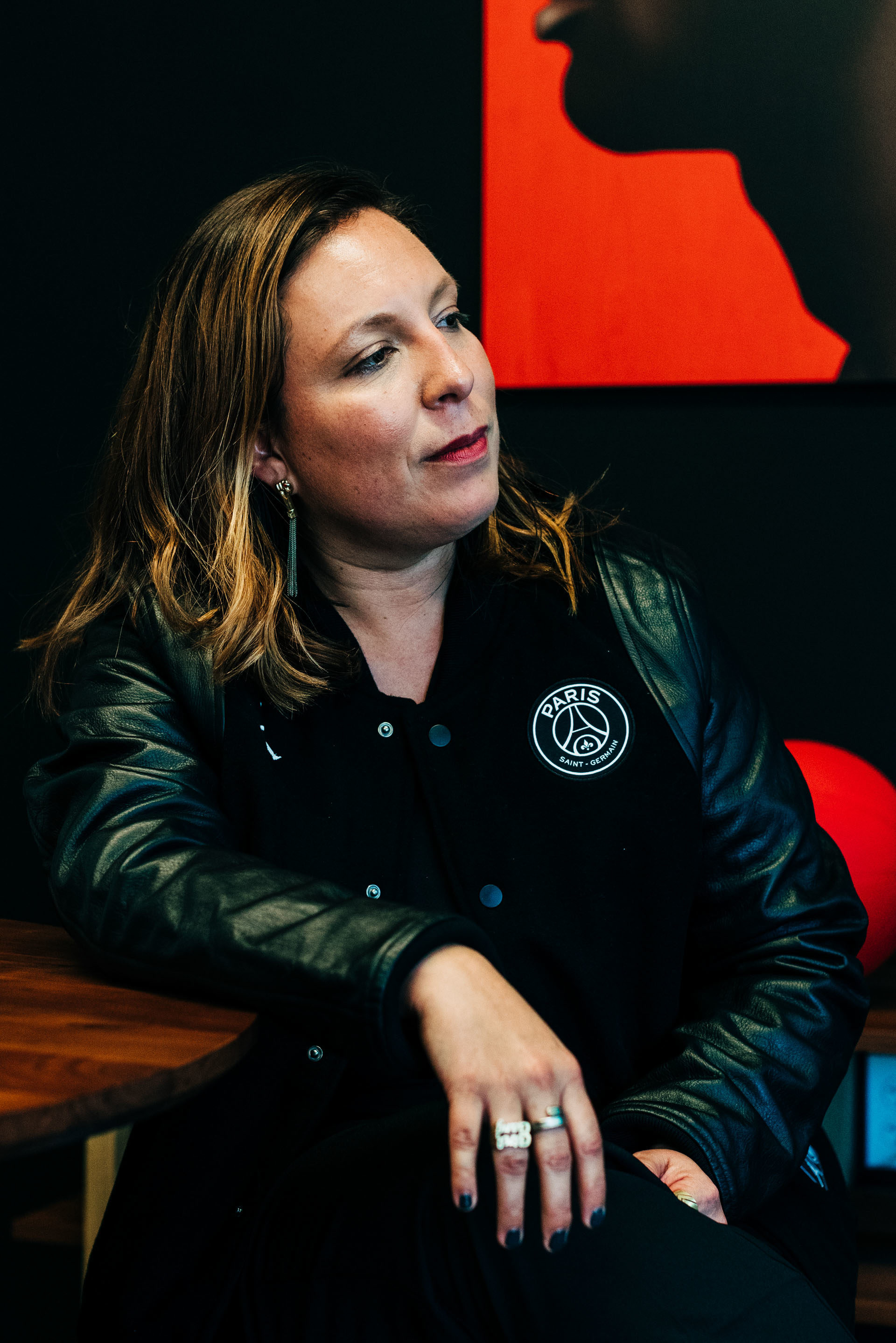 One of the great things I've learned since being involved with Jordan Brand is the whole thing around the culture of basketball, and how that culture of basketball is not only what happens on the court. How that culture has evolved into having so much influence across many other things, including soccer, and obviously sneakers. The first shoes that you desired were from a basketball player and now they are worn by other athletes that you love.
We see the sport influence each other now seeing the tunnel, and what that has done in basketball. Some soccer teams are adopting that from basketball and using the tunnel as a way to be a way to show the personality of the players.
That's been one of the best things of being involved with Jordan Brand is just learning and being more immersed in that culture of basketball and just understanding what living that culture means. It doesn't mean that I can't love soccer any more or even that they are that much different. There is a massive intersection with the culture and the love of basketball and the love of soccer and the love of sneakers and streetwear and all these things that you and I are interested in and have talked about for years.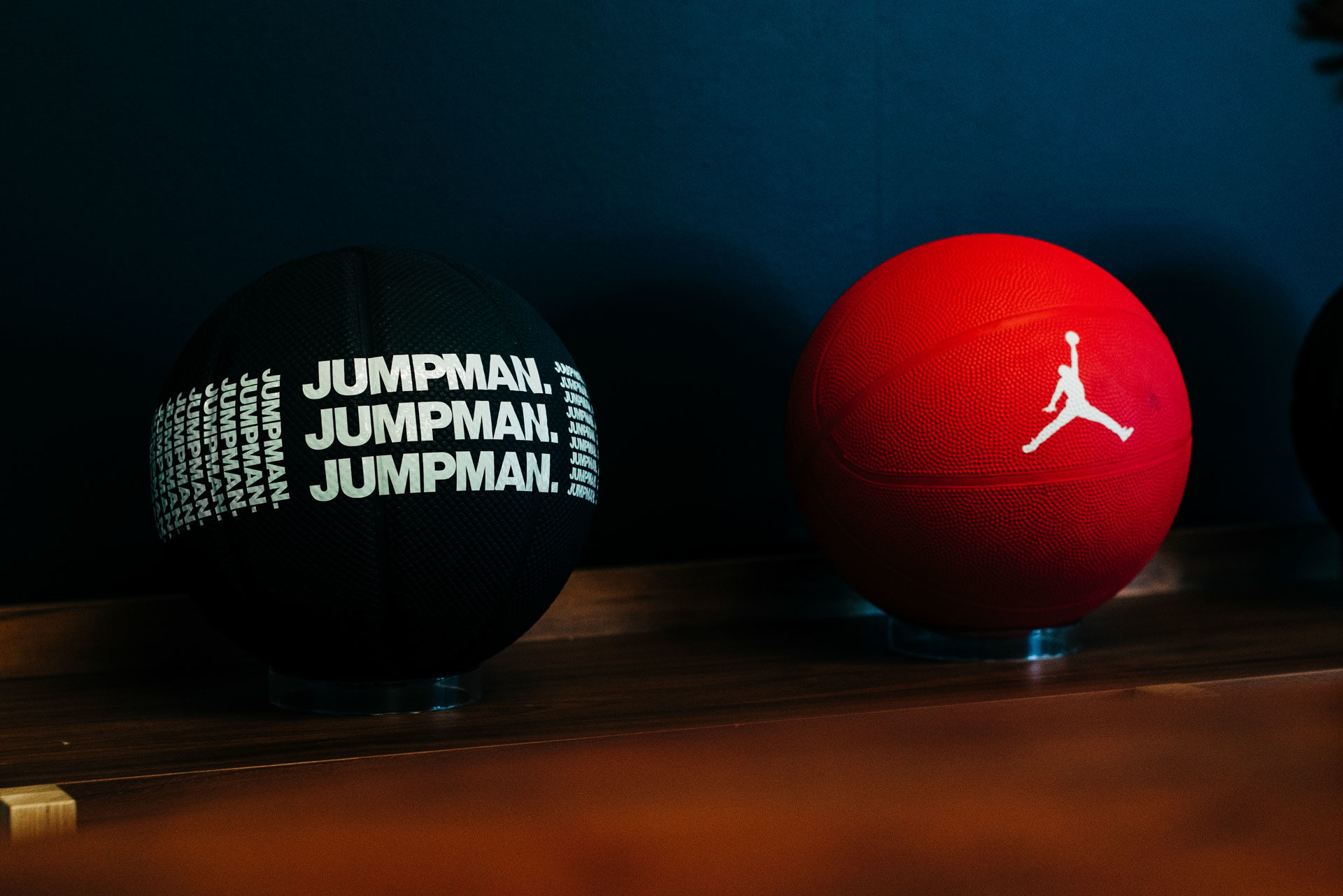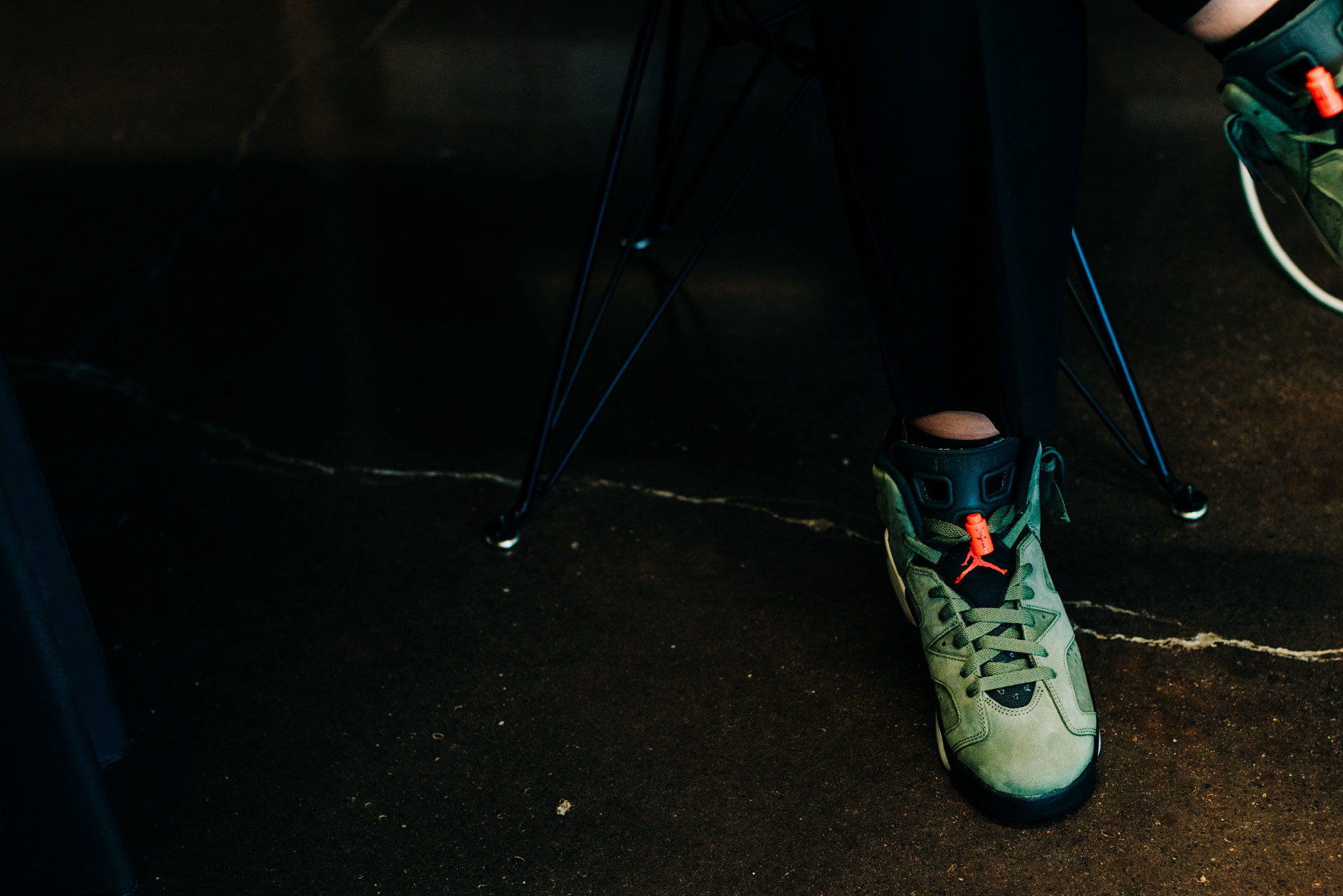 So you've worked in Global Football and Jordan Brand and you have seen how the culture of Jordan goes far beyond the basketball court. How do you think that same type of cultural relevance can occur in soccer in North America?
I think the culture of basketball intersects with so many things. It intersects with skateboarding, with dance and hip-hop, with new forms like gaming and other new forms of expression, and even with soccer because there has been a mutual admiration with the two sports forever. It is less about whether or not that connection exists but more how do we highlight that and grow sport culture, basketball culture, soccer culture, and streetwear culture. Some of the things I have been really proud of since working with Jordan Brand is the work with Paris Saint-Germain. That team, it's an incredible team coming from a city that is so deeply cultured in soccer, but also in basketball. How do you bring those two worlds together, because they shouldn't be competing with each other? They should be embracing each other to make something bigger. I think our partnership with PSG does precisely that. It embraces basketball and some of the best things that sport has to offer—the swagger, the fashion, the style, and the Jumpman—and takes it to a team that has swagger, and it's a team that has that culture. Just marrying those two together and creating something new and telling new stories.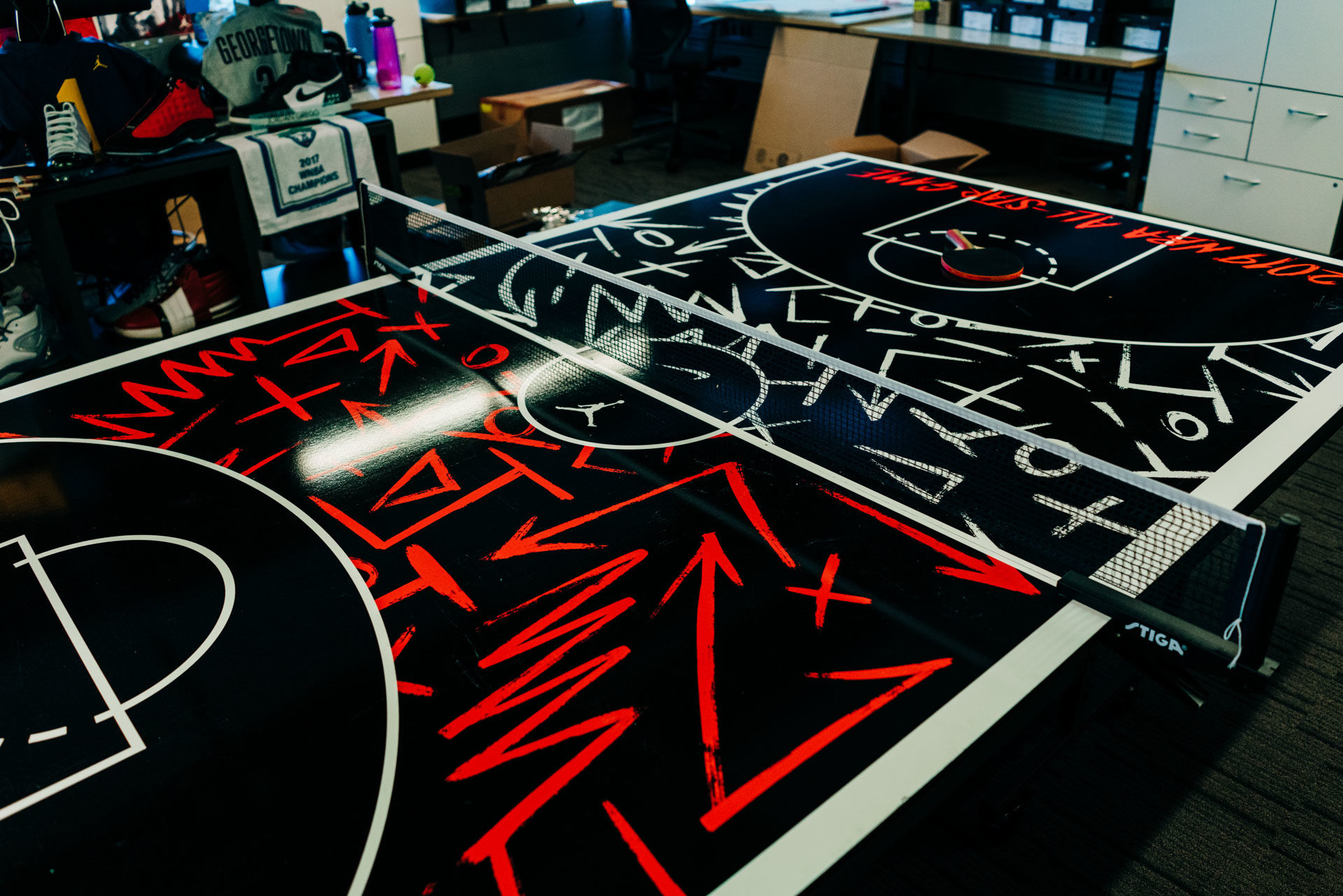 It is interesting to see how American culture, sneakers, fashion, and hip-hip all have a huge influence on Europe and especially the European footballers. We see it in how they dress, what they listen to, and what they buy. The collaboration between Jordan Brand and PSG is one of the first projects to really embrace that. It seems like something that more and more clubs should embrace.
I think that, in general, the culture is becoming more global. Taking that initial ignition of basketball culture from Michael in Chicago and taking it to other parts of the world and combining it with new things gives us something that is completely different. Basketball culture transcends what happens here in Beaverton, Oregon, and even beyond Chicago or Paris. You walk on the streets in Shanghai and see a person wearing a PSG Jordan jacket. It makes you smile and wonder, "did that guy learn about PSG through Jordan or learn about Jordan through PSG?" It could be either and that is fantastic. It is through that blending of culture that creates things that are interesting.
Let's go back to how you got here. Tell us about your journey to where you are now at Jordan Brand. 
I always was a Nike fan; and a Jordan fan. My dad was reminding me the other day that I made him take me to the Jordan Steakhouse when we went to Chicago, just to see if he would show up. But I always was a big Nike fan. A lot of it came from growing up in Mexico and growing up a soccer player (not a very good one) and we did not have a lot of role models. Guys played soccer. Women did not play soccer. We got the bad times for the courts and got the balls the guys didn't want to use any more. I would see one brand that was talking to athletes and talking about athletes that were women in a completely different way. I remember the 99ers, Mia Hamm and Brandy and Julie and this company was making ads about them and telling stories about them. I would look at them when I was fifteen and sixteen and would think, "I want that." I knew that I wouldn't be as good as them but I knew I wanted to work for a brand like that. A brand or a company that told stories about women athletes in the same way we told stories about male athletes. The only company that was doing that was Nike. So I was always Nike, through and through. When my college counselor asked me what I wanted to do I told him I wanted to work for Nike. He was like, "you kind of want to have a plan b." I mean this was in Guadalajara, Mexico, not here in the states. I said, "maybe I'll cook or something," but But in my mind, I thought, "I am going to go work at Nike." I used to make my own ads in my notebook and all that jazz.
I had the opportunity when I was in college to attend a speaking engagement that the GM of Nike Mexico hosted and I asked in the Q&A, "How can I work for you?" 300 marketing students there and I only wanted to know was how I could work at Nike. In the end, he gave me the opportunity to have some entry-level interviews which were amazing. I didn't get any of those three jobs that he recommended me for but then they called me for a job that I thought was Assistant Marketing Director. I got the job and I was super stoked, but it was actually the Assistant to the Marketing Director, which is really different, but it was a great entry path for me. I learned a lot about the brand and I learned from a guy that was outstanding and I ended up working with him later on down the road in global football as well. I got the chance to learn and stretch doing different things while still doing my job. I ended up in Portland a few years after. I was in the marketing organization for a number of years. I lead the World Cup '14 efforts for Nike, along with all of our innovation and athlete plans around that period of time. It was a fantastic experience spending a few months in Brazil helping with everything. It was incredible. Learning more about that country and culture because Brazil is a country that we go back to where the culture of soccer, the culture of basketball, and the culture of the street are really engrained and interwoven together.
Later I was the Head of Soccer for North America and I had the chance to lead the team during World Cup '15 and what that meant for us. It was a chance to re-cement that love for the Women's team and make it massive. And then seeing results later in '19, even though I've only been on the sidelines cheering for the team, has been incredible.
*Andrea has worked as Global Vice President and General Manager of Jordan Brand for the last three years.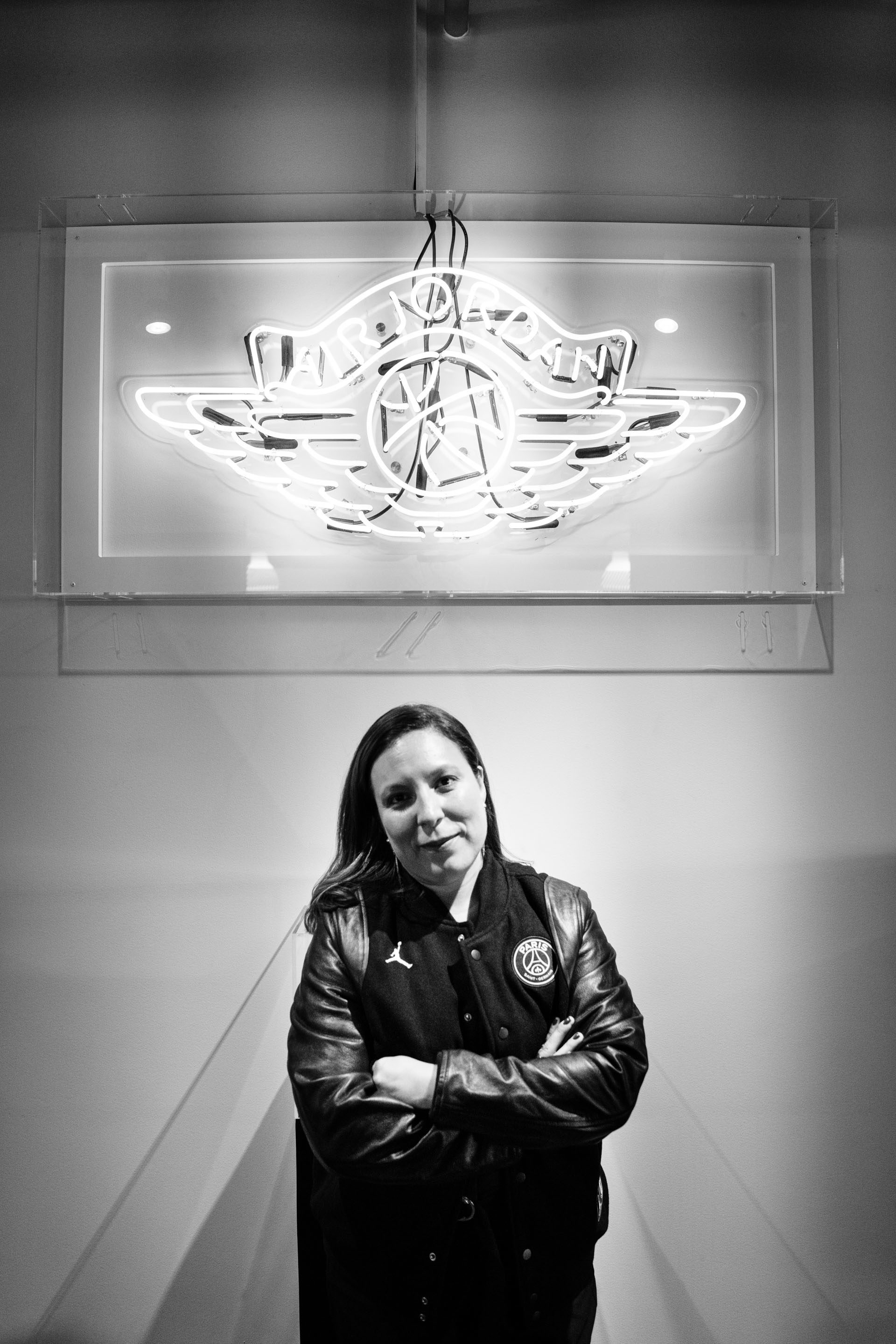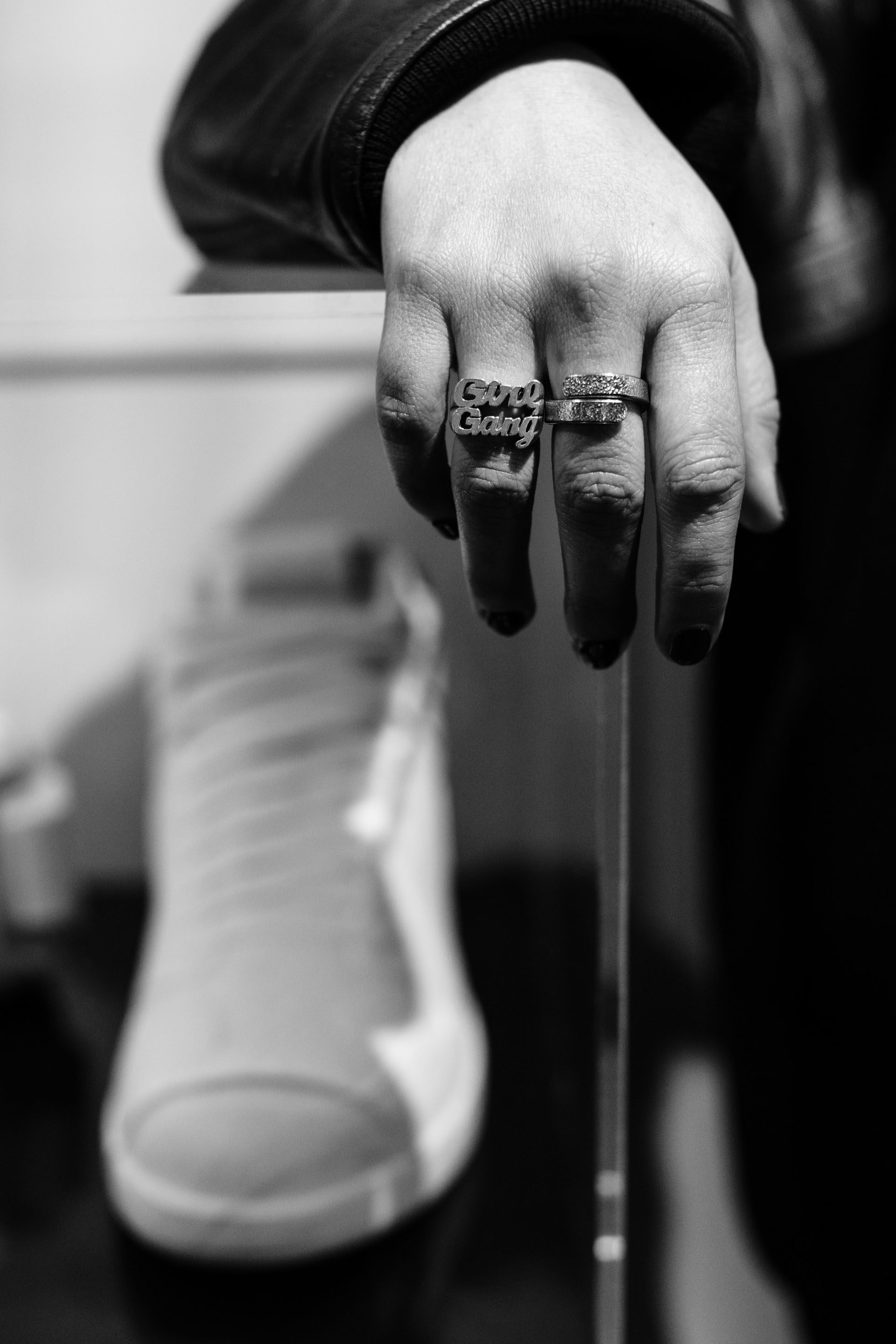 When you were the Head of Global Football, what did that role entail?
I was the Head of Global Football for North America which meant Canada and the US. Our biggest thing has been, how do we make soccer a great part of the culture in the US and Canada? How do we support growing the game? How do we support growing the culture? How do we support the players and leagues that make this a great thing? It includes pitching product that we think is important, particularly in North America. I'll give you an example, jerseys—jerseys that were different and significant for the Women's Team and the Men's Team and why that's important. The job includes everything all the way down to marketing, merchandising, and selling those products. No day was the same. There were days when I was talking to external people all day and trying to make relationships happen that will push the game forward. There were a lot of days talking to people in product, trying to develop the product that the North American market needs specifically. There were days when I was out on market travel meeting with consumers and retailers creating the future by getting insights about what's to come. So no single day is the same and I think that is what makes it exciting. Now you know we have a woman leading North American soccer that came from a completely different background than I did and she is having amazing success and has an amazing team. It's great to see that it's not something that is entirely dependent on a person. The culture and the support for the culture that Nike has in North America are so big.
Can we talk a little bit more about something you touched on? How does it make you feel as a female leader in the industry at a time when there is so much focus on and positive attention for the women athletes? Also, what do you think the future looks like for female sports?
I am incredibly excited for what is to come with women's sports. I think a big part of growing women's sports is how do we make women's sports part of popular culture? To see 2019 and what that meant, even for us as a business and for the athletes themselves, was just a massive step forward in making women's sports a part of the culture. Recently someone sent me a picture of a kid in a stadium with no shirt on and with black sharpie had written "Lloyd" and "10" on his back. It was incredible to see a boy admiring a woman on the field, which shouldn't be surprising in this day and age but in a way it feels like a step forward that we are now embracing and creating a culture that accepts and promotes that. Guys and girls can grow up admiring both guys and girls. You don't have to be restricted by your gender with regards to who you can look up to as an athlete. All of that has been fantastic.
I am very excited about the efforts we are doing in the Jordan Brand and even in basketball with people like Maya Moore, Kia Nurse, and Asia Durr and the roster of athletes that we have. And seeing what the team is doing in terms of elevating them as athletes just gives me goosebumps. It is really exciting.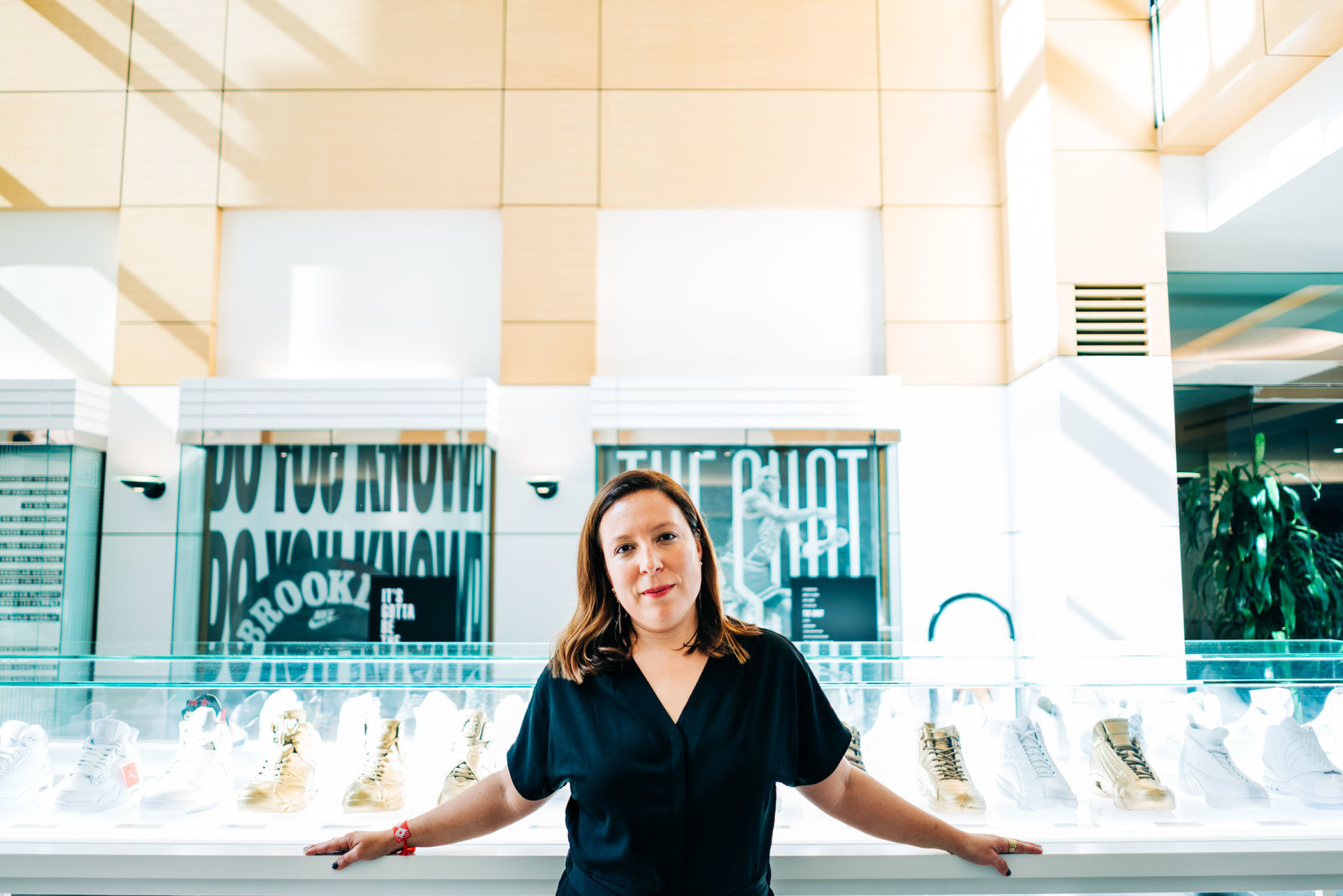 So your role with Jordan involves a lot on the Women's side?
I do, yes. I lead the women's business for the Jordan Brand which has been a fantastic journey from two years ago when I took this position. Starting with "Hey, how do we want to create this line? How do we want to build it? How do we want to grow it?" to working with a team that is just amazingly passionate about making sneaker culture for "her," something incredibly relevant and connected to basketball, authentic, and connected to the women that have always loved the Jordan Brand, but also connected to women who are just starting to learn about the brand and embracing it.
So there are a lot of female sneakerheads, but there has to be a huge opportunity there for growth and connecting with females around the world.
When we started, one of the very first things that we did was we went a spoke to women all over the world—North America, Paris, Shanghai, wherever, we went there. Having the opportunity to connect with many women, some of them had always loved the Jordan Brand they didn't feel left out the were saying, "Hey, we love Jordans." Others hadn't really heard of them but told us they were cool and told us what they needed. We are in an amazing position where we have people that are so loyal and excited about the brand that we can count on to help us be better and stay connected. But we also have a massive opportunity with women that are just becoming interested in the Jordan Brand because of the work that we have done with women that are learning more and more about sneaker culture and streetwear culture and want to be a part of it through the lens of basketball culture and Jordan. And also with women who discover our product and say, "Hey, that looks amazing, I've never heard of you guys but this shoe or this Vogue collaboration you did is amazing," or "I love Aleali May. I love what she is doing. I follow her in the fashion world and this shoe that you've made with her is really amazing." So having these projects and creating those bridges that bring people to the brand is one of our main objectives.
Can you talk a little bit more about the Vogue collaboration because that seems like a huge way to connect with a new population of women?
We did it about a year ago. We wanted to partner with people and brands that are amazing in their field. When it comes to fashion, who is more amazing than Anna Wintour herself? She is a fashion icon. We wanted to make something that was true to Jordan, like an AJ3 or AJ1 but also something that was true to her 100 percent. It has some amazing details. The leather is incredibly soft. It is a bright red, which is a very fashionable color. She did the video about it and was very excited. The detail I love the most about the shoe is it has a translucent base and on the sole, it says "AWOK" which comes from Anna Wintour's signature approval for anything that goes into the magazine. For us, having Anna's permission to include " AWOK" on the outsole meant she gave the stamp of approval to the sneaker as well.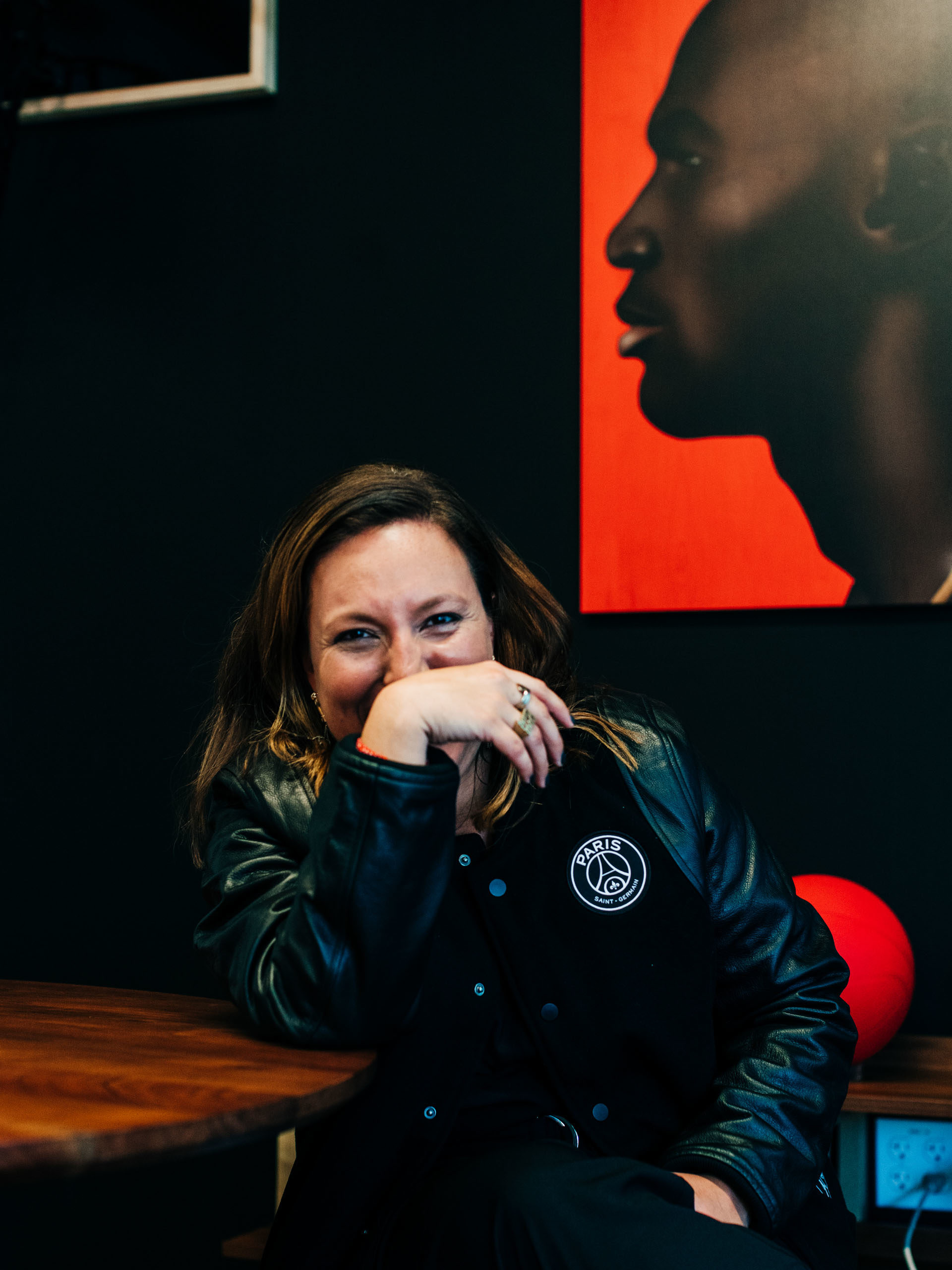 Let's talk a little bit more about the PSG/Jordan partnership. The women's side also has the Jordan kits so that is another niche to increase Jordan Brand's connection with females.
You know, Nadia Nadim is one of my favorite female players so I am excited that she is wearing the Jordan Brand. But beyond that, I don't think that soccer's fandom is separated by gender. I think that soccer fans are soccer fans no matter what. I would go to games with my dad in Mexico since I was little. In Paris when you look at the stadium men and women are there. They are fans of the game. There are women who connect with the game through playing and there are some that are fans. To be a part of the soccer culture in a city like Paris that loves the sport is huge. It is going to be embraced by men and women.
We see women all the time in the PSG Jordan product. Aleali May was part of the campaign. PSG Forward Marie Kototo was a part of the launch campaign. So we've embraced dual-gender positioning for PSG from the beginning because that is what the fans look like. We wouldn't be true to the game if we weren't embracing both genders.
How have the women of PSG responded to being on the one club in the world that wears the Jumpman?
I haven't connected with any of them personally about it but, I see them posting on social media and seem to like it. Playing for PSG is very special. So playing for PSG and now wearing the Jumpman is unique and connects you to one of the greatest athletes in the world and connects you to a different part of the culture has to be exciting. 
Everyone knows who Jordan is. It must be something to not only play for PSG but to wear that Jumpman on the pitch.
I want to touch on something. I think there is a particular confidence that you get from wearing Jordan. It's the shoe a lot of people wear to graduations, to weddings, to so many significant things. Gameday shoes are Jordans. And we (at Jordan) have such an opportunity with women to create that same emotion that a man feels or a sneakerhead feels when you wear your Jordans. To have that also embraced by women. Why should they only feel confident when they are wearing heels? You can be just as confident wearing some Concord 11s. You can be just as confident wearing an amazing pair of AJ1s. You can feel that same way. I like to say that the Jumpman in a way is like a super-power and what our team does every day is to bring that amazing feeling and culture to more people—for them to feel that same confidence and to feel that sensation. [For these footballers] to feel that sense of empowerment when they step on the pitch. Look good, play good, right? Relating it back to the athletes on PSG.
We follow you and have seen that you have posted where you have given speeches to young female professionals. Can you talk a little bit more about that and what that means to you as a female executive and be in a position to inspire the next generation?
A lot of what I am doing, more than just making speeches, is making one on one connections. I have blocked out on my calendar three hours every week for anyone that wants to talk to me and wants to ask for advice. And it is not specific to a gender, and it is not just Latinos. Anyone that contacts me by any means and wants to talk to me. It has been an amazing experience. It came out of being asked for informational frequently and I was feeling like well, 1. I was pushing them out a lot and not doing them, and 2. When they were in the middle of the day I was giving the people the attention they deserved. So now I have them at the end of the day at a certain time and it allows me to be completely focused on the person. It allows me to not be worried about myself and the things I need to do. Everyone that comes has a problem or an opportunity and they are trusting me as an advisor to help them with their problem or opportunity. So I have been doing that for a number of years and it has allowed me to talk to hundreds of types of different people. A lot of them are here from Nike which allows me to stay in touch with younger talent. But a lot of them are from outside from within the industry, or people that are trying to break-in, or just people that are trying to do really random things with their life that think I can give good advice. But sometimes you just need a sounding board that is invested in your success as a human but not necessarily too tied up in it emotionally that is able to give you something like their version of the truth; help you see a different perspective.
So that is all I am trying to do. Being a mentor is really important to me. A lot of people mentored me along the way. I wouldn't be here without those mentors that I've had. A lot of them are still working in the Global Football side of the business.
That's one of the things that really keeps me stay connected to the Jordan Brand. The Jordan Brand, as I learned when I joined, is a brand that really values mentorship. They really value education, things that are really important to Michael. As a brand we have a community program called "Wings." The Wings program is about mentorship and education. To be a part of the journey of this brand and to be a part of a program like that makes me feel amazing when I come to work.  It's never been about selling shoes. It's not even about the culture. It's truly about changing lives and changing lives with a very hands-on approach.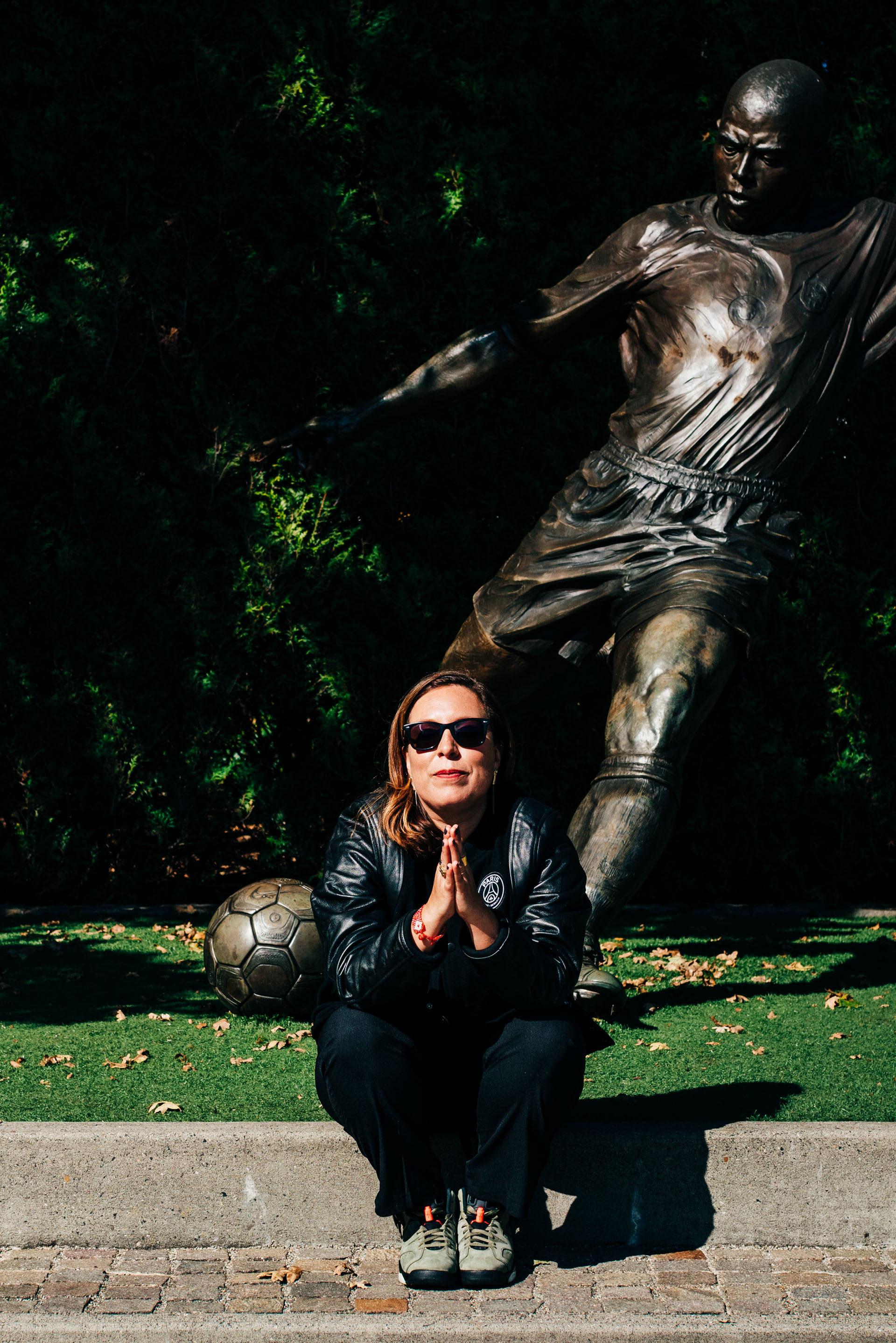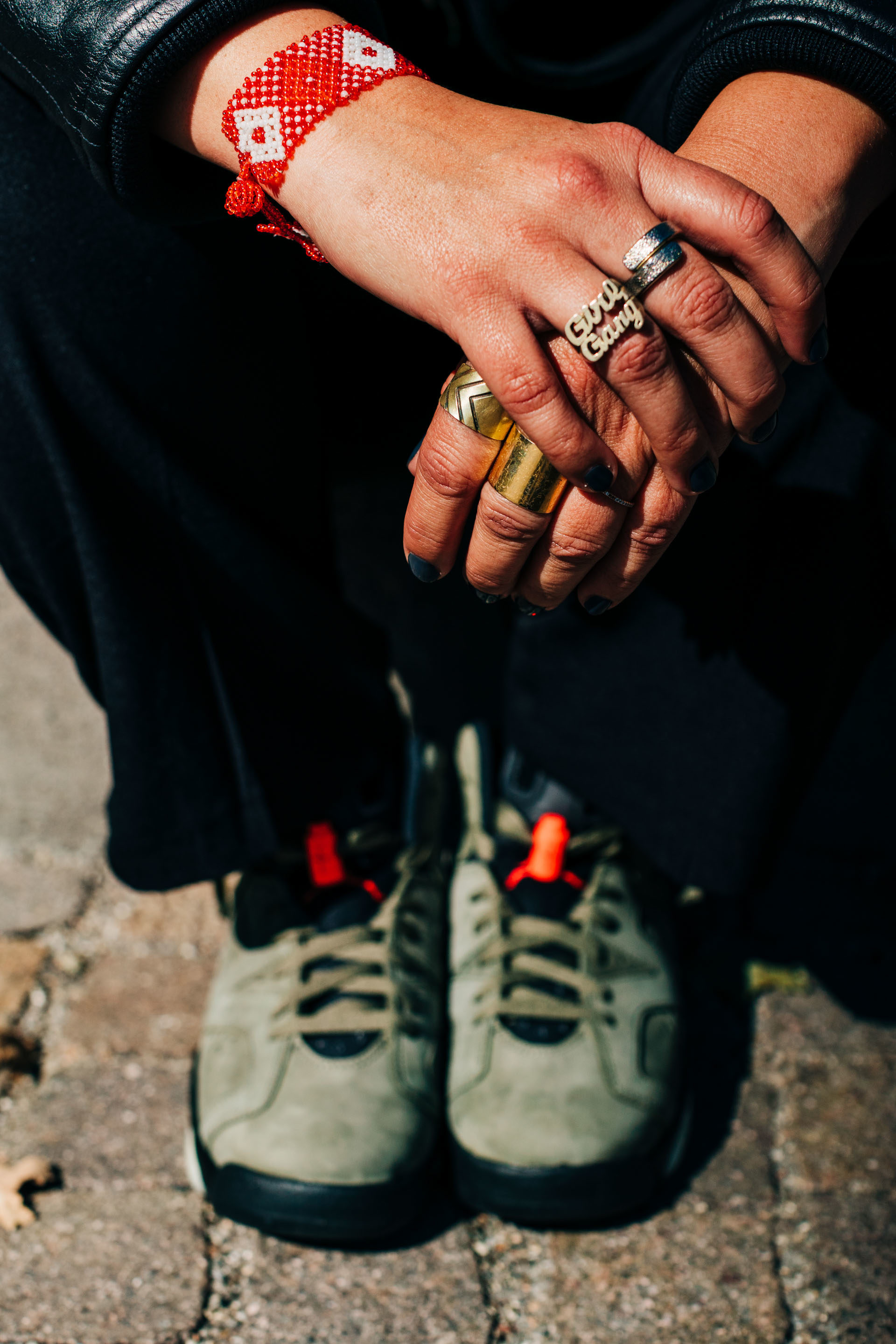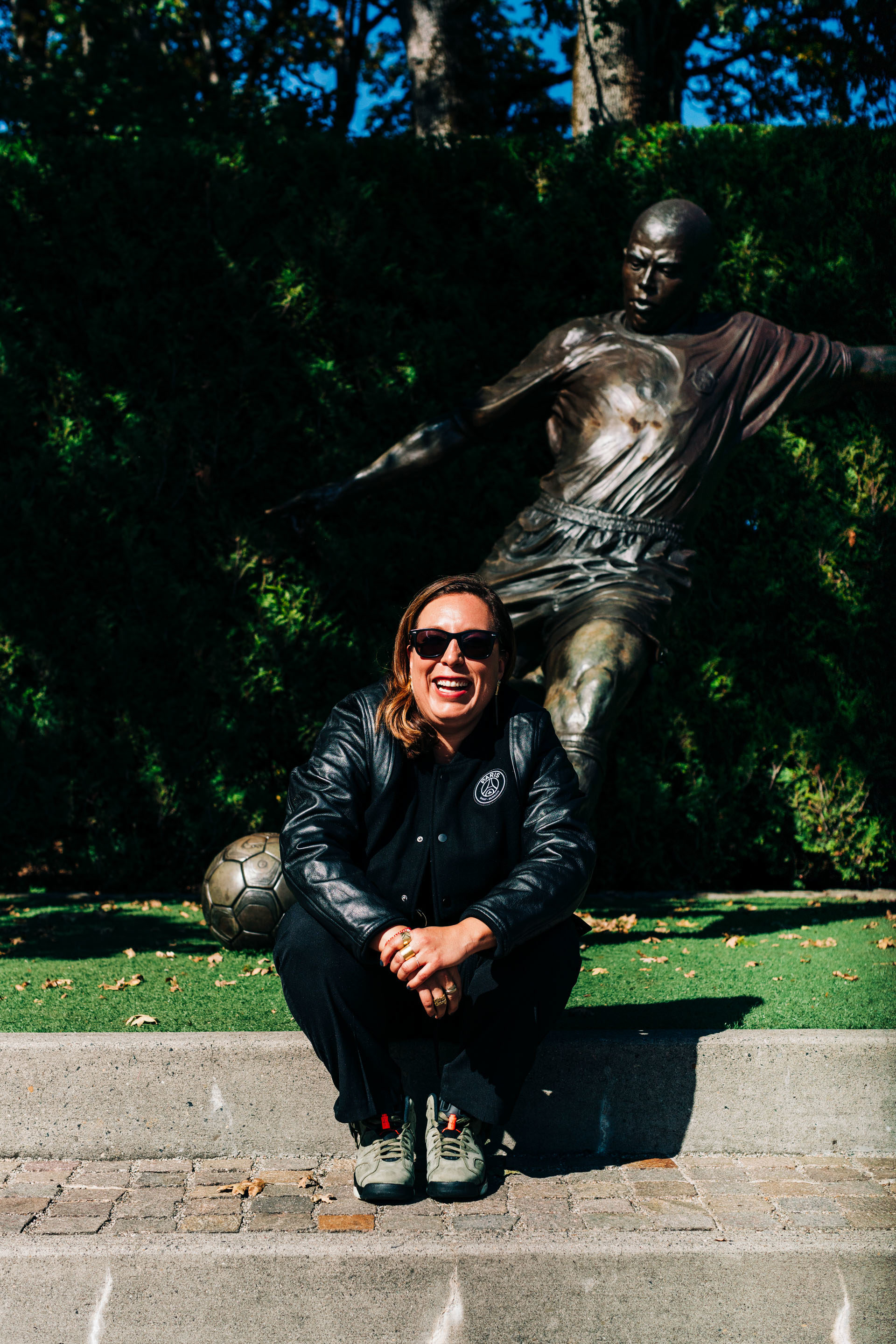 So what are the things that inspire you the most when you come to work and the things that you are excited about in the near future here?
I am someone that gets a lot of inspiration from people. I am very inspired by my team. I work alongside a team that is brilliant. A team that is ready to tackle any challenge. A team that has each other's' backs. Every day they come and they have the Michael-mentality of greatness. They have our consumer's mentality. We like to call our consumers the "Fearless Ones." They are people that are focused on the path. They are not talking failures as failures but as opportunities to learn. There are things that are easily said, but not easily done. But my team is fearless every day and is not focusing on any obstacle on the road. That's what excites me the most when I come and have a day where I can interact with them for most of the day. Those are great days.
In addition to that, it is the consumer—looking and talking to all these young women who love the brand and this journey of basketball culture, and the players themselves. They are focused on their pursuit and their dreams. How can the Jordan Brand be an avenue and a partner for them to accomplish their dreams? Whether it is wearing the Jumpman and the confidence that instills of facilitating something on their path. Those things are the most inspirational for me.
So you have been successful in your career and have had great mentors. If you could go back and give the 15 or 16 year old Andrea one piece of advice what would be?
Never focus on the next opportunity. Focus are where you are now. And I would tell her to be nice to everybody because you never know. We work in an industry, in sports and in soccer, and you continue to cross pass with people from the past. The more you can embrace them and learn from them and get to know them as humans, the better your life is going to be because you are going to feel like you are always working with friends.