CAN I KICK IT? GRETA VAN FLEET ROCKS ON ANTHEM OF THE PEACEFUL ARMY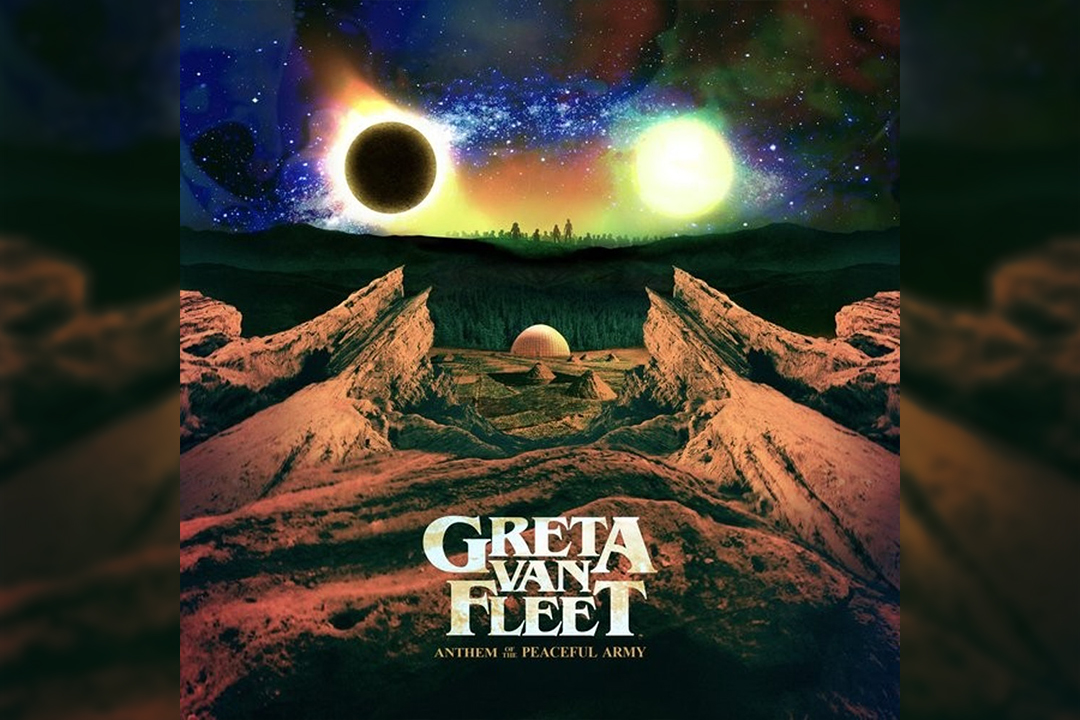 Greta Van Fleet have made a name for themselves by sounding they lept fully-formed from the brain of a rock critic in the 1970s. Three brothers and a friend from a town near Saginaw, Michigan, they came bearing recycled Zeppelin-isms with a touch of Rush's "2112″ from the frontman that everyone accused of being a Robert Plan wannabe. Generations of hair-metal bands, parody specialists like Spinal Tap, post-modernists like the White Stripes, and script-flippers like Dread Zeppelin are history to them. They were roughly kindergarten-aged when School Of Rock melted rock fans' faces. They probably never wondered about any artists missing from Dewey Finn's chalkboard diagram of Rock N' Roll. They probably just thought the film was rad (which it was).
It's easy to see why many classic rock fans have flocked to Great Van Fleet's YouTube videos and live performances. Fans are probably counting, on one hand, the number of bands that sound anything close to the kind of hard rock they grew up listening to on radio stations that don't tout classic rock mottos. The band's critics, however, in much of the same way that Muse was viewed as a Radiohead plagiarist band, view Greta Van Fleet as a producer of cheaps thrills with little originality to offer.
On their official debut album Anthem of the Peaceful Army, some truth exists both of those sentiments. But there's also a charm to their guileless, retro-fetishist conviction. While it's true that the vocals sound like something we've heard before, to say that Josh Kiszka doesn't have chops is also disingenuous, especially after listening to "Lover, Leaver (Taker, Believer)". "The Cold Wind" and "When The Curtain Falls" flaunt the physical graffiti that earned them a global audience.
The biggest downside to the attempted reworking of rock blues comes in the writing. With a sound like they have, the band could use the lyrics to help push things past nostalgia, the way Amy Winehouse spun Motown, mascara, and beehives, but the writing often comes off as mish-mashed and clunky. "You're The One," a come-back-to-me plea to an "evil" girl, rhymes "young and pretty" with "ain't that a pity." "Brave New World" gets surprising mileage out of the words "acid rain," but the drug references are dated. And while a certain British band might be these boys' heroes, that band new when to separate their lyrics written to sweet ladies looking for action and their literary-fantasy prose (listen to "The Cold Wind," where the selling of an ox is interrupted by a "Yankee peddler" and results in the subject of the song wearing a new dress. Um, what?).
Still, fans of the band will have some things to look forward to hearing, and all of the album's track's should play well at concerts. Time will tell if the band manages to distance themselves from dangly earrings, vinyl pants, and Hendrix-esque headbands. The song "Anthem," asks, "Where is the music, tune to free the soul/A simple lyric to unite us all?" It's an old motif, but Greta Van Fleet don't answer the question. If they manage to use their influences as fuel and not as blueprints, they might someday.