FEMALE IS FOOTBALL: SABRINA COLS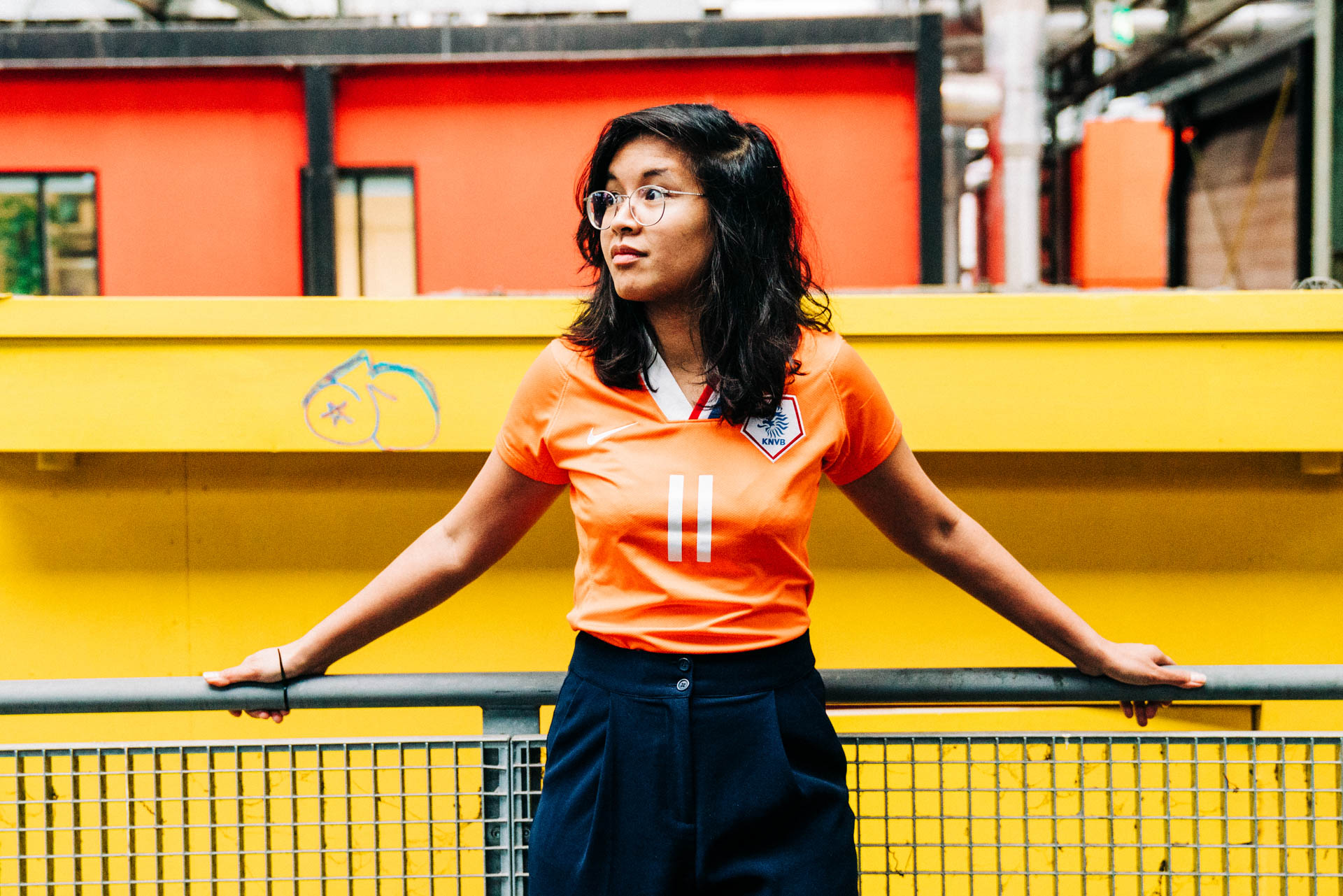 Introducing Sabrina Cols. Sabrina is the newest member of the KTTP writing team and our feature for this edition of Female is Football. The Netherlands has long been an epicenter of not only how football is played but how life reacts and exists around it. To help chart the modern rise of the Dutch female footballer, we sit down with Sabrina Cols: marketer, a player, the lioness behind the scenes helping grow the game through her experiences with Nike + the Dutch FA.
Follow Sabrina: @sabrina_cols
Photos: @bybrando
Tell us a little about yourself.
I'm Sabrina Cols, 35 years old and I come from Holland. I originally grew up in a city in the east of Holland and moved to Utrecht, where I currently live, during my studies. I got connected with the game of football through my cousins, because they were always outside playing. So when I had the chance to join another sport, after swimming lessons and martial arts it was quite logical that I would join a football club. My mom found a great club and I joined when I was 11. I've never stopped ever since.
What was the presence of girls and women's  football growing up. Was it common?
For everyone starting in the 90s, it was there: girls and women's football, but it wasn't as big as it is now. In Holland you also have the opportunity to play mixed football, which means that you can join every club. That got a lot of girls started in that time. My club had enough members and could therefore also organize girls teams. 
Were these games televised? Were they hard to find and watch?
When I started to play there was hardly any women's football on television. So you're absolutely right. It was not broadcasted and the Dutch Women's team at that time was not participating at the big tournaments. So I had to watch Eurosport to see a little bit of international women's football and that started during the Women's World Cup in 99. Especially the USA women's team stood out for me. They were playing for big crowds, winning the tournament in the end. Really special to see that on tv and to see all these great players from the different countries at that stage.
How hard was it to watch?
It's really nice to nowadays see the attentions for the women's games during the big tournaments. At that time I would kamp in front of the tv and try to catch a glimpse on Eurosport to follow the Women's games during the big tournaments. Players like Mia Hamm really stood with me, with her great technique and scoring great goals. The following years the USA women's teams made it easy to follow them, because they were really active and into presenting themselves. To me the team that set the tone and really showcasing how you can do that as a team, as players and of course always combined with great success and winning prizes. 
What part did style in football play into your life?
Growing up you always see your cousins, friends and the kids at school who wear cool things. In Holland we didn't have the school uniform or anything like that, so we could always express ourselves from a very young age. Wearing whatever you like. If you are a football player, then you also tend to look at what the football players are wearing and how that meshes with your own style. Sneakers growing up was a big thing. I think that's definitely something that was as important as wearing the best cleats.
Did you have a favorite brand? Or more of a variety?
Back in the days I like the old school ones: the Air Max Lights, [ones] I was always playing football in the lunch breaks,  so so I always needed to have that second pair with me as well. So I would not to not mess up my good pair. I still remember wearing white and baby blue LA Gears, red velvet Kangaroos, the Kill Bill yellow Puma's during high school. But Nike's were my favorites. Those are the shoes that I remember.
Now that we know the soccer side of things, Can you talk about what you do for a career?
I started working as an independent [sports and culture consultant] in 2017. Before that, I worked for 10 years for Nike and the Dutch FA. So my background is pretty much in football and the sporting goods business. At Nike, I started with a retail marketing internship and after that I had multiple jobs within the company. My thread within my Nike career was that it was in a way connected to football. At the Dutch FA I was a women's football marketing manager.
Some of the great memories from my Nike time was meeting the Dutch women's national team when they got their first women's fitted kit and supporting the first women's football photoshoot back in 2008. Introducing also Anouk Hoogendijk (former Dutch international) to Nike. My last gig at Nike was as a kids- and women's football project manager. 
A dream ofcourse to work as a professional in football. Nowadays I'm working as an independent also really exploring other worlds. So I'm still doing projects in football, but I am also working on arts theater and dance-projects and a social impact-project.
How did your football journey start?
I just grew up loving football. I had a great time playing season after season. With great memories of winning prizes, even playing abroad and just having great laughs with my teammates. At some point, I just realized that I maybe was not that good and interested to make it to the top on pitch. So I had to see if I could pursue another career in football. Sharing what I learned and enjoyed on a professional level. Looking back it's really cool that I managed to do that. I ended up working for my top two companies. Giving a real pulse to Dutch women's football and work on kids and women's football within a big multinational.
I've been playing and watching women's football for so long. And I just couldn't understand why companies like that shouldn't pay good attention to it. So I am hoping that I played a part in giving energy and help translate how you can make women's football work professionally. Whether you are a big sports brand or a federation. Not forgetting also to motivate the players, whether they are internationals or young girls starting, clubs and other people involved on how they can also play a role in promoting the game.
What was it like in the early days of working in women's football at Nike?
Growing up as a young football fan Nike to me always had the best football stories and the best commercials starring Brazilian team, great players such as Ronaldinho, Henry and Zlatan. So of course I would love Nike to do the same for women's football. But when I started the first conversations in 2007 at Nike Holland there was still a lot to win on getting to know the sport: how many girls and women are playing, how is it developing, who are the big clubs, who are the players to watch, how many people are watching games. So in other words: is the sport really a sleeping giant and how interesting it is business wise. But it was definitely at that time when I got a real good understanding of what sports business means, what makes great product and even better storytelling. It was not the right time, yet.
What was it like in the early days of working with the Dutch FA?
Yeah. I  was probably the first full-time women's football marketer, in Holland, in Europe, maybe in the world haha. When you're in it, you're just working really hard and doing your best. But if I now look back, I started in 2008 on the parttime project women's football and I helped develop it into a marketing category with people working full time and many more colleagues involved by 2017, it was quite unique. 
At the Dutch FA at that time, it was really important that they presented girls and women playing, from grassroots to the Dutch national team, in the best way possible. Mind you that at that time the mindset on women's football was not as good as it is today and the Dutch women's national team was not as visible and successfull. So we first started with making well though of marketing communication plans, creating it with and for the players, using campaigns around the big tournaments and using quality productions to also shape that image of women's football. Really inviting girls, women, parents, clubs to join and play football. And setting the stage the women's national team and getting Dutch fans excited for the other Orange team. 
It's just really cool to think of how it all came together. A lot of girls and women started to play football, female membership was growing constantly. Giving the Dutch women's team, the OranjeLeeuwinnen (translated: Orange Lionesses) their own identity and a stage to really present themselves to the Dutch fans. We developed and organized the women's national team games into the national women's football events. And the final big step was to win the women's EURO 2017 bid and making Holland the host of the European Championship. Good times.
What does style mean in terms of empowerment/femininity ?
Well, I think to me style means identity. A really big gesture was, for instance, the orange lioness in the crest of the women's Dutch national team in 2007. Nike changed the crest from a lion to the lioness. Not just having a new kit, with all these new technologies and an even better fit. It's those elements that makes you want to wear it even more. The players felt really proud wearing that crest and the story got even more elevated when they won the Euros. Really amazing.
It goes beyond being proud of playing for your country if you know that something is made for you. What you wear fits better when you know it's made with your insights and embodies your thoughts and dreams. That feeling, that's what makes your style and what makes your identity. 
What's different now that you're working independently? Tell us about your project "Blood in Blood out."
What I like about working independently today is that I can do a variety on football storytelling. I love the football culture. I love it when arts meets football and vice versa. So I am proud to part of the "Blood in Blood out" project. What they create is a shirt and they evolved it into an even bigger story. The elements in the shirt represents a career, the roots of your family or just the clubs that your a massive fan of. The piece of art that comes out not only looks cool, but is also really makes strong very tangible statement. I love that.
So with Blood in Blood Out, what are you roles?
I do research on players and story opportunities. Once that's in process I also help with the production side. Whether it's organizing the meet up with the player or the photoshoot. Another part is to help connecting with magazines or other media platforms to see if we can team up and present the story around the shirts and players. So it's those three things: research, production and publicity.
How would you describe your work personality?
Sometimes I just describe myself as a creative multiplayer, someone that you always want as part your team and who can play on multiple positions in any stage of the game. Especially working at the Dutch FA, I started women's football as a project, so I had to prove that it could be bigger than that. So I had to act as a marketing multiplayer: be a product manager, do event promotion, create and produce promotional tools and see if I could join or create teams to help grow the work. Crazy, I did it all. So yes, it was really great that the team became bigger and more colleagues got involved to join the fun. That's where I learned to be very flexible, present what can be done, help create great teams and teamwork.
Brands you like right now?
I think for me, I am wearing the Veja sneakers at the moment. They are a very conscious sneaker brand. I think that's really cool. I like Patagonia for the same reason. It's very nicely designed. It's great quality. And they present themselves through the world that we should cherish and love. I try to be conscious in what I am buying and to be smart in how to combine that clothes and shoes that I have. Nowadays I like the brands that do the same. 
Closing thoughts on the industry and pushing the women's game forward?
Yeah definitely. I feel very lucky to have met and worked with many great players, coaches, clubs and people in football. It's the people and the opportunities through the game that makes it a lot of fun to work on. I think there's still so much to tell and win. As for the players, the teams and everyone involved just keep going and keep having fun. Nothing is stopping the women's game to evolve and as it is part of football it is part of a never-ending beautiful story.