FEMALE IS FOOTBALL: MAXINE GOYNES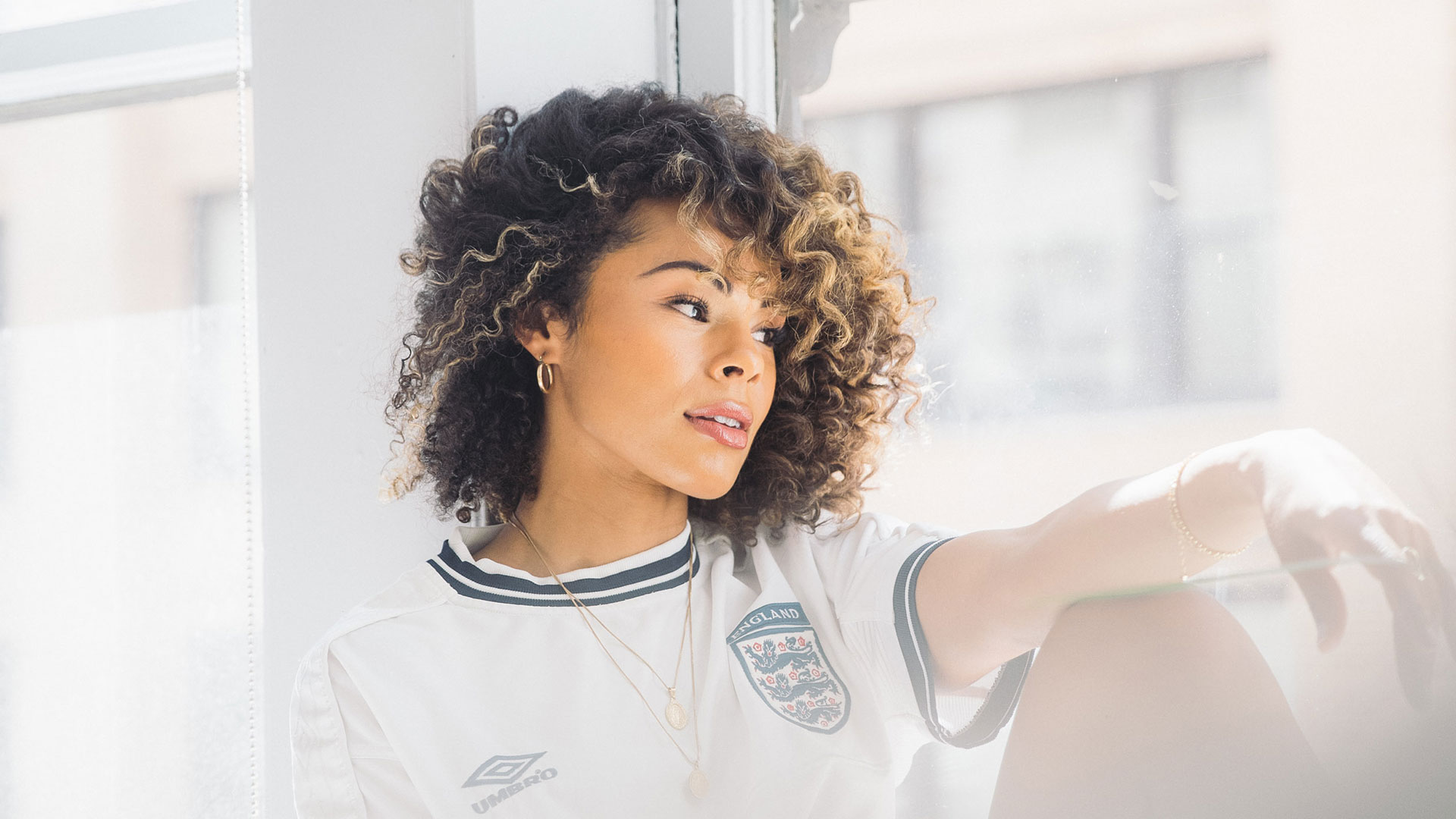 For Maxine Goynes, sports were part of her DNA. With her mother hailing from the UK while having a love for athletics and football (soccer) heritage and her Father playing American football at UCLA, Max was almost destined to be on a field or track. Maxine takes us through her story from growing up in and around the Bay area, to playing college soccer, to moving to LA to pursue a career in acting, fitness, and modeling. Check out our conversation with Maxine as well as the Photoshoot and BTS video. 
Thanks to Nike for providing a few NSW pieces for the shoot.
Follow Maxine: @maxinegoynes
Visit: @NikeLosAngeles
Photos: @richimpossible
So to start things off could you give me your background,  where you're from grew up and how you got connected with the sport of soccer.
I am originally from Modesto, which is in the Central Valley of Northern California. I considered the Bay Area as a second home as I would commute from Modesto to Pleasanton and play on the club soccer team there. My classes would finish early in high school and then I would commute to practice with the hope of having more opportunity and exposure to continue playing. I earned a scholarship to play soccer at Santa Clara University. I also played in the Olympic development program and was fortunate enough to travel a bit.
My parents met through sports. My mother is British, from Salisbury in the UK and my father actually played American football for UCLA.  After winning the Rose Bowl UCLA decided to send several players over to the UK to teach people how to play American football. My mother was overseeing Sports Promotion for the county Department of Parks and Recreation and one of the facilities happened to be where my father was visiting. Reluctantly, my mom was given the duty to give him a tour and happened to quickly appreciate his sensibility, integrity, and charisma. It reminds me that the universe works in miraculous ways and you never know when you will meet the love of your life. They stayed in contact back and forth after my father left.  Eventually, my father went back to the UK where he and my mother got married and had my older sister Danielle. They moved back to the USA and that was that!  I like to say, soccer and sport especially became part of my DNA.
So there is something really powerful about sport, based on the story of your parents, I would assume you would agree?
Yeah, you really realize the power of athletics.  My parents would have never met, let alone started an interracial relationship at that time had it not been for sport. You have two people from completely different sides of the world with completely different upbringings, but they understood each other.
So do you have siblings? And if so did they play soccer as well?
Yes, I have three sisters and I am the second oldest. We all played soccer. I truly feel that my older sister was probably the best soccer player out of all of us. She actually broke her ankle playing competitively, so it wasn't really something that she continued to pursue after the injury.  We all had very different temperaments and personalities. Sasha my younger sister  very much the girl picking flowers, wanting everyone to get along, my baby Erica was the strategist and I was always just very intense; a run and gun type. My father coached our teams  and I always subconsciously thought of it as an opportunity to prove to him having daughters wasn't a consultation of any kind. It was our chance to prove to him that, having athletic daughters was a big win. We really tried to play very strong and I think my mother in fact  the foundation of us being strong women.
I always felt at a crossroads because I  wanted to cheerlead & dance. My parents wanted us to be able to play a sport that they felt was gonna would give us permission to take up space in an aggressive manner. Not to say you can't do those things within the arts, but soccer is just different. Now I can appreciate that as it was very forward for women's empowerment. I did always try to find a way to marry those two things; femininity & masculinity.  I was a player that was very assertive but I wore a ribbon in my hair while doing so. I always wanted both and I think that soccer was a way that you can still explore femininity and masculinity. That's really cool. That's really the way I kind of put it into perspective.
So can you talk a little about your transition from playing in college to moving into things and career off the field?
I played in college and then while I was in college, the league for women at the time both opened up and also folded. So this was a time where you knew there may be potential to play and then quickly also realized that it may be fragile.
Looking back I definitely start to recognize how fear and a  scarcity mindset can start to affect your decision making. I knew how much my family had sacrificed for me to get an education and wanted to know that I would be able to support myself financially immediately following school.  That can be intimidating, most of us had dedicated our whole life to playing.  Emotionally I decided regardless of pay I was ready to leave playing the game. I was ready to use everything that soccer taught me off the field with new challenges.  I very much recognize that there were women that I played with and I grew up playing with such as Julie Ertz, Christen Press, Kelly O' Hara and Alex Morgan,  all women who are on the full (USWNT) team that were hungry to play. When I witnessed the level of commitment that they had, I had so much respect for it, but I also knew that it was not for me to continue playing. The plan was to use the sport as a foundation and a stepping stone to build character & relationships. I left soccer in a way that respected, the sport and respected everybody that was still playing.
 So what did you study and get your degree in and how did that lead you to where you are and what you are doing today?
So when I was in school, I studied communication.  I was always interested in business but I actually started to take a communication major because we had a family friend at the time who had a very successful family company and they shared with me how the most difficult thing for them in the hiring process was finding people that really had the social skills to connect with other people. Following soccer,  I earned an internship in the spring of my senior year. IMG was a huge talent firm in sports & hospitality in San Francisco.
And while I was in school, I was asked to be in the NCAA commercial on behalf of women's soccer. This was the first time that I was working in film and I was in my full kit, but I had hair and makeup on. I was like, what is this? What is this world? What is this about? At the time, I thought I was interested in commentating and hosting. I love film and people but wasn't sure how I would combine the two interests.
 I will never forget, I had a meeting with Ted Griggs the now president of Comcast Sports Bay area.
He asks me, "Okay, you wake up one Sunday morning and there's a sports section open of the newspaper and on the table next to it there's a Vanity Fair. Which one do you pick up first?" I didn't even have to answer. I knew and he knew. Sports weren't really what I wanted to do. He looked at me and said, "Go to LA, you love film, you love people, you have the tools to be successful at anything you do but sports in this capacity isn't for you. Carry it with you, it's a part of you but not ALL of you."  So I left and I moved to LA. I'm so grateful for that conversation. I moved to LA, to pursue entertainment and film, and I started my first job with a modeling agency shooting lifestyle and fitness shoots while working as a remote recruiter for visual artists.
How have you seen the industry change since moving to LA as well as what have you seen change in women's soccer since you stopped playing?
I think that technology, in general, has allowed athletes, specifically female athletes to connect to an audience and allows us as an audience to see how complex, dynamic and layered the women are.
 It's been beautiful because we would all tune in and watch the World Cup or watch the game and we knew a player for their position. But we didn't know their position in life. We didn't know she was a mother, girlfriend, sister, thought leader, and advocate for things that she's passionate about in society. I feel like it has really allowed us to see the holistic transparent beauty in a human being. It's moving when you can know anyone's backstory. When you know a little bit more about what moves them in the world or what fear/concern they have outside of being on the field then you become invested in them even more so.  Yes, people are more connected to their individuality, but I think that also can create a community. I think that when we can collectively appreciate individuals, it strengthens the community.
Do you see elements like players loving sneakers helping the popularity of the game grow?
I think that sneakers allow people to have conversations that maybe they wouldn't have otherwise. Sneakers act as an ice breaker. They allow us to connect with someone that didn't come from the same walk of life. When I see someone in this sneaker and now that allows me to have a conversation with her, to feel like she understands different parts of culture outside of her own, and vice versa that's special.  I feel that seeing women able to show and express themselves through their sneakers can be something very intimate. This is something that we use as a tool to physically move through the world. And so I think it's just something beautiful no matter if she's the type of player that wants to keep her classic sneaker on her or she's wearing something that's like a collab or whatever it may be. She has one and there's a story behind why she wears what she wears and what she's drawn to. And it's something that allows us to start to explore and be curious about each other.
To stay on the topic of sneakers, what's your favorite to wear?
Anything that's a knit material I really love. But also my view has changed a little bit. My father, in 2017, passed away from cancer and it changed the way I see the world. Now when I think about my favorite sneakers and I think about a classic sneaker like low top forces. For me, I'm really drawn to minimalism and focusing on less being more. How I can wear that sneaker in a versatile way is something that I really appreciate. I think that a lot of that has been shaped by life experience and for me.
That is so great, and I have to ask, on the fashion side of things what designer are you rocking the most lately?
I love Jerry Lorenzo and everything he does with Fear of God. When I see his shoes as I'm like," Oh my goodness!" I am truly moved. What a beautiful way to merge high fashion with streetwear and make it in a timeless kind of look and style with earth tones and color palettes. I really respect that approach of mixing the minimalism and the contemporary. I love it.
Switching gears a little bit, I wanted to ask what are your about your thoughts on the importance of making the game of soccer more accessible to more communites that might have not expereinced the game before?
I think that any time you can bring a more diverse group of people together and that might mean diverse in perspective, culture, race, socioeconomic group, spirituality,  any time we can do that, I find advantages to us all evolving and growing as people. I went to Santa Clara University, which is a private Jesuit university. It's an expensive university and a beautiful one. There were not many women on the team that looked like me. I remember playing in games and having, little girls come up wanting to get my autograph and what it meant for them to be able to see me on that team.
Wherever there's a team and a potential for resources, for finances to be made through sport, it means that those people have more opportunity, not only for them being an athlete but for them as a person. So I absolutely do feel that one of the beautiful things about soccer is that it is the biggest and most global sport and you can go to any other country and see people playing, even with a beaten up ball, on dirt fields. In comparison to other sports like wakeboarding or snowboarding or something of this nature, that requires a lot of expensive tools and equipment, soccer is accessible. I do think that is what's so beautiful about this sport and so many people of different backgrounds are connected to it.
The more diversity that we can get to the sport, the better. It's also important because the conversations that happen amongst teammates and in the locker room trickle into our lives. There were times that I would have a teammate that grew up in an area where she wasn't used to being around women that came from my culture but she and I, we loved each other. We were in the fields fighting for each other. We had an appreciation for each other and that trickled into our friendships and to our families and it seeps into the world. There's this beautiful flowing, essentially like a union that happens through the sport that can be continued into how we treat each other in the world.
Last question—now that you have been away from the sport as a player for a bit—how do you see soccer having a role in your life going forward?
I personal train women that work in the creative space and want to use my background in storytelling and film to create space for us together. I am focused on MG METHOD which will be a lifestyle brand and extension of my private clientele. I'm not physically playing soccer anymore,  but missed most of all the sisterhood and being able to encourage somebody through adversity and triumph. I enjoy that. Working with the private client whether it be in training or media allows me to do that with women and still remain a teammate and supporter. I'm a system for them to have success in their life.
I also am still very much involved in acting and film. I'll always find ways to do that. I  have been creating original content most recently and know in my heart I will continue to act. For the last couple of months, we have been training for a feature film directed by R.L. Scott, where we have action choreography. My trainer for this movie, Chyna McCoy was the body double for Morpheus in the Matrix. The interesting thing is that this has been really fascinating to also be able to use my body in new ways. I was a former Division One athlete. I can do this. I have so much respect for how movement, with regard to film and choreography,  is VERY different. I feel like a child in the sense that I am completely starting over and it's been very new, but I am also looking forward to the potential of doing any sort of action in a movie.