CAN I KICK IT? ANDERSON .PAAK RETURNS WITH OXNARD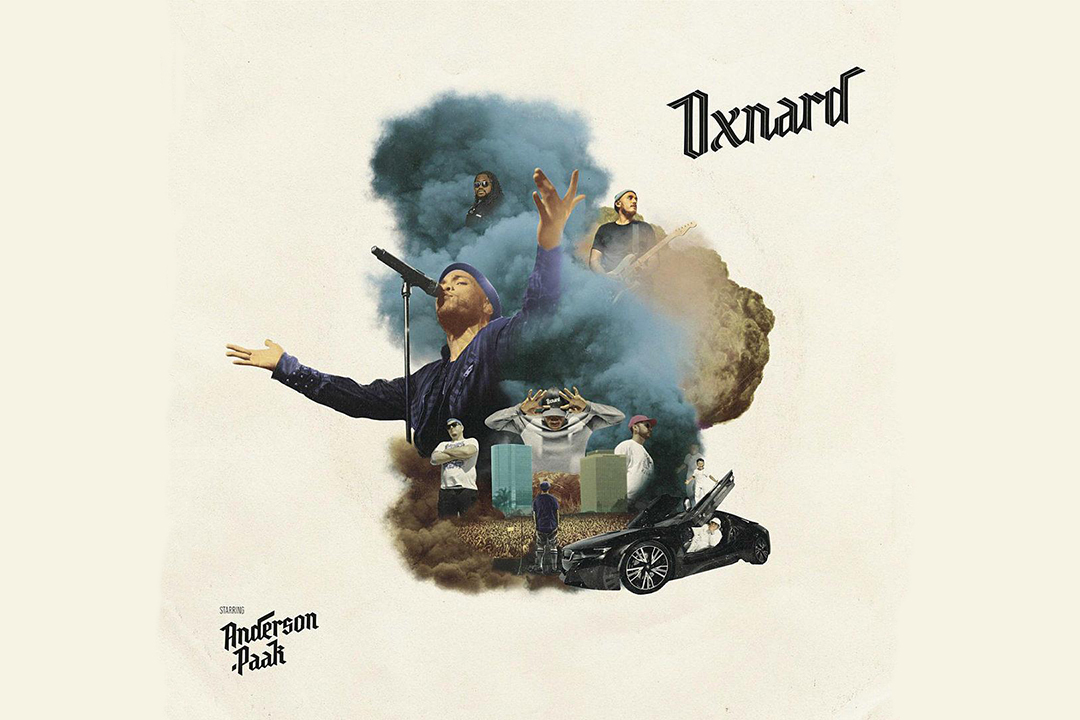 "This is the album I dreamed of making in high school," said Anderson .Paak of his newest effort Oxnard, named after his hometown. Repping one's hometown area has long been a hip-hop practice that especially characterizes .Paak's music, whether that means naming his albums after nearby beaches, enlisting the mixing prowess Dr. Dre on two of them, or showing up extensively on other West Coast artists' songs. Oxnard provides a wide-angle snapshot of Southern California itself, showing off all of the richness (and some of the hedonism) of the landscape.
"Everything we made for Malibu we made from the dirt. We had the bare minimum," .Paak explained to Rolling Stone. "Now, it's trying to keep that same mentality, but when you have everything. When you've been eating calamari and lobster, when you've been going to festivals and playing for 40,000 people. You finally have a tour bus. You have two kids now, and a wife to support. You're trying to keep the same principles you had when you just had a couch." Oxnard is often overtly lascivious, finding .Paak exalting fellatio ("Headlow"), recounting stories of sexual encounters with almost every kind stereotypical woman ("Sweet Chick"), and even musing about the idea of a bisexual, promiscuous Donald Trump lovechild ("6 Summers"). However, .Paak remains a practitioner of breezy, bright funk that's warm as often as Southern California's weather. Having thrown in even more A-list features (Dr. Dre, Q-Tip, Kendrick Lamar, Snoop Dogg), Oxnard sounds like a party held in the Los Angeles hills for Hollywood elites.
When Anderson allows himself to be instinctive and loose, Oxnard manages to blend all of these characteristics with ease. Having brought The Free Nationals along for the ride that has become his career, .Paak remains focused on the funky guitar riffs, drum beats, and brass embellishments that have become his signature. On Malibu, that funk sounded like the result of crate-digging and thrift store shopping, whereas on Oxnard, he can pay for lengthened sessions and guest studio musicians. The stakes have been raised, blues notes and chord progressions have been thrown in ("Saviers Road"), and the fallout of fame has been highlighted. On the Q-Tip featured "Cheers," a brassy ode to friends-now-gone (Mac Miller, Phife Dawg), lovers, and lifestyles of the past, .Paak wonders "Now, is this really what I wanted?/Is it really worth the pain?" Later Kamal raps, "Back in the day before you were a dog and you were just pup/Bangin' beats and bringin' b*****s back to the tour bus." It's a theme that appears on the opening verse of "Anywhere" by Snoop Dogg when he reminisces about "slang[in] hand to hand to a feind/Rappin' on the side, trappin' was priority/But every now and then I go scoop my little thing/Pull up in my emcee bangin' New Jack Swing." Elsewhere, Kendrick Lamar raps about wanting to be respected "from afar" and needing tinted windows to maintain privacy and "a peace of mind."
As has become signature for an Anderson .Paak album, however, all of that sentiment has been laid over music that is anything but depressing. "Tints" is a carnival of funky bass lines, snappy snares, and lush background vocals. The seemingly overlooked "Brother's Keeper" sounds like the background music of a commercial that features drone footage of the L.A. skyline and rows of palm trees, almost reminiscent of a modern Curtis Mayfield's Pusherman, and has both artists defending and relishing their successes of the last few years. Some critics bemoan .Paak's most juvenile moments, such as a skit that finds .Paak crashing a car while receiving a blow job but soliciting completion even after it occurs ("Headlow"). "Sweet Chick" will probably annoy the most politically correct of the media, especially when he describes his side pieces that include "a cheap broad/[that] Should be tippin' but she'll be puttin' them dollar bills in her bra," a "skater b***h/[that's] a gamer" that he has to "take…to arcades and s**t" that "watch[es]' Anime while [he's] layin' d**k," and a "Xan hoe" that "be mumblin', ain't…hard to understand though" that leaves him for T.I. because she's in love with Southern trap artists. It's a characteristic of many hip-hop artists and songs that seems far less demeaning coming from .Paak, if only because the music is upbeat and the artist himself has no concerns about appearing hard, gangster, or even overtly braggadocious.
Creating a follow-up album to Malibu that was better than its predecessor would be a nearly impossible task. Oxnard doesn't quite have the same charm or soul that Malibu does, but it's a strong effort from a musical polymath that seems content to mess around and be capable at almost anything he wants to do. In sparse moments on Oxnard, Anderson .Paak experiments and performs in ways that only he can, but that sometimes he perhaps shouldn't. Still, Oxnard ranks among the best hip-hop and popular music 2018 has had to offer.