FEMALE IS FOOTBALL: ANEESHA DEWSHI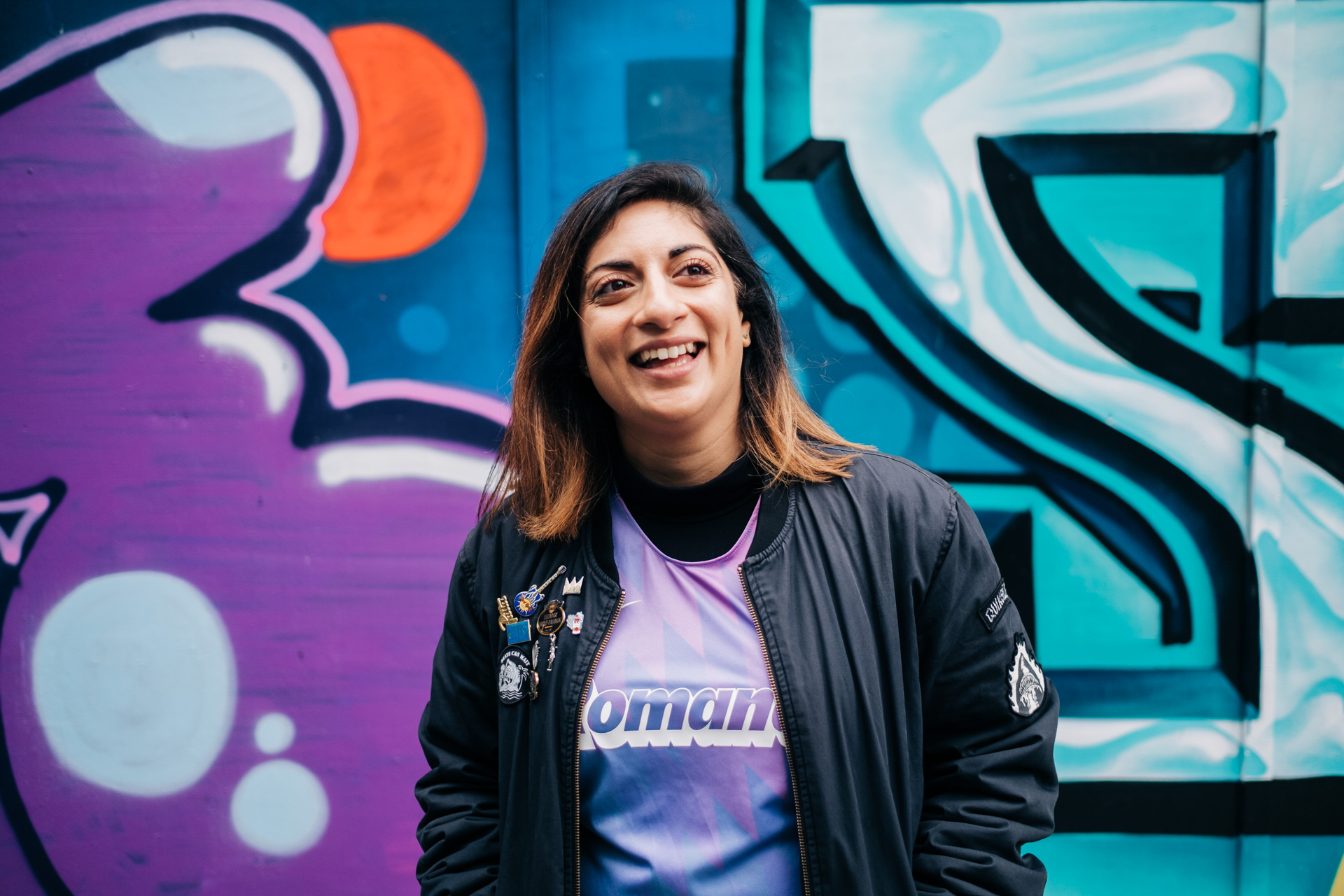 Aneesha "Neesh" Dewshi is a self-proclaimed jack of all trades. A creative based in London she has been working in the fashion PR industry for more than 8 years. Born and raised in the UK, football and sneakers have been a part of her life since primary school. Neesh also is a co-founder of the creative football collective called Romance FC. The collective located in Hackney, East London is a female football club created out of the love of the beautiful game and a desire to find like-minded womxn.
Follow Neesh: @crayfish8
Photos: @richimpossible
Tell us a little about where you are from and you and your family's background. 
I grew up in a city called Nottingham, which is located in the heart of the East Midlands in the UK. Although my parents are Indian, they like many others were born and raised in East Africa and came to the UK in the late 1970s when my grandparents decided to make the move.
Where, when, and how did your connection with the game of football begin?
I was first introduced to football through my dad, as he'd always have it on the TV. Whether it was MOTD (Match Of the Day) or the Champions League, it would always be on in the house. We were quite a sporty family growing up, so football was always a game we'd be playing at family gatherings.
When I went to primary school, my parents used to have a car share system in place with a couple of other families. Which meant that each parent took it, in turn, to drop and collect the kids from school. So I'd play with the boys during school breaks and then after school on the street in between parked cars, whilst we were waiting to be picked up.
Talk to us a little about what you do for work.
I've been working as a Fashion & Lifestyle PR for the past 8 years across a number of global clients. It can be quite demanding at times but every day is different. I always say to work in the PR, you must be a jack of all trades because you never know where certain projects will take you.
When did your love for sneakers and streetwear begin? 
I would say my earliest memories of my love story with sneakers started at primary school. We had to wear a school uniform but there was no rule for footwear, which meant we could wear sneakers. So from my early years, I was stunting on the playground in the freshest kicks – the other kids didn't know what hit them!
The first pair of kicks that I recall I had were a pair of Fila basketball high tops, they were all white with the iconic navy and red branding. After that I had a pair of adidas Galaxy with pops of orange and navy, I think this is where my love for running silhouettes came from. Then came the most memorable sneaker of my younger years, mainly because I had to really work the charm on my parents for them. It was my first pair of Nikes, so it was a big moment and also a big shock to my parents when they had to part ways with their hard earned cash. As soon as I saw the Nike Air More Uptempo in the store, I knew I had to have them. They were the OG black/white colourway with the big "AIR" across each side panel side, they were big, brash and bold—and I wanted them more than anything. I have so many fond memories stomping around the playground and attempting to run around in those chunky basketball sneakers. So much so, that when the retro came out a few years ago, I had to cop.
Working with clothing, footwear and fashion how do you see those three things merging with the game of football on or off the pitch?
I think fashion, footwear, and football have always gone hand in hand from the early days of terrace culture with people consciously seeking premium Italian fashion brands such as Stone Island and CP Company to team up with their Adidas to now, where you see many fashion brands adopting football culture and style such as the last Off White x Nike football collaboration, which saw a range of shirts and even boots adorned with the unmistakeable Off White branding. 
Another example of this is when Nike launched the Nigeria kit last Summer ahead of the World cup, there was so much hype built around the launch, similar to that of a sneaker release and of course the kit was straight up fire, so unsurprisingly it sold out within seconds.
So, I have to ask, what professional team do you support in the UK? If that team is not your hometown team, then why?
My team has always been and always will be the Red Devils aka Manchester United. Now, I know what you may be thinking.. but she's not from Manchester! Well, my love for United started when I was a young girl watching United play in the early/mid-'90s. It was Eric Cantona who really drew me to the team, I loved his energy on the pitch, always creating chances, scoring goals with such flair and creativity, it had me in awe. I always thought that there was certain arrogance to the way he played, obviously, he did get into a bit of trouble but I liked that bad boy streak in him.
We had a good run when Cantona joined and had other young top class players on board like; David Beckham, Paul Scholes, Ryan Giggs, Roy Keane, and Andy Cole who all made watching United play so mesmerizing.
I want to talk about Romance FC. For those that don't know, give us a little background.
Romance FC is a creative football collective that we built in Hackney, East London out of the love and frustration of the beautiful game and the lack of spaces where you find like-minded womxn. When we started the team in 2012 we were originally called Boiler Room Ladies FC where we met at the early Boiler Room nights, shared a love of music and trained alongside the guy's team. When we first started playing, we noticed that there weren't many other casual womxn's grassroots football teams around London and we struggled for a few years to even find any that we could play friendlies against. Then over the years, we started to see more womxn's teams cropping up in London and were playing against them in tournaments, which was fantastic. However, we were left consistently frustrated in the way these tournaments were executed as we always came across misogyny and tokenism, which left us feeling pretty deflated.
So in 2016, we decided that enough was enough and we hosted our own womxn's football tournament called—Playing For Kicks. We created a safe space for womxn and non-binary folk to come to play and enjoy a day of great football and music all designed and executed by ourselves.
Now coming into its fourth year, we've seen the tournament grow from strength to strength, with teams participating from key cities in the UK and even France. Each year we take on more teams, splitting them into groups based on their ability levels to ensure that all teams feel confident and encouraged in their groups. We want to lead by example and encourage young womxn and girls to take up spaces and continue to play sport, therefore we always include a junior football match within the programming of the tournament where they can experience all the elements surrounding the game. Football is there for everyone.
In the lead up to the World Cup, we will be hosting a very special Spring Kicks womxn's tournament on 11th May in London—this will be our biggest tournament to date as we will have a total of 28 teams participating. Expect some amazing football, DJ sets from some of the best womxn in London and strictly good energy only. Head over HERE for more details.
What was the process like working with Nike to create the capsule collection?
Nike has followed our journey from the early days of Romance FC. At the end of 2017, we were contacted and asked if we wanted to design a kit for the team. This had been a dream of ours since the beginning of Romance FC's journey. Before getting overly keen on the idea, we asked how much creative freedom we would have—we think big and create with the heart so it was key to know where we stood. 
Luckily we were given complete freedom to design what we wanted, excluding the cut of the top. Founding Manager Trisha Lewis and Design Artist Aimee Capstick designed the kit and typography, which took inspiration from classic geometric print football shirts of the 80s/90s and a gradient colour fade to recreate the evening sunset over our favourite park to play in during the summer evenings in Hackney.
Following the submission of our design, we were approached with an opportunity to then work on a global project with Nike Football for the Nike By You program. This would be the only womxn's jersey included in the launch, which would then be sold on their site.
From the get-go, we expressed that in order for this to work and be authentic, we would have to have creative control to tell our own story. This was a lengthy process, communicating with multiple teams within the company but finally, we got the sign-off and the rest is history.
We then honed all our skills and fields of expertise together to create our own shoot photographed by Striker Stephanie Sian Smith. This imagery was then used by Nike to accompany the product being sold online.It was a great opportunity to work collaboratively with a global brand in this way, whilst still retaining autonomy. As I am sure you can see, we are really happy with the outcome and proud to wear our kit on and off the pitch.
From your perspective, is the perception of women's football changing in the UK and Europe and do you think projects like the one with Romance FC and Nike are helping?
Football is the most watched sport in the UK, with the Premier League being the most prestigious league in Europe. Growing up all I would see on TV and hear would be men playing football. I had played football at primary school with my friends and briefly picked it back up again in Secondary school when we had a women's team, which lasted all of three games. Unfortunately, that's where my experience playing football stopped until I picked it back up again in 2012.
I believe that the perception is changing, slowly but it is changing. We see more coverage in the media of the women's games, the level of the professional women's teams has propelled due to financial backing enabling these players to solely focus on football like their male counterparts.
I feel that projects like the Romance FC collaboration with Nike Football helped to generate awareness but it is the hands-on approach of local communities, grassroots projects and local initiatives like Hackney Laces #lacesfamily and East London Ladies that are really making a difference.
What are 3 go to sneakers for you right now?
Converse x Brain Dead (can't take these off!)
Mizuno Wave Rider OG
Nike Air Max 95 x Atmos
What are you listening music wise at the moment? 
I listen to a wide cross-section of music across a number of genres, but it if I look through my most recently played we have; Noname—who I recently saw on her Room 25 tour, Slowthai—one of the best sounds coming out of the UK right now, Koffee—because the Rapture EP is sensational and Rosalia—whose voice is so unusual and captivating that I forget that I actually can't understand Spanish!
Who are you rooting for in the world cup this summer?
England of course, the Lionesses are on really good form!
For someone visiting London for the first time and that wants a more "lifestyle" tourist experience, give us your must dos/visits for: 
Too many to list but below are some of my all time favs:
Sneaker Shop: Sneakers n Stuff and Pam Pam (great selection of women's kicks in both)
Clothing: Goodhood
Food: Troy Bar (Shoreditch) for some of the best Jamaican food in East London, BBQ Dreamz(various locations). incredible Filipino inspired street food in London and The Shoreditch Stop, which is an unassuming off license that sells delicious homemade curries to take away and is always mad busy.