MURS & THE GROUCH TALK ABOUT THEIR LOVE FOR THE BEAUTIFUL GAME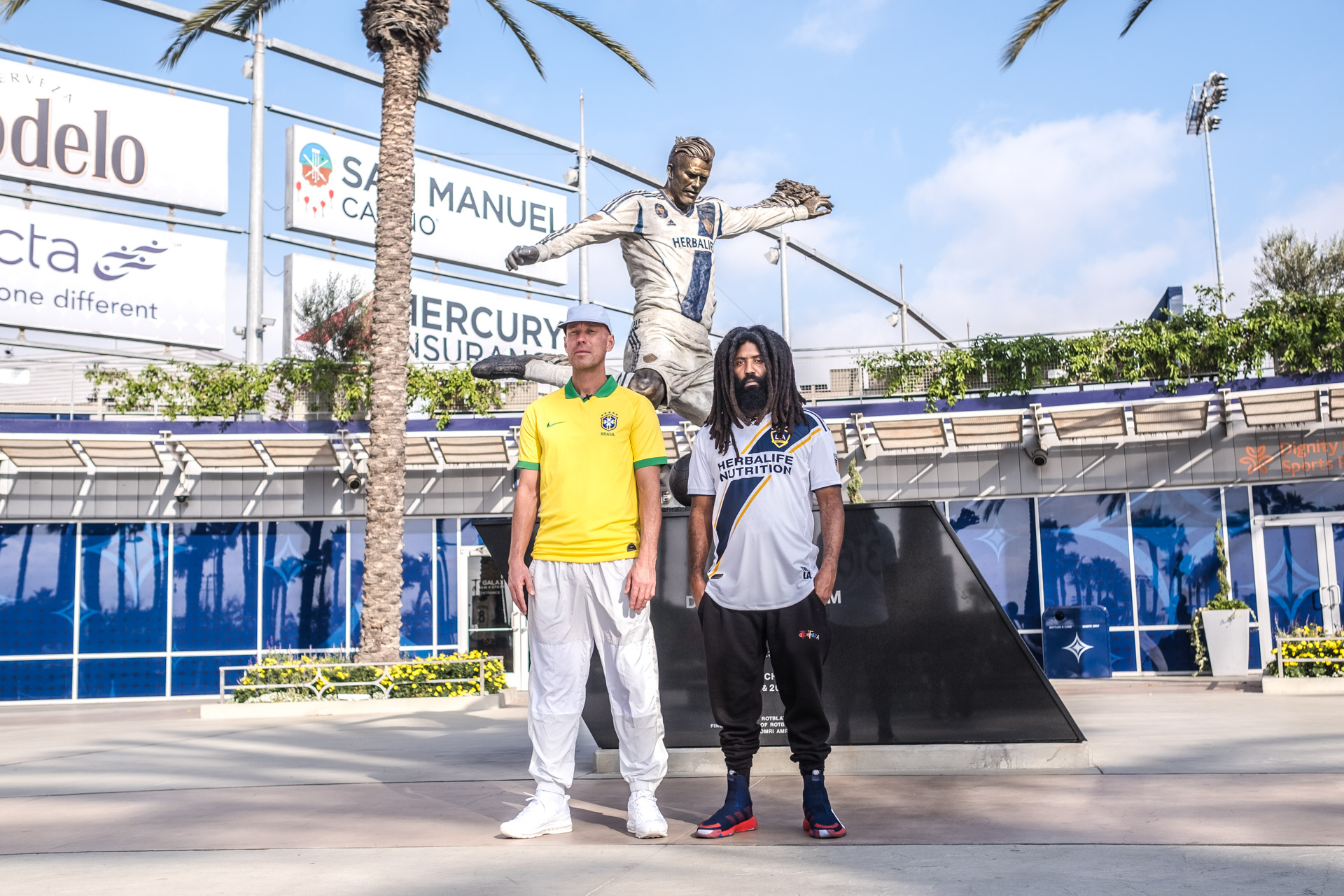 Legendary emcees Murs and The Grouch are OGs in the West Coast underground scene. They have put out a number of classic albums as members of the Living Legends, on their own as solo artists, and most recently have teamed up to form the tag-team supergroup Thees Handz dropping an album of the same name in November of 2019. 
Anyone familiar with the two rappers knows that their relationship with football runs deep. On "RWTHYA" from their Thees Hands LP The Grouch raps, "I'm a…young soccer ball kicker," and earlier on the track "Opening Spit" he spit, "I'm a soccer player at heart and second I'm a rapper."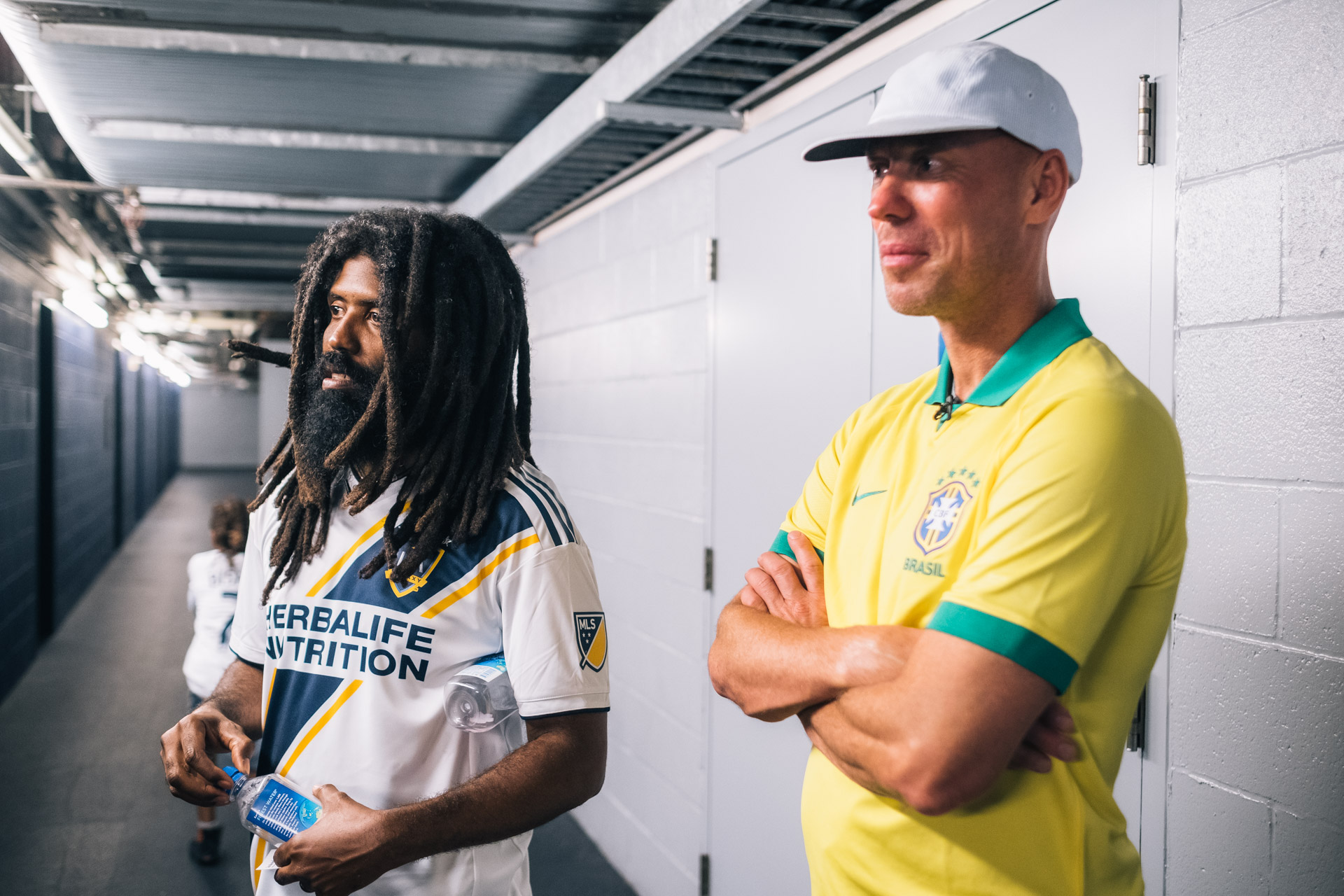 His partner in rhyme can be seen in many of his videos and IG posts rocking a variety of kits and he's not afraid to talk junk to rival fans in the comments. As the LA Galaxy's preeminent fan and unofficial poet laureate Murs has drop a couple of promos for the club including one before the 2019 playoffs and one for the beginning of the 2020 campaign. 
We met up with the duo at the Galaxy's home, Dignity Health Sports Park, and listened in as they talked to each other about their love for the beautiful game, how the got into soccer, and what underground hip-hop and football have in common.
Before we get into their conversation here is a public service announcement from Murs:
I know a lot of people in the comments will say, "stop calling it soccer." Motherfucker when I'm in Germany I'm not going to call it a hot dog I'm going to call it a Frankfurter, or whatever the fuck they call it. In my country that's the word for the sport we play. I would confuse the other dumb Americans if I say football. I know what it's called in your country but unfortunately in my country, it's called soccer. So I'm going to say soccer because I'm talking to another American. When I'm in your country I'll call it football. Stop with the comments. Every time I talk about soccer in the comments motherfuckers are like, "it's called football." I know, shit.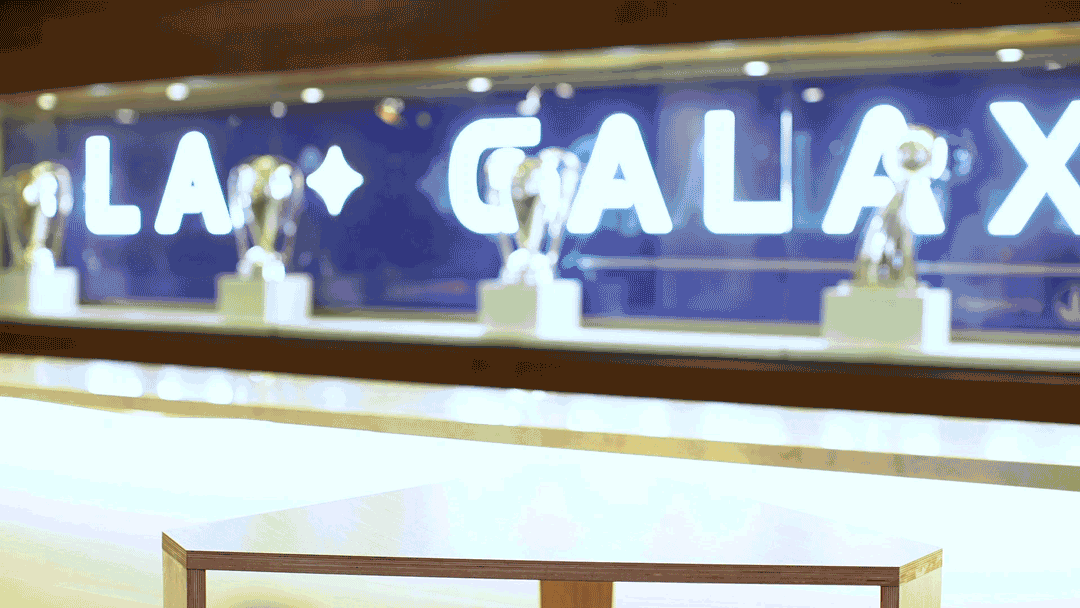 Murs asking The Grouch about his youth soccer career:
The Grouch
I come from a pretty soccer fanatic family. I started when I was like six. Both my brothers played soccer. My sister played. My mom would drive us to soccer practice pretty much every night of the week.
Murs
She coached your team?
The Grouch
She coached my team early, like one season, maybe under 8. Then when I tug turned 8 or 9 I  starting playing on a select club. That club was called the Bay Oaks, in Oakland. Legacy. My brothers played for that team. 
Murs
So Bay Oaks is strong, that's the gang?
The Grouch
Yeah, that's the gang. I wish I still had a jersey sill. I  probably do at my mom's house.
Murs
You should get a tattoo, Bay Oaks
The Grouch
That would be hard. But we were serious. When I was 12 we went and played in an international tournament in Japan that was structure like a mini-World Cup.
Murs
So you went to Japan before we ever went to Japan touring?
The Grouch
Yeah when I was 12 years old. So I did that and I  also started playing for the Olympic Development Program. They would try and prep you, it's like starting the road to the national team. But I never made it anywhere near that far. I made the district team, went to state tryouts but I  never made the state team.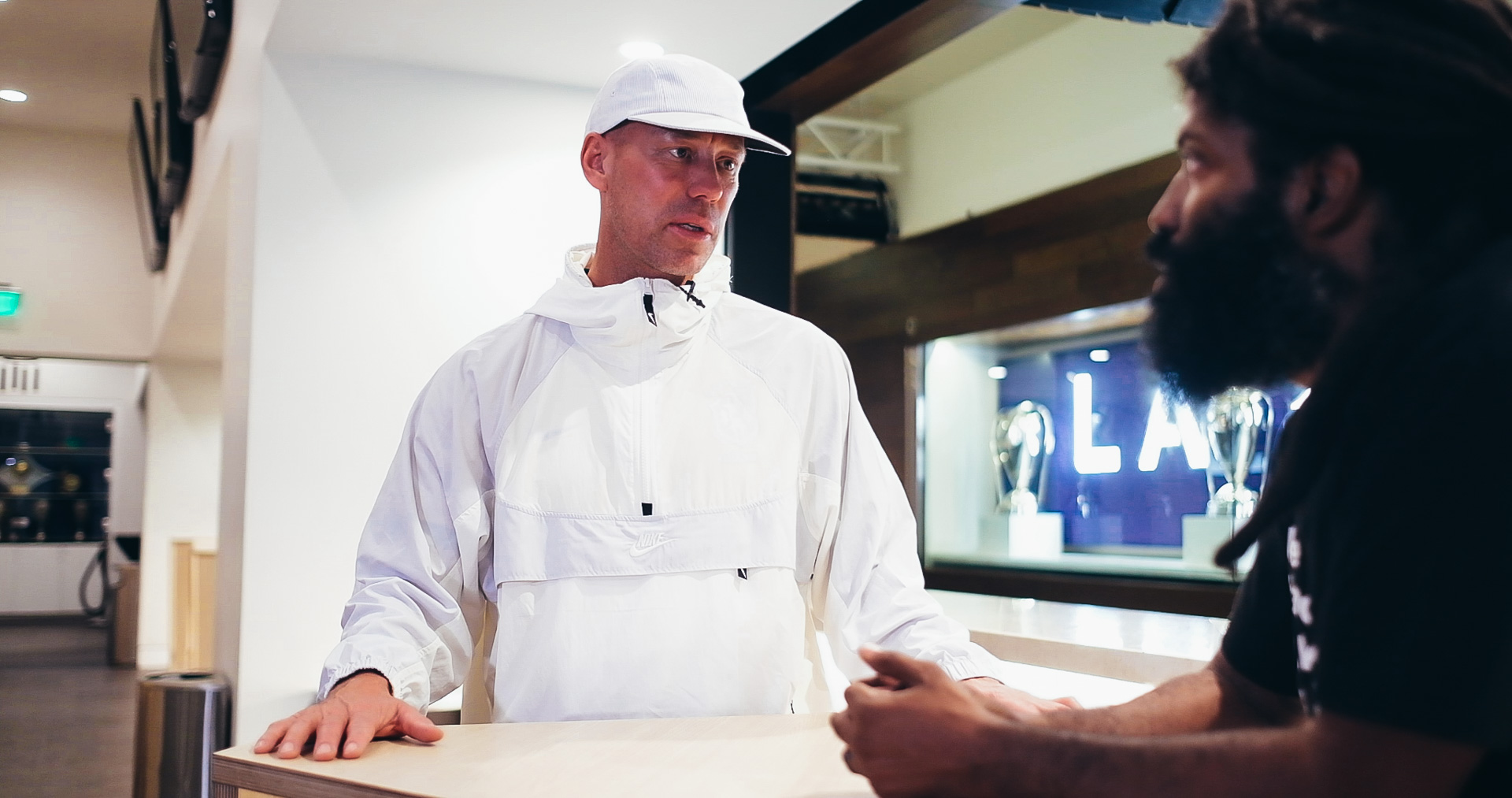 Murs
What happened?
The Grouch
I just wasn't that dope. I mean, I was good but there are a lot of dope players in California.
Murs
But you were the man at Bay Oaks
The Grouch
Yeah I was the man at Bay Oaks, one of them. I grew up playing with some dope players. There are a lot good player in Oakland. I grew up playing with mostly Latino kids. Had Mexican coaches mostly, I had a Yugoslavian coach one time. So I was taught to play in a different style than I felt a lot of the American teams were being taught to play.
Murs
So it was your style that kept you from making the state team?
The Grouch
Ah no bro. It wasn't the style. There was just a lot of comp. There were a lot of dope kids. I guess I just wasn't dedicated enough.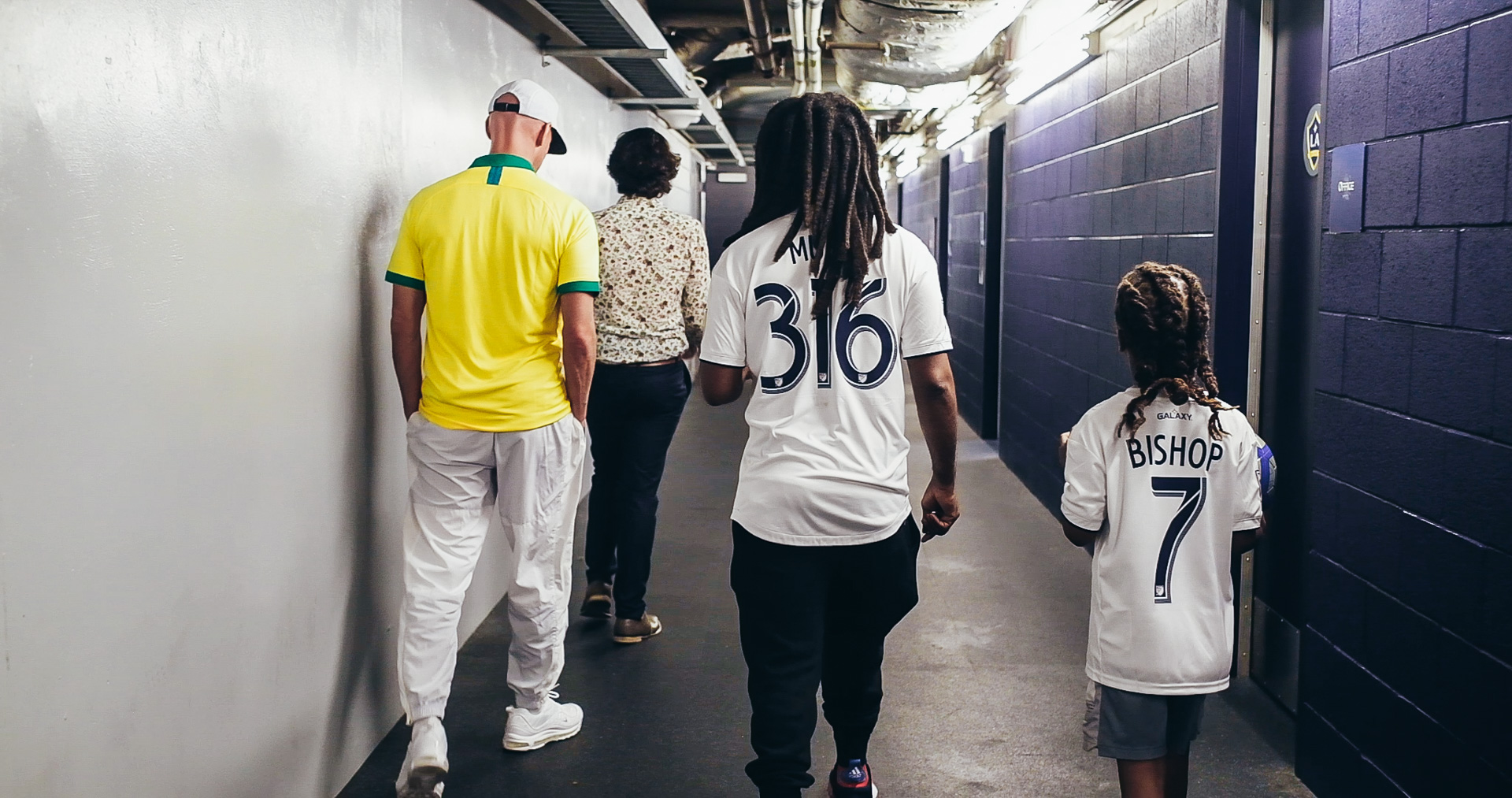 Murs
You were fucking around with that rap shit?
The Grouch
I didn't get into rapping until I was about 17.
Murs
So what happened to your soccer career?
The Grouch
I was fucking around playing basketball when I was 17. I jumped up to touch the rim and there was a ball rolling on the ground underneath and I  landed on the ball and tore my ACL and my soccer dreams and hopes were out the window. In my head I was going to be a pro soccer player but we'll never know.
Murs
Do you realize now as a parent that your mom took all her time taking your fucking ass to practice and then you go fuck it all off jumping around on a basketball court? She he put so much time into your dream and then you decide one day, "hey I'm gonna go touch a rim."
The Grouch
Yeah, but that's what directed me into music and that's turned out to be a pretty cool career for me.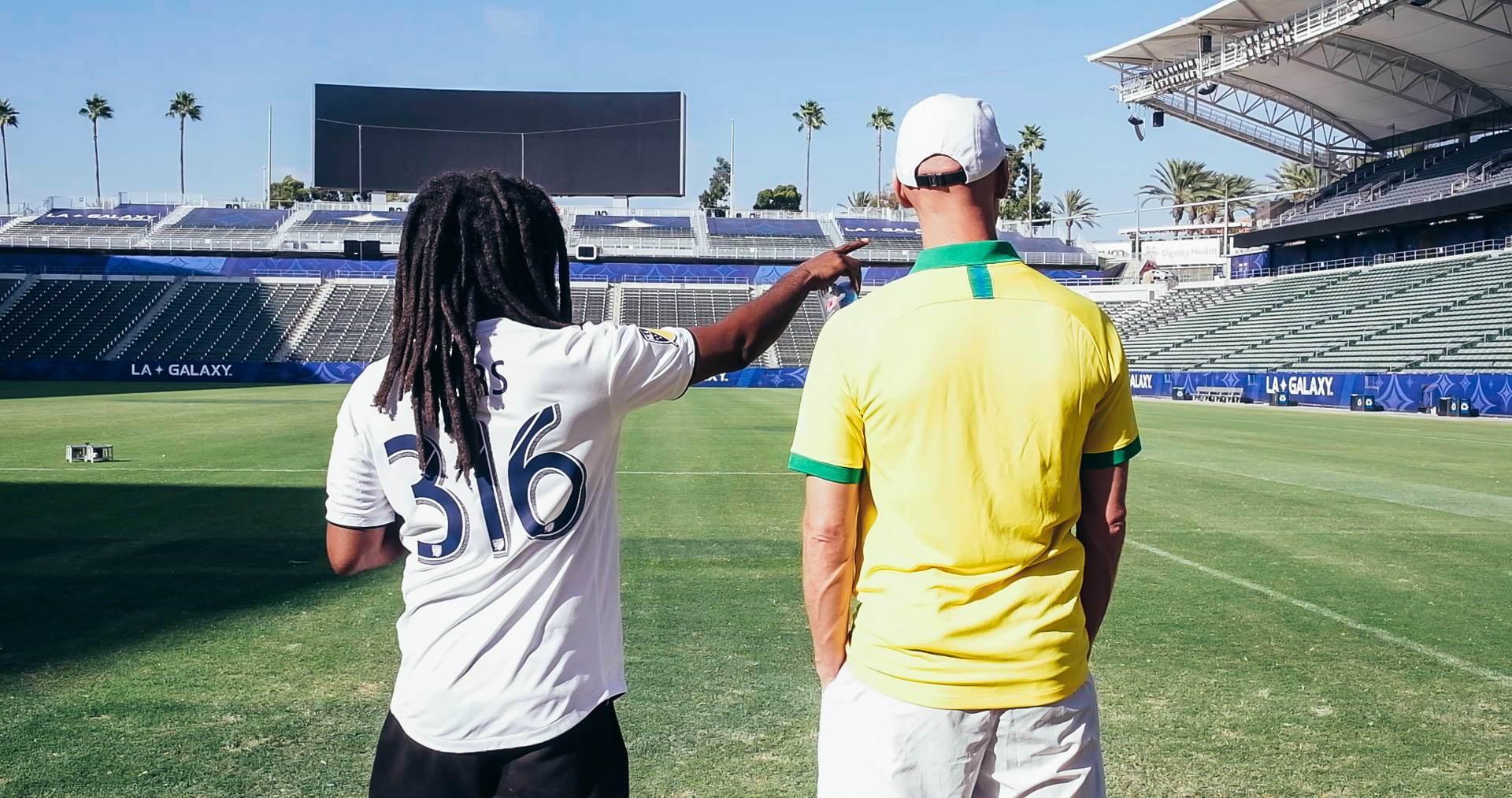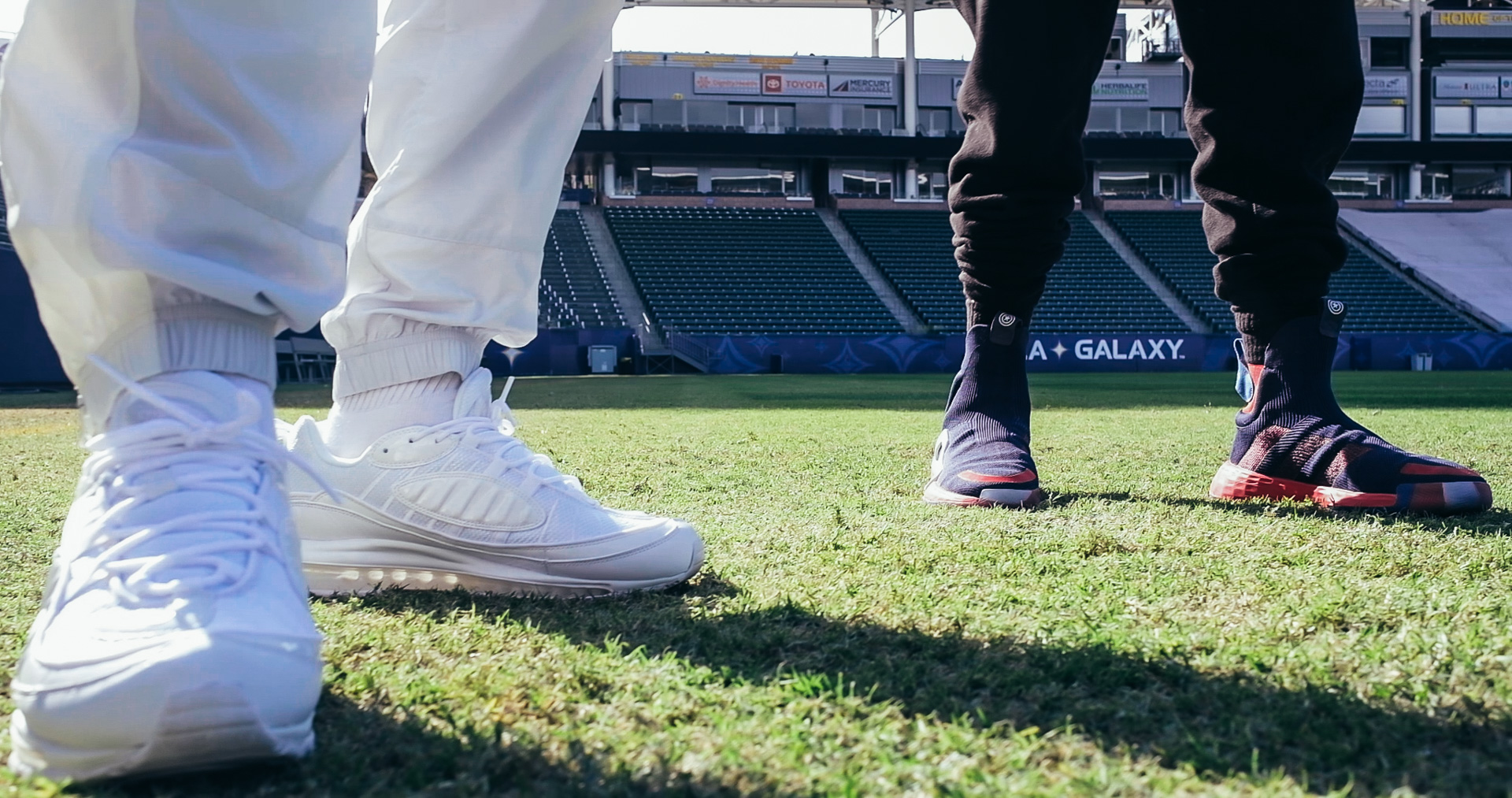 The first time Murs ever stepped on a pitch was when he moved to the Bay after his mom kicked him out for trying to pursue a career in hip hop. When the Living Legends crew was first starting out they would go with The Grouch to paint soccer fields at community colleges and other fields in and around Oakland.
The Grouch 
That was one of my first jobs coming up. I would paint the lines on soccer fields, set up the nets and the corner flags for the tournaments. I think I started when I was 13 and ran that job until I was like 17.
Murs
No you ran it later than that. Cuz we needed money. I was 17 years old, sleeping in your basement. My mom had disowned me because I had decided to be a rapper and I needed money.
The Grouch
Yeah, that was a good job. 
Murs
So I had never played soccer before.
The Grouch
So I dragged you out onto the field?
Murs
So that was my first time on a soccer field. You you id it to help me get money because I was broke.
The Grouch
You were painting soccer fields with me? 
Murs
Yeah.
The Grouch
Damn. Yeah, shoutout Merritt College, Alameda College. We used to paint the soccer fields at all those spots. Hella fields in The Bay. I can't remember all their names.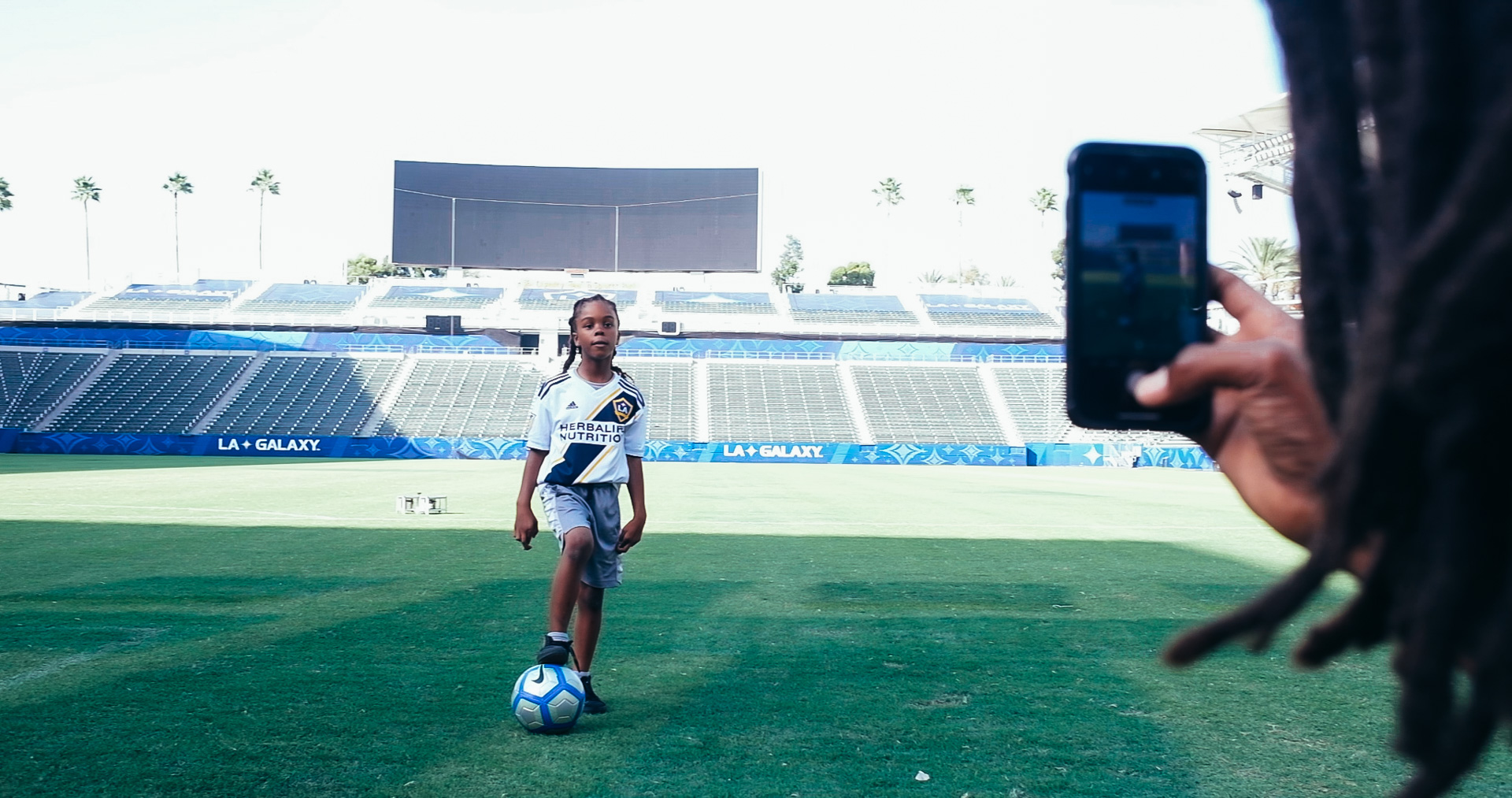 Murs 
What kind of car did you have? That car was fucked up.
The Grouch
That was an old school Lincoln Continental.
Murs
Bro, fucked up.
The Grouch
Packed with cans of spray paint because the field chalk is actually spray paint. Hella boxes of spray paint, some corner flags, some nets.
Murs
The little thing with wheels that you put the spray can in upside down and then pull the trigger on the handle. 
The Grouch
You know there was math involved, because we had to lay it out with measuring tape and long ropes and we had to make sure we had the right angles correct. But that was a dope job.
Murs
That was my first soccer experience. Waking up early stepping over Eligh and Lucky to go paint fields at 6am.
The Grouch
So what was your first feeling about soccer and the culture around soccer?
Murs 
So I grew up in Lynwood, CA. Well I grew up all over L.A. but I went to elementary school in Lynwood. There it's very gang heavy. That area Watts, Compton, South Gate and Lynwood is hood. The Black and Latino, specifically Mexican communities, did not get along. I had some Mexican friends growing up but you know Black kids did not play soccer there. That was for them. Growing up in the 80s you were either a negative term for a homosexual or a Mexican if you played soccer. That's what my big homies told me and I bought into that bullshit. But then I met you. I played soccer in PE once. 
The Grouch
And you hated it?
Murs
No I loved it because I got to run behind the Mexican girls in short shorts. 
The Grouch
You acted like you hated it?
Murs
I acted like I loved it for them. I did a lot of things trying to get at the Mexican girls at my school. I tried to speak Spanish to them. I've done a lot of things because I was in love with some Mexicans girls throughout my life.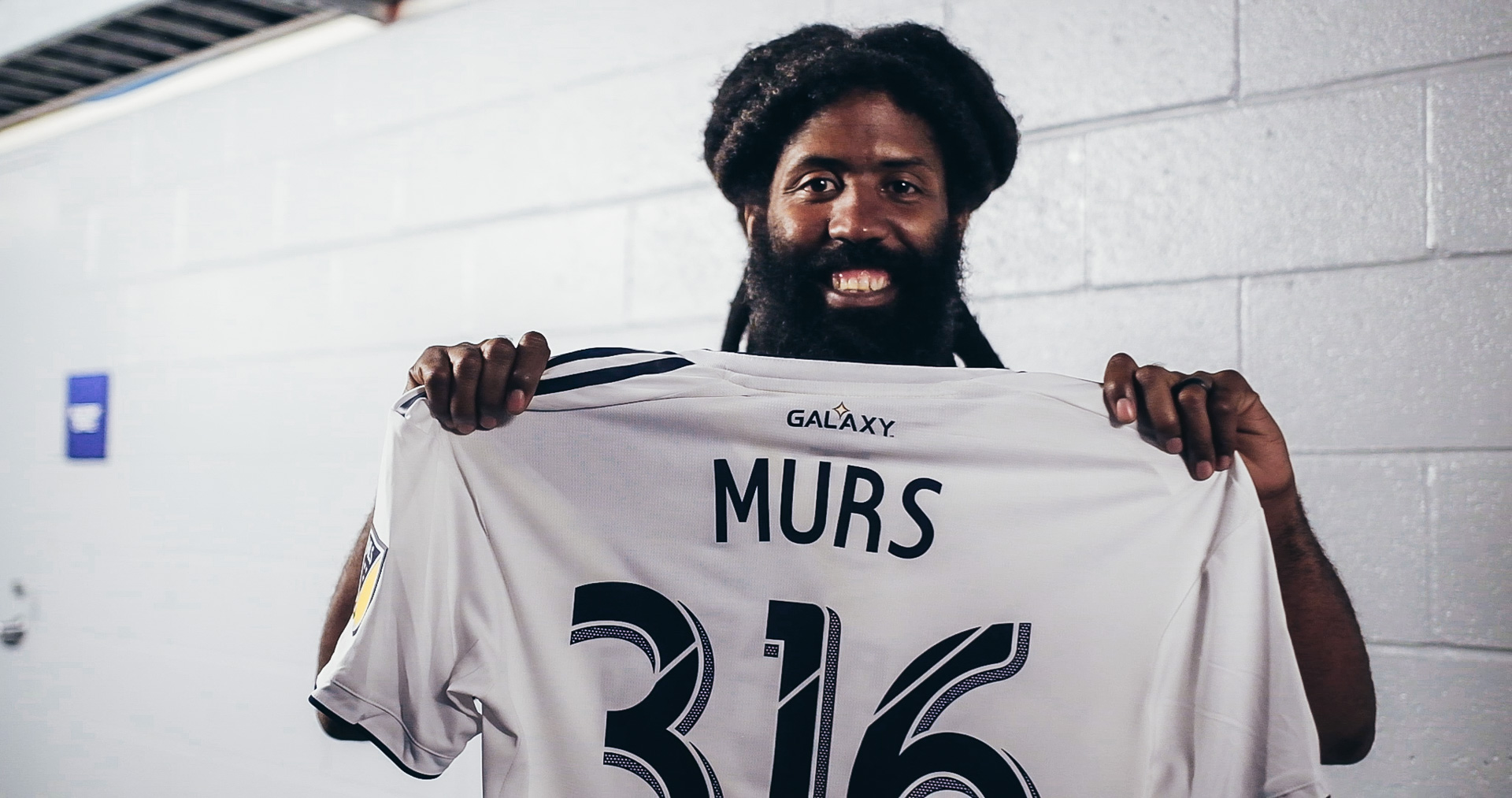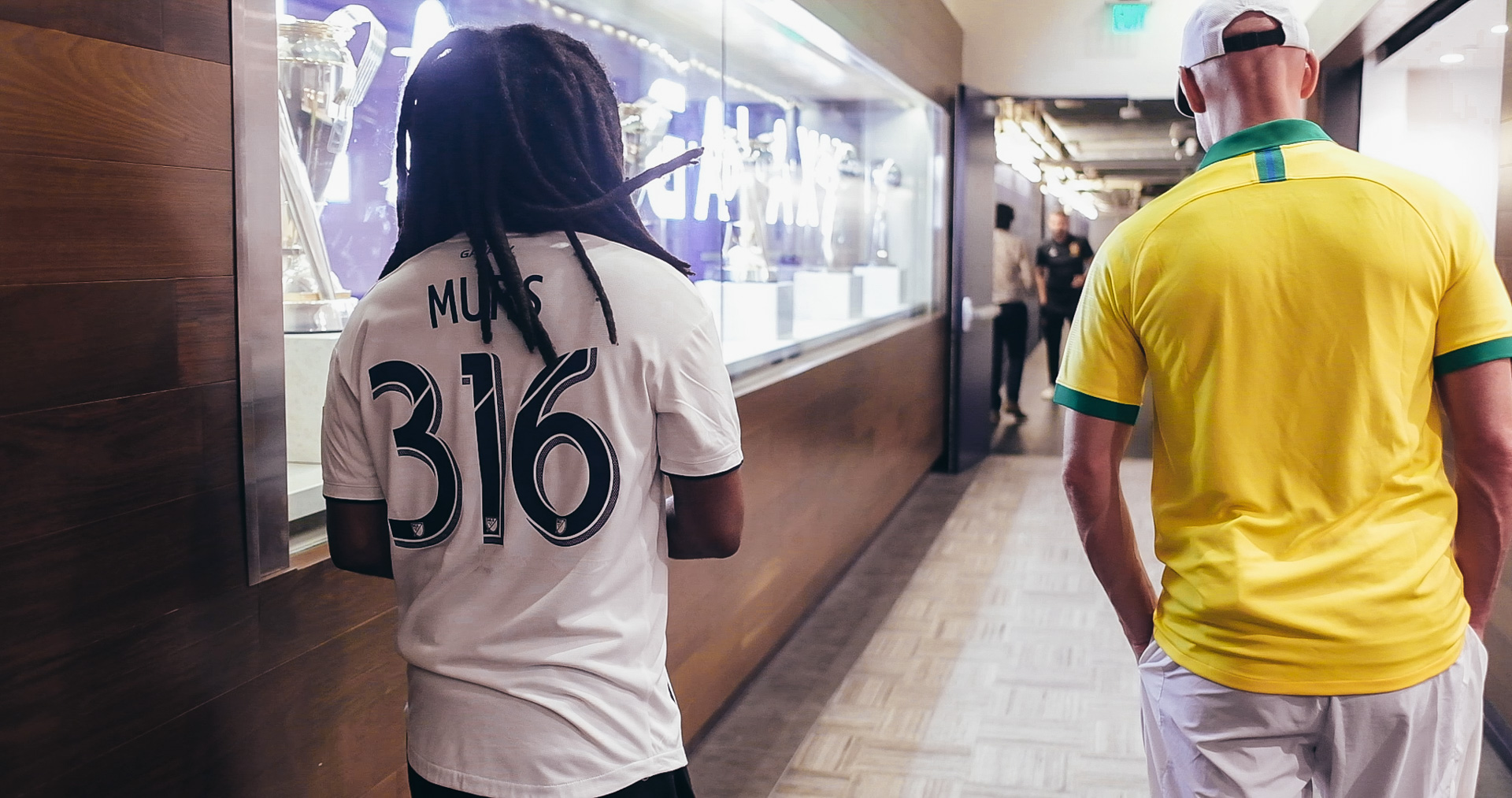 Murs would like to note here that he is not calling all Latinas, Mexican. He knows the difference between the many Latin communities in Southern California be it El Salvadorian, Ecuadorian, or Nicaraguan. He just had an affinity for the Mexican girls in his school in 6th grade.
Murs
So you took me to paint soccer fields and that was for money. That was the only thing I wanted to do with the sport. I had never met a family of Americans that played soccer. Like your whole family played. I thought it was crazy. Later we were on our first(air quotes) tour of Europe. We were on the bus in Groningen, Holland. We were staying with someone in the hood there and we were taking the bus back there and we were talking about soccer and I said, "man that shit is wack." You and I didn't get along and we were going back and forth and the guy we were with, a huge guy, told us that his brother who was in jail for murder or some other street crime was the best player in their projects, a black guy. I was like, "what?" This was my first time outside of America and the first time I was exposed to hardcore people from the hood playing soccer. But then we got back to his house and we(Murs and The Grouch) kept arguing about soccer and we actually ended up getting in a fistfight over soccer in this man's house, over soccer.
The Grouch
That's real
Eventually, Murs would eventually see the error in his ways. In n 2004 while recording an album in England with Eligh and Scarub, together they form the Three Melancholy Gypsies, he found himself with outside of London with little to do or watch other than Euro Cup 04.
Murs
Me and Eligh and Scarub were doing a 3MG album in England. I was obsessed with Grime and just wanted to be around the UK scene and we ended up getting a place out in Billericay. Shout out to Billericay, if you know where that is. It is two hours outside of London. This was before Airbnb and I f found this place online and it had a pool and I thought, "oh this is tight," but it was in the middle of butt-fucking nowhere. Me and Eligh were in the house trying to watch TV and there were like five channels. It was during the Euro Cup and it was the year, I think, Greece won. Me and Eligh got into soccer together because we love sports and we had to watch it. It was crazy and I feel in love.
The Grouch
That's a trip bro.
Murs
I didn't play until we went to Ethiopia on a mission trip. 
The Grouch
So you played there?
Murs
Yeah, the black kids there don't know what hip-hop is, they don't know gang-banging, they don't know weed, I could not bond with them on any level. They couldn't speak English but they invited me to play with them. I didn't know how to play but there I was in a country with people that look like me and the common ground is a sport that people in my country that look like me don't think we belong playing. 
The Grouch 
That's dope. 
Murs
When I got signed to Warner Brothers a guy over there took me to my first Galaxy match and now I 'm like soccer guy, I get it now. It's the best sport.
The Grouch
That's sick. I'm glad you finally came around. This many years later. You finally believe, you can see the picture.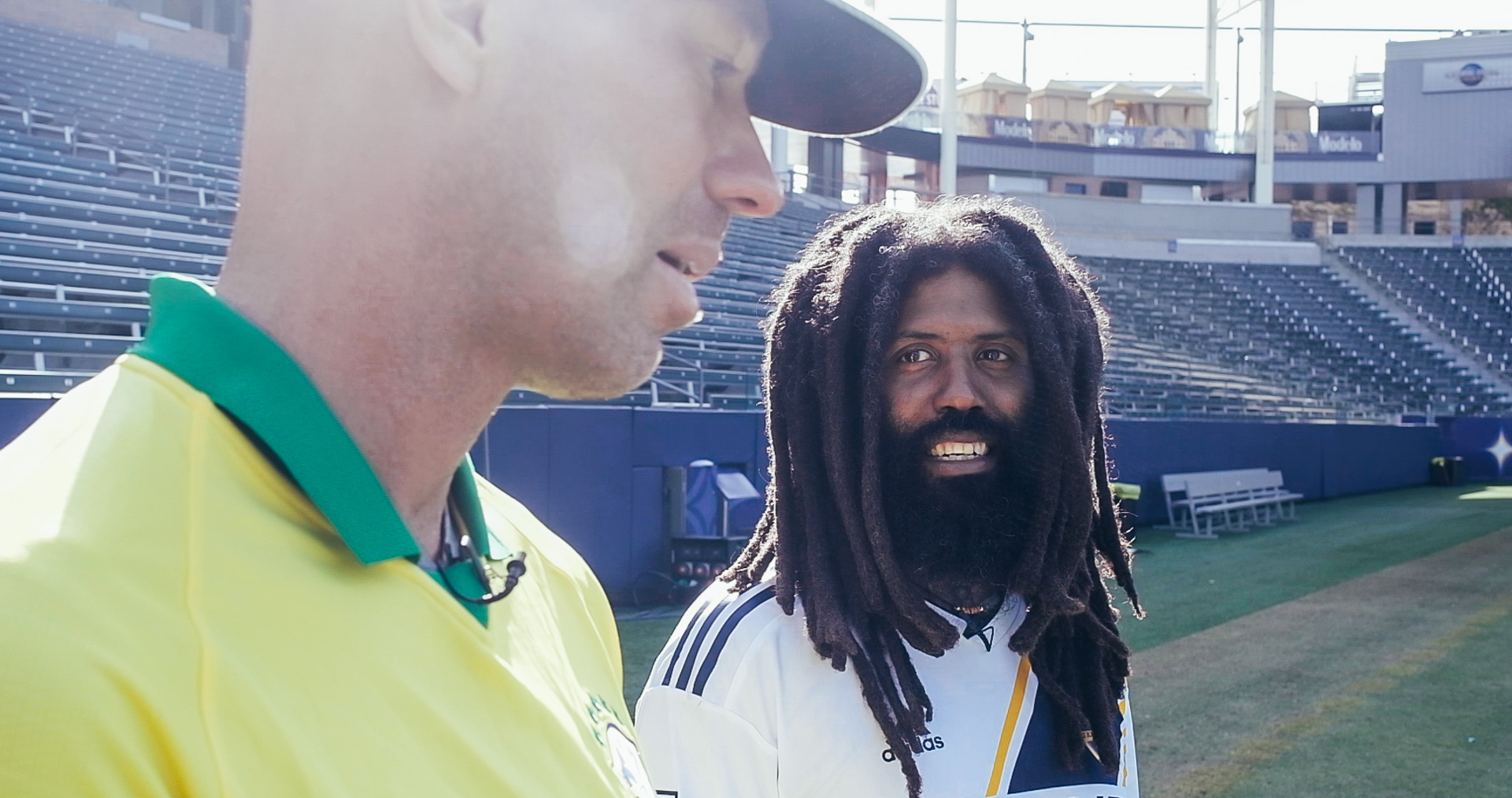 Murs
Yeah, we actually exchanged these hands over soccer.
The Grouch talks about moving to Maui and getting back on the pitch.
The Grouch
I started playing soccer again. I took a 15-year break. I moved to Maui. that changed my physical game. I felt healthier, stronger swimming and hiking and I felt like I could get back out on a pitch. There was such a great international community and dope soccer players in Maui. We get a lot of Argentinians and Brazilians that come over to Maui to surf. Lots of different people from South American come to Maui. 
Murs
Oh Really?
The Grouch
Yeah, so we ended up having a dope soccer team. Maui is a special place so we had some dope games out there for sure. 
Murs
Did you put it down for America though?
The Grouch
Of course, I did. I get respect from the dope players out there.
Murs
Because you know what you're doing?
The Grouch
I do.
Murs
So if we fly out to Maui to do the Thees Handz tour in Maui and I want to come out on the pitch with you and we're picking teams, you gonna pick me bro or are you gonna leave me last?
The Grouch
Ima pick you, bro, just to be nice
Check out the video for "Be Nice" by Thees Handz on YouTube. Let us know what kit Murs is rocking in the vid.
The Grouch and Murs talk about how the game and hip-hop connect and how the two worlds can bring people together. In one of his many side projects Murs joined with Florida punk band Whole Wheat Bread to form Invincibles. He wrote a soccer song and wanted The Grouch to get on the track but for some reason, the song never saw the light of day. 
The Grouch
That song was dope. You sent it to me and I never got on it and I don't really know why.
Murs
Because you were living in Maui.
The Grouch
I was living in Maui but I listened to it and you used the line from A Tribe Called Quest, "can I  kick it?" and I thought that was brilliant for a soccer/hip-hop song.
I'll interrupt here to point out that Kicks to the Pitch did have a recurring feature on our website where we would review hip-hop albums called "Can I Kick It?" just saying.
And the opening line of that song was, "Why do black kids always have to play basketball?" I  thought that was fucking dope. It was just so much to the point. Why is that the norm in America? You spoke on it earlier, people thinking you were a sissy if you played soccer in your neighborhood. I don't know why it is like that, to be honest. Even me choosing soccer, I'm a white guy, but it is still out of the norm. Because all of the cooler more athletic white dudes were playing football, basketball, and baseball. When hen I chose soccer as a kid I felt like I was choosing the alternative route.
Murs
Yeah it's alt culture
The Grouch
It's kind of like underground hip-hop. I ended up being an underground hip-hop artist and I viewed soccer as the underground shit that not everyone knew about or was down with. That made me have more of a sense of pride when it came to it.
Murs
It's an underground culture and so that's even more of a reason for hip-hop to be aligned with it.
The Grouch
Right, as I  went to all my soccer games I'd be bumping rap music. The attitude of hip-hop would be in my ears and I would try to bring that to the field. 
Murs
That's everywhere. In Serie A, La Liga and Ligue 1—all those French dudes, all the best players in the world listen to hip-hop.
The Grouch
Hip-hop is such international music.
Murs
It's the biggest music in the world and soccer is the biggest sport in the world. 
The Grouch
When I see a dope match and they play hip-hop over it, it goes to me.
Murs
It matches for sure. When the World Cup comes to America I am hoping I can be the one to make the opening song. It shouldn't be contrived.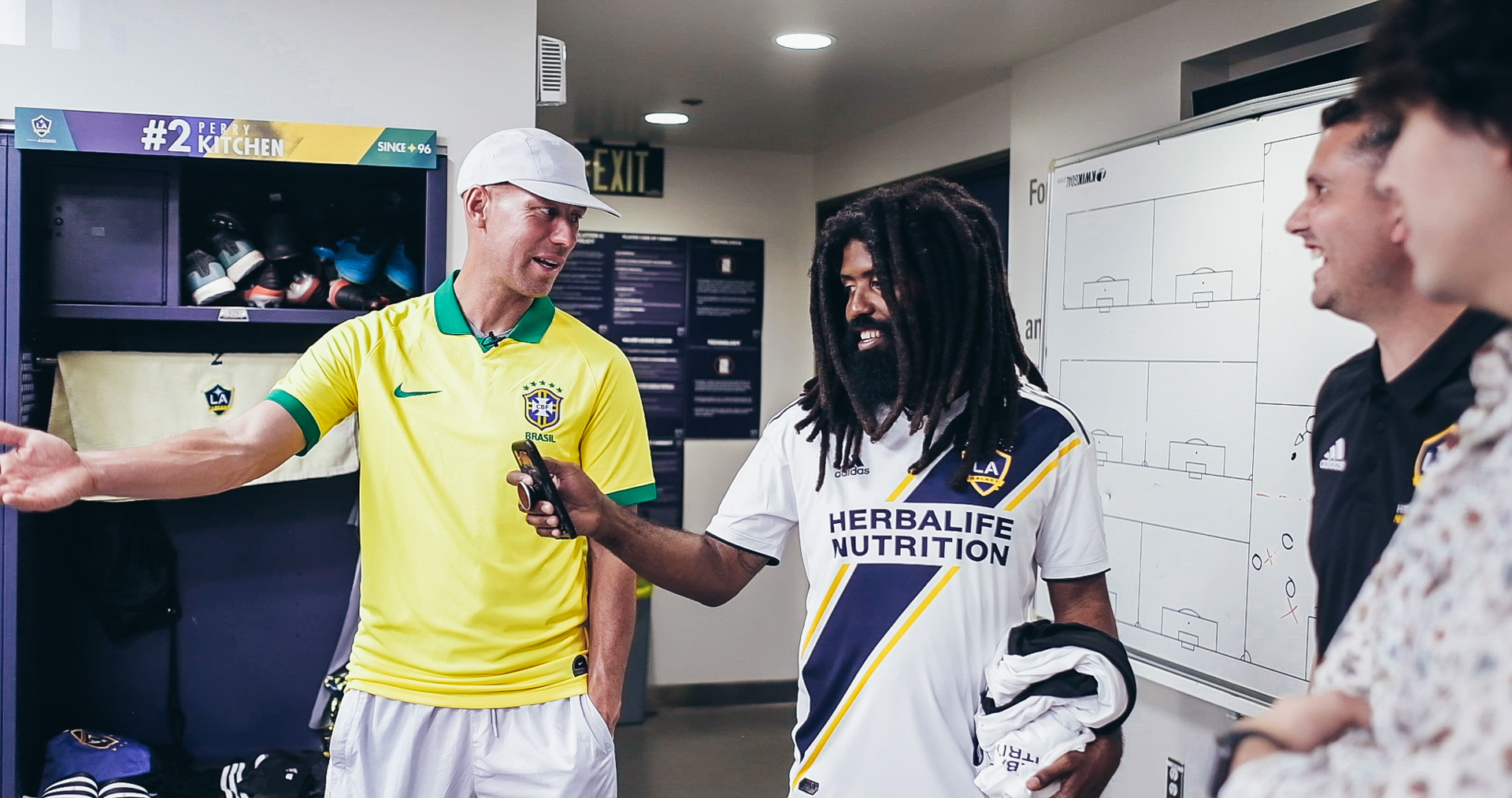 The Grouch
I remember the year that you were going to make that song, I thought it was dope, but it was a little late. But that guy K'naan ended up having an anthem for the World Cup that year(South Africa 2010). That was cool, I don't know if it's happened since then, but I was excited just to hear something that was close to hip-hop having something to do with the World Cup. 
Murs
I am just hoping that when it comes here and the song comes out it's not someone who has nothing to do with soccer culture. Hip-hop is so much about authenticity. I would hate for them to pay the hottest rapper to do a song about soccer when all he talks about is basketball.
The Grouch
Or he don't even know the sport.
Murs
Well, I'm still learning too.
The Grouch
But you've put in your time. 
Murs
Yeah, I watch games, I listen to podcasts. It's like when I  first got into hip-hop. It's something I'm passionate about. I don't know a lot but the more I learn the more I love it. It's like diggin'.
The Grouch
For sure.
Murs
I feel like soccer needs hip-hop and hip-hop needs soccer.