EXPLORING THE WORK & IMPACT OF DESIGNER CHRISTIAN TRESSER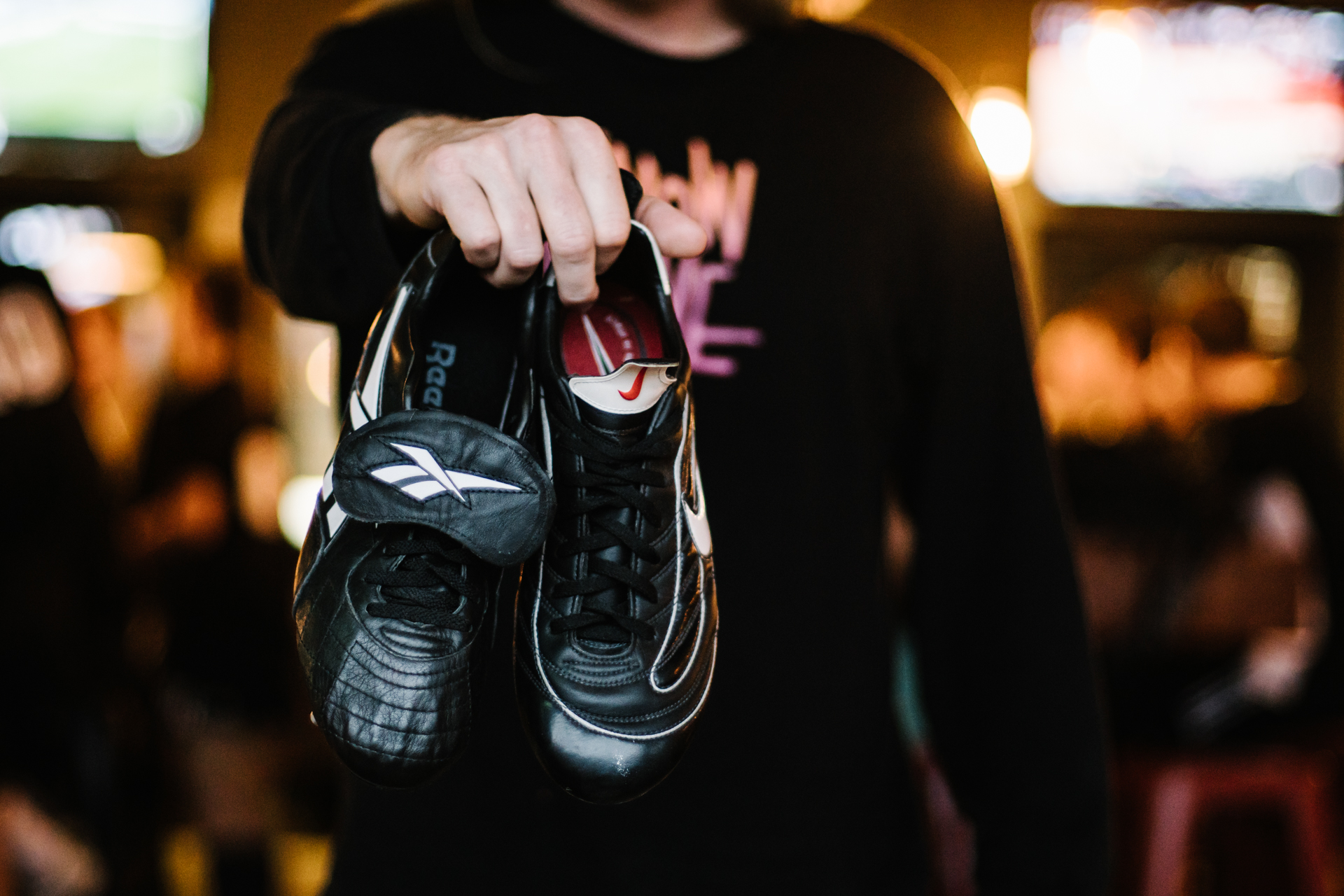 Jon Jenks
0
Christian Tresser has quite the resumé. A very abbreviated work history reads like this: he started designing footwear with an independent footwear design company that did work for Reebok. He later was hired by Reebok in their heyday when they were seriously threatening Nike; vying to become the top dog in the sneaker game. After a few years at Reebok which included him designing some classic runners and helping to launch Reebok's football category, he got a job with Nike where he designed a number of iconic silos in both the running and soccer categories. Later he worked as the head of soccer innovation at adidas.
Before he ever picked up a pencil to doodle sneaker designs, Christian was immersed in his first passion, soccer. He can remember wanting to play ever since he was little and as a young man was on the California State Select team. Eventually he played at Foothill College in Northern California for legendary American Soccer figure, George Avakian. In the days of Christian's soccer career there were not many options to pursue after college. So after a year of playing college soccer Christian decided to enroll at The Academy of Arts in San Francisco. His artistic talent would later be the vehicle for him to connect with football as a designer for performance soccer footwear. 
Christian Tresser has always been ahead of time. As a young designer working at a shoe design consultancy in the Bay Area of California, Christian was designing athleisure shoes, with the Reebok sublabel Boks, before they even had a name for that category of footwear. Later as the lead designer of Reebok's football product he was incorporating cutting edge technology like Instapump, Graphlite, and carbon fiber foot plates into performance soccer shoes when the entire industry was pushing out virtually the same boots—stitched K leather uppers on rigid plastic sole plates—that they had been producing for decades. Tresser even designed laceless Reebok boots that were worn by players in the 1994 World Cup. 
The innovation and groundbreaking designs didn't stop with his work at Reebok. After taking a job with Nike, Christian was tasked with designing the first high end synthetic football boot, the game changing Nike Mercurial. The synthetic upper provided a level of freedom for a designer not possible with traditional kangaroo leather which is only available in small hides that had to be stitched together.
"Things changed when it came to the Mercurial. That was the big moment where…soccer footwear changed. Because [of] the synthetic materials you could do a lot more with treatments on those materials than you can with…natural leathers. So it opened the door for design possibilities. Most of the soccer shoes leading up to that point were cut and sew…Weirdly enough the low end shoes were all synthetic. They were all synthetic and they had way more [options]. You could mold onto it, you could HF(high frequency) weld onto it, you could add color, you could print on it. 
"It was sort of a weird moment because when we did the Mercurial I was conflicted with it, in that we always did soccer shoes out of K leather or leathers and those are high end shoes. And the low [price point] shoes were all synthetic—it was a low end thing…When the Mercurial came along and they wanted to do this synthetic shoe at a [high end price point] I was conflicted as a player. I was like, 'O, God, I'm not sure if that's gonna work,' because synthetics didn't really have…the fit and feel that K leather would and I didn't know if the players would accept it. But as a designer I was really open to the idea because it allowed me to more expressive."
Taking a departure from traditional football boots Tresser designed the Mercurial from a single piece of material.
"When I realized…I could do that then I could think about adding more design element to it. And one of my ideas—and this [goes back to when] I worked at my dad's [auto] body shop—I wanted to put a little bit of a light textural grip on the upper. And I had this idea that I could spray on, and I did, the material that you would spray on the under side of cars…So I took this upper and I taped…off the areas, and the pattern didn't even change from [the] sample that I [made] to what came out in the market that…literally…didn't change. So where you see the silver…3M reflective…on the Mercurial…originally I sprayed that with the [textured] spray material…And then I took a silver pen. I needed to highlight it because I wanted to show it off and I wanted it reflective because I wanted the cameras to see it…[when] there was a moment that light would hit it and it would show it off…in a very…clean and subtle way." 
At the same time Christian was experimenting with his high end synthetic boot Nike was setting up there now legendary facility in Montebelluna, Italy where they to this day craft all of their high performance soccer footwear. He hand carried his sample to the Italian factory and shared his vision for the Mercurial. 
"These guys were amazing. They said, 'okay we know what to do.' And ultimately what we did is we took that upper…to the Aprilia factory somewhere in and around Montebelluna…to go look at this spraying process…We went over there and they showed us some of the motorcycle parts in the factory line and the showed me this spraying stuff and ultimately [we used] this clear spray…a very thin, light…material that was sprayed on to the synthetic. And when the shoes came back they were just beautiful, man. It was a new thing. It was totally new…I couldn't even believe it myself…how great it came out."
Even though Christian is complicit in changing the landscape of soccer footwear forever it wasn't something he did intentionally.
"I don't think too much ahead of myself at all. I do have a strange vision, that somehow…works for me. I start to create, and I go on a creative journey and I don't think too much about what the future is and what it is going to be. I only get in the moment, what is inspiring me. The first Mercurial is that moment that changed it. I didn't know it would do that, but it did…and that's pretty cool. Where it goes from here, I don't know, I just don't. I don't have that answer, I do know that I can do it."
With all of the incredible work Christian has done up until this point there is no reason to doubt that he will continue to shape the future of footwear. Besides almost single handedly designing the entire Reebok football range, including signature boots for Ryan Giggs, and creating the some of the most iconic boots in Nike's catalogue; Christian has also left an indelible mark on the sneaker game. In his time at Reebok Tresser was responsible for the Aztrek and DMX Daytona runners which have both been revisited with retro editions recently. 
In his five to six months working as a designer in the runner space at Nike he produced nothing but classic. To name a few he designed the Footscape, the Spiridon, and what is perhaps his most widely known and beloved silhouette, the Air Max 97. His work is still as impactful today as it has ever been. You can always find a Tresser silo, that he designed in the 90s, on a shelf at any sneaker shop today. 
The former youth standout soccer player and designer responsible for some of the most iconic sneakers ever, has now seen the worlds of football and sneakers blend. Two worlds where he made such an enormous impact are now more intertwined than ever. From the custom Air Max 97s designed for Cristiano Ronaldo to the Air Max 97 Mercurials released on Air Max day in 2017 Christian continues to be relevant to the culture in new and unexpected ways. 
"I saw that and I was pretty blown away. The two worlds, the parallel paths are really starting to blend into each other…My nephew, who's a soccer player, got a pair of those and was so excited to share those with me."
Kicks to the Pitch, an outlet dedicated to the entanglement of sneakers and football, would probably not even exist if not for the work of Christian Tresser. His design DNA is in everything we talk about. His work and elements of his designs continually pop up both in the football space and the lifestyle space.
"I stay humble in it…I'd be lying to you if I said that I didn't think it was cool. I don't know, it's flattering I guess, to have something I did so long ago still [be] relevant. And I get people saying that certain things I've done have been impactful in their lives. And I didn't really think [of] it back then and it's cool but it's also scary at the same time…it's like, wow, I guess I did do a little damage in the industry."