FEMALE IS FOOTBALL: ASHTIN LARKIN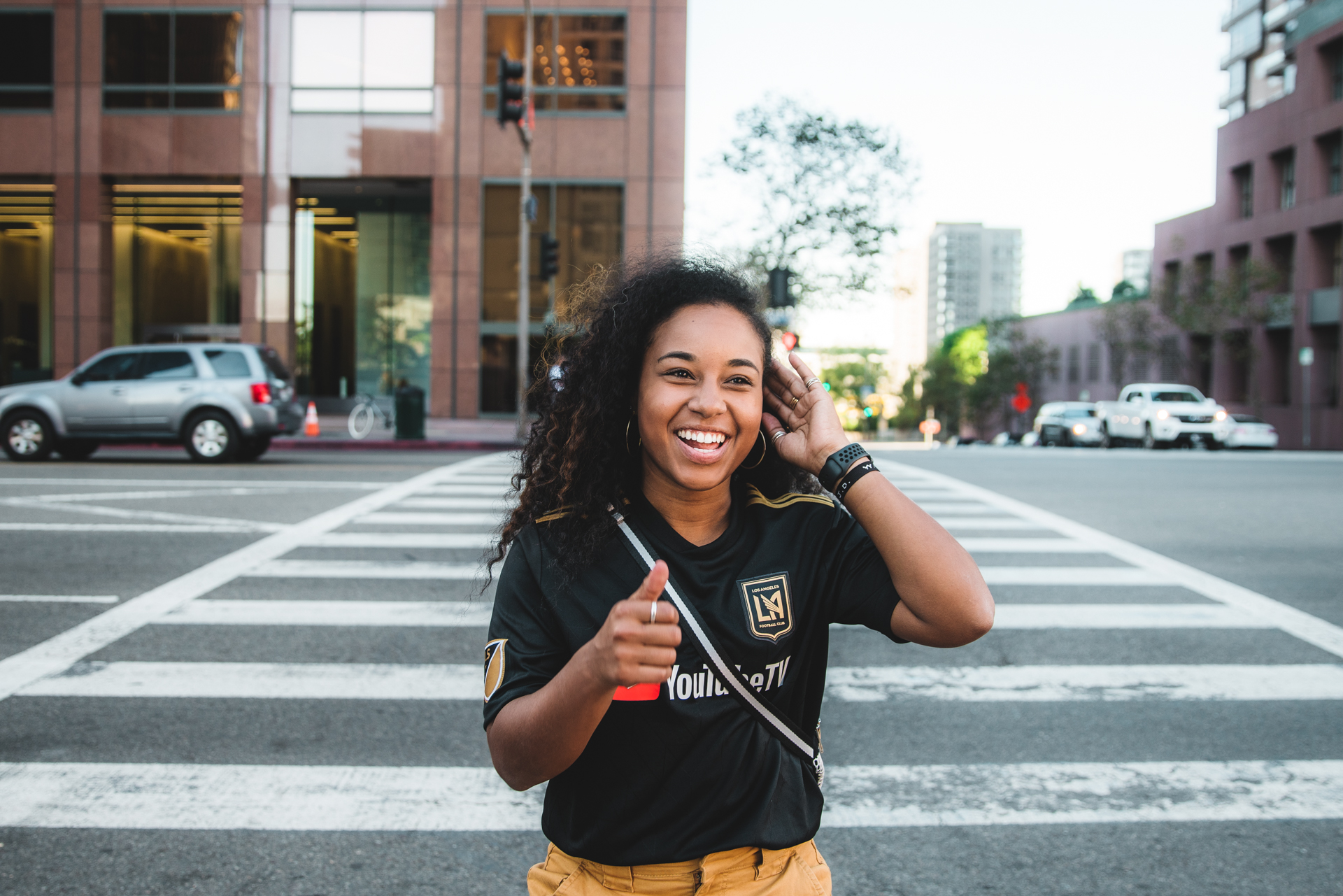 Rich Gordon
0
This installment of Female is Football is featuring Ashtin Larkin, a So Cal native that played soccer at the University of West Virginia. We bounced around some iconic spots in Downtown LA with Ashtin. Special thanks to 424 on Fairfax for a couple of the looks with their fresh throwback Hummel collab. Check out the shots and the BTS video below and learn more about Ashtin through our Q&A.
Q: To start, can you tell us where you're from and what you like most about your home town?
I am from Cerritos, CA born in Torrance. I grew up in Cerritos and I can't say there is too much great about it haha. We have the Cerritos Auto Square, which is what it is probably best known for. But, as far as location I appreciated the fact that I was in a good middle ground between LA and Orange County and having the ability to grow up and have access to both areas was always convenient.
Q: How did you first get involved with the game of soccer, and what made you fall in love with it?
I actually had a friend introduce me to it in the 1st grade. No one in my family ever played so I knew nothing about it. I grew up as a two-sport athlete playing soccer and basketball and at some point I fell in love with it and knew it was what I wanted to pursue in college. I think I most enjoyed the competition and physicality of the game. I would say my strengths are my low center of gravity and quickness and I think soccer really accentuated things strengths along with my competitive nature. I think I also fell in love with the angles of the game, which sounds weird. It reminds of basketball in the way of angles, but for some reason I see it much more attractively portrayed on the field rather than on a court.
Q: What position did you/do play. Why does that position resonate most with you?
I've always played midfield. Depending on the formation I grew up playing outside wing, then moved to attacking mid. In college we played in a 4-3-3 system and I played holding mid, which is a little different because I'm 5'1. Over the years I've grown to really appreciate center-mid, whether it be holding or attacking. I am a natural passer so I enjoy distributing the ball and just having an overall view of the field. Although I am not an avid runner, I appreciate the aspect of getting back on defense and then being able to get into the attack. I also am a big communicator so being able to communicate from that position on the field is very advantageous. I also enjoy defense and getting into tackles, so I think the defense mid position is something that over the years I've grown to appreciate and really see my best attributes excel. The 6 is my bread and butter 🙂
Q: Are you still playing now? If So where?
I currently still play during the week and on the weekends. During the week I play in an adult co-ed futsal league in LA Urban Futsal, which was originally something fun and different than I wasn't used to. Now that I am not playing consistently, I really enjoy any indoor or short-sided soccer that gets the ball moving quickly. I also play in a Sunday women's league. We just show up and play, similar to the Bad News Bears, except we are all ex-collegiate players lol. It's nice to get outside and just play with girls who know the game and get the outdoor feel every so often.
Q: Got to ask, what are your go-to sneakers?
I recently bought a pair of Flyknit 270's, which I am a big fan of. They look sleek and they are very comfortable. I wasn't always a big sneaker person, I was always in sandals and letting my feet breathe since I lived in soccer cleats and basketball shoes lol, but over the years my shoe collection has grown. I like Nikes that are different or just not something that everyone has. I like the style to be a little bit unique, whether it is style or colorway. I try to pick them strategically or if I'm really going to wear them, otherwise I will want way more than I need.
Q: With that, how would you describe your style?
I would definitely say my style is very athleisure. Growing up immersed in sports I really got used to being comfortable at all times, and now I just try to dress that up a bit. I appreciate a good pair of Nikes with a feminine outfit or sweats and a hoodie. I like to get dressed up and wear heels, but it's definitely not a regular thing. For me, if I can be comfortable and cute then I've done the trick. I would also say that my style is minimalistic, like less is more or a pop of color to something plain. I really enjoy fashion and for me being able to put fashion and athletics together whenever I can is a plus.
Q: Different styles and colors of soccer boots are almost as popular as sneakers right now, what are your go to soccer boots?
I've always been a Nike vapor girl (typically the men's styles). I appreciated the sleekness and lightness of the cleat. Over the years the vapor has evolved, which is great because it was always rough when someone stepped on your toes smh. I've had multiple colorways in the vapors and at one point I had the gold Ronaldinho R10 cleat, which I really liked.
Q: Do you have a favorite pro team and/or favorite professional player?
I would be lying if I said I had a favorite professional team. I watch foreign soccer occasionally, and I somewhat keep up with the MLS, but I don't have a favorite team. In regards to players, similar to everyone else I appreciate Ronaldo, Beckham, Messi, and Neymar all the flashy players. But I really enjoy the players that orchestrate and get into the physicality of the game. So like a Michelle Akers and Zinedine Zidane, people that get after it every game and have a little tenacity. I mean similar to a Kevin Garnett, Allen Iverson, Kobe Bryant, I like the ones that play with a little grit.
Q: Ok, so here is a random question, what are your top three favorite guilty pleasure foods and then the same with music?
My top 3 guilty pleasure foods are chocolate, recently a cupcake with ice cream inside of it (Frosted bakery) and street tacos. When it comes to music I love the old Eminem, sad music when I'm emotional (don't want to listen to upbeat lol) and any 90s R &B.
Q: What are some of your biggest pet peeves?
Ha, let me think; slow drivers, lying, poor communicators, people who pretend to know it all or know more than they do and messy people.
Q: What personality traits do you admire the most?
I admire people that have a good work ethic and are honest. People that don't take life too seriously and people with a willingness to step out of their comfort zone and not care what others think.
Q: Talk a little bit about your profession now?
I am currently a Forensic Specialist. I work for a local city and my day to day could be in the lab and evidence processing or out at a crime scene. No two days are the same which I appreciate, but it also challenges me because at each scene you have a completely different experience. It's something that I was always interested in. I knew I wanted to do something and be hands-on and not work in a lab all day, in regards to chemicals and the science portion. I would say my current job allows me to have a happy medium.
Q: What's next for you, or what are you working towards.
Right now that's kind of up in the air and something that I am personally working on. I would love to continue to grow/excel in my field of work and I would love to do/ participate in more things that involve soccer or incorporate soccer more in my life now. My ultimate goal would be to achieve a work-life balance. The ability to pursue a career that I love/enjoy and be able to do things outside of work is the current focus.
Shots by @richimpossible